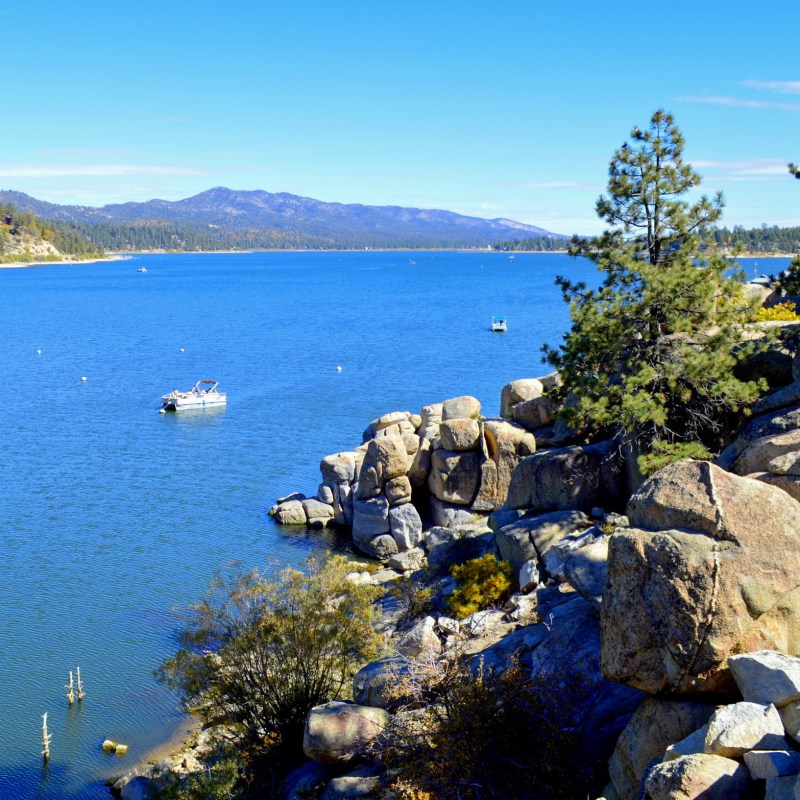 Big Bear Lake, California, is a winter sports mecca, but after the snow melts, there's a whole new world to explore. Located in the San Bernardino National Forest in Southern California, this small mountain town has become a year-round destination.
Whether you're coming from San Diego, Orange County, or Los Angeles, you can get to Big Bear in under 3 hours, making it an ideal weekend spot. Explore the national forest by day and head back into town for good food and entertainment at night.
Here are the best things to do in the area.
Hike And Bike In The National Forest
The San Bernardino National Forest covers more than 800,000 acres and spans three mountain ranges. Big Bear is the perfect place to stay while exploring this vast preserve.
Hiking is one of the most popular activities in the area, especially during the spring, summer, and fall. Once the snow melts and the wildflowers bloom, hundreds of miles of trails beckon to hikers. For those with less time, there are several trails right in the city of Big Bear ranging in distance from .5 to 5.4 miles: the Alpine Pedal Path Trail, Woodland Trail, Discovery Center Nature Trail, and Cougar Crest Trail.
Outside the city, head to the Pine Knot Trail that begins at the Aspen Glen Picnic area. This intermediate 6-mile trail winds through the forest and ends with gorgeous views of San Gorgonio Mountain. More advanced hikers should consider the 5.3-mile Cougar Crest Trail, which offers sweeping views of Big Bear Valley.
If you've dreamed of hiking the Pacific Crest Trail but aren't up for all 2,650 miles of it, then try the 39 miles that wind through Big Bear. Whether you're a day hiker or backpacker, this scenic portion of the PCT won't disappoint.
If you prefer biking, there are plenty of options for you as well. Big Bear's well-known ski resort, Snow Summit, becomes a mountain bike park after the ski season ends, offering 11 different trails.
Road riders won't feel left out, since Big Bear also has miles of bike trails. Beginner and first-time riders will love the fully paved Alpine Pedal Path Trail. For something more challenging, try the 15-mile ride around the lake. If you're up for something epic, try the 9-mile ride up to Onyx Summit.
Get Out On The Water
Another great thing to do in Big Bear is to rent a boat and get out on the water. And fortunately, there are six marinas to choose from. If you want to get some exercise, then consider a kayak, paddleboard, or pedal boat. But if you want something motorized, you could rent a pontoon. For some real excitement, rent a jet ski and zip around the lake. If you're traveling with kids or grandkids, check out the Tarzan boat available for rent at Captain John's Fawn Harbor & Marina. This crazy-looking vessel includes attractions like a Tarzan swing and jungle slide.
If you like to fish for bass or rainbow trout, then you'll love Big Bear Lake. To fish from shore, head to North Shore Drive (Highway 38) and find your spot. Boulder Bay Park has a fishing pier that is popular with families. But if you'd like to fish from a boat, you can rent one from any of the marinas in town. If you'd like the help and expertise of a local, then get in touch with Fish Big Bear Charter.
Explore An Alpine Zoo
Kids and adults alike will enjoy the Big Bear Alpine Zoo, just one of two alpine zoos in the United States. While it's open year-round, the animals are more active during the warmer months. This is a special place dedicated to the rehabilitation of animals in the San Bernardino National Forest. Some of the animals remain at the zoo for life due to injuries, but many are released into the wild. During your visit, you might see bobcats, badgers, bears, owls, or eagles.
Try to schedule your visit to the zoo around noon, since this is when you'll have the best chance of getting up close and personal with the animals. Docents throughout the property are there to answer questions about the zoo and specific animals.
Book A Special Tour
For some extra excitement, consider booking a Segway tour, zip-line tour, or tree-rope-climbing tour while you're in Big Bear. Action Tours offers all these and more. The Segway tours last 2 hours and give visitors a chance to see the town. Zip-line tours are 3 hours long and include nine separate lines. Tree rope climbing is a great way to get up high for terrific views over the course of 3 hours. Each tour has age restrictions, so be sure to consult the website before booking.
Big Bear Jeep Experience offers you the chance to drive a jeep through backcountry trails. You'll learn about the indigenous plants, wildlife, and mining history of the area with your guide, who narrates through a two-way radio.
For the best possible views of the entire region, take a helicopter tour with Helicopter Big Bear. Tour times range from 7 minutes to 45 minutes, and people of all ages are welcome. Couples who want something romantic should consider the sunset tour.
Eating In Big Bear
Big Bear has plenty of great restaurants to choose from, but in warmer weather, it's also the perfect place for picnics. Locals recommend heading to the Big Bear Community Market for picnic supplies, tossing your picnic in a backpack, and heading out to explore the area's trails.
For breakfast, everyone in town — locals and visitors alike — eats at Grizzly Manor Cafe, a place known for its giant portions, so feel free to share! This is one of the most popular restaurants in town, so be prepared to wait. Another delicious option for breakfast is the Teddy Bear Restaurant, which has been in operation in Big Bear for more than 60 years. If you're a pie lover, then be sure to order a slice of the homemade pie.
For lunch or a snack, pop in to Amangela's Sandwich & Bagel House. This place is known for its bagels, coffee drinks, smoothies, and homemade soups.
Family-owned Peppercorn Grille is one of the top-rated places for dinner in Big Bear and serves excellent Italian food. Murray's Saloon & Eatery is a popular local joint serving delicious burgers and beer. Craft beer lovers should head to Big Bear Lake Brewing Company, which, along with great brews, serves a delicious jalapeno patty melt.
Shopping In Big Bear
After a day of outdoor exploration, it's nice to slow down and explore all the shops Big Bear has to offer. The best place to start is in the center of town, known locally as "the Village." Here there are dozens of specialty shops along a few charming streets, all within easy walking distance. No matter what you're looking for, you'll find it here.
To purchase a special souvenir, head to the Brown Bear Gift Shop. If you're looking for a book, check out Bearly Used Books. Bird lovers will want to stop by the Chirp Nature Center. These are just a few of the many creative shops you'll find in the village.
For the athletically inclined, there are numerous well-stocked bike stores in town, including Bear Valley Bikes, Chains Required Bike Shop, and MetzgerWorld.
Big Bear is also an excellent destination for antique shopping. Locals recommend starting at Fox Farm Antique Mall, which features 20 separate dealers in one location. In nearby Fawnskin is North Shore Antiques & Collectibles, which features five dealers offering antique furnishings, collectibles, jewelry, and art. Big Bear Thrift and Treasure offers a selection of resale and antique items.
If you have time to explore a few more shops, don't miss Stupidiotic Factory Outlet with its crazy mix of goofy items. This is the perfect place to go if you're looking for a gag gift. For a truly old-fashioned hardware store, check out Butcher's Block.
Where To Stay
In keeping with the mountain resort atmosphere, most of the accommodations in Big Bear are cabins. Fortunately, there are a large selection of cabins ranging in size and amenities.
Originally built to house movie stars and film crews in the 1930s, Embers Lodge and Cabins offers classic log-cabin-style accommodations that can sleep two to 10 people. Eagle's Nest Lodge prides itself on being both family-friendly and pet-friendly.
In Big Bear and the surrounding cities, there are hundreds of private cabins available for rent. Big Bear's tourism board is a great resource for finding one of these. A private rental is a good choice when traveling with a large group or multiple families.
If a more traditional hotel is your preference, there are some nice choices. Snow Lake Lodge offers suite-style rooms with two fireplaces in each suite. This highly rated property also boasts barbecue grills, a pool, and a jacuzzi.