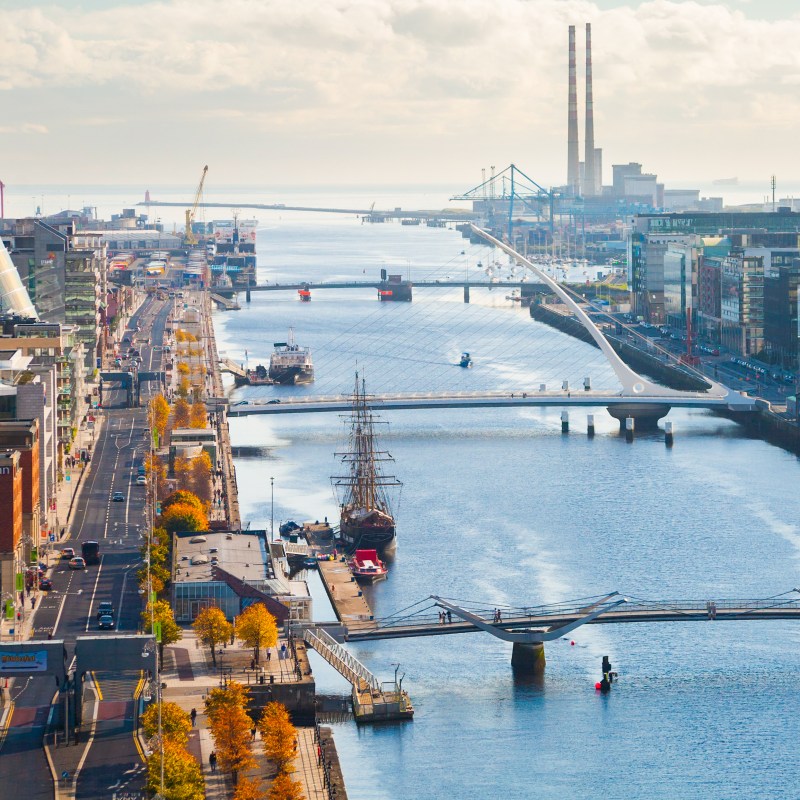 Dublin is often the first stop on a bucket-list trip to Ireland. While there are plenty of other places to explore on the famed Emerald Isle, make sure you give the capital city its due.
With its rich literary history, gorgeous Georgian architecture, and world-famous pub culture, Dublin is well worth at least a weekend before you set out to discover the rest of the country.
Here's how to spend a couple of days in Ireland's iconic capital city.
Throw Back A Guinness
One of the first stops in Dublin for any beer lover should be the Guinness Storehouse. When you stop to consider that stout has been made here since 1759, you'll realize why this place is a mecca for brewhounds.
During your visit, you'll learn all about the beermaking process, see tons of Guinness memorabilia, and even get to sample a pint. The seven-story Guinness brewery offers four spots where you can grab a pint and a snack, but our favorite was the rooftop bar with its sweeping views of the city. The gift shop is also worth a look, and don't forget to snap a selfie at the famous front gate!
You can snag tickets online at a discount; they start at 19.50 euros.
Marvel At The Books Of Kells
For the more academically minded, a stroll through the Trinity College campus is a must. The college is easily accessible, since it's located in the center of Dublin, but it's a surprisingly tranquil oasis of learning.
Founded in 1592 by Queen Elizabeth I, Trinity was modeled after Oxford and Cambridge. While visiting, you might feel as if you've been transported to Hogwarts, with the school's many Gothic buildings. The gem of the campus, however, is the Old Library, which is home to priceless antique books and manuscripts, including the Book of Kells. This incredibly preserved medieval document features the four Gospels of the life of Jesus Christ and dates to the ninth century. It includes rich illustrations and incredible calligraphy, all painstakingly crafted by Columban monks. Many consider it Ireland's most valuable and iconic national treasure, and once you see it for yourself, you'll understand why.
Tickets to enter the Book of Kells exhibit at Trinity start at 11 euros for adults.
Pay Homage To The City's Writers
The literary bent of Ireland's capital city can be felt everywhere: on the streets, in pubs, and especially at the Dublin Writers Museum. Located in an 18th-century mansion just north of the city center, this small but charming museum celebrates Dublin's most famous wordsmiths. Books, letters, and other personal items that belonged to Yeats, Shaw, and Beckett (all Nobel laureates) are on display. Grab an audioguide and plan to spend an hour or two at this little gem. Tickets cost 7.50 euros for adults.
If you're very interested in Dublin's rich literary history, consider signing up for a poetry pub crawl. These are often held at night and feature poetry recitals in area pubs, making them a fun mashup of history lesson and cultural experience, plus pints of your favorite Irish brew. The Dublin Literary Pub Crawl offers one of the most popular tours.
Get Locked Up At Kilmainham
From the Irish Rebellion of 1798 to the Irish Civil War to the Troubles, there's been a long history of conflict in Dublin, much of it centered on religion and politics. Many members of the Irish republican movement, who wanted independence for Ireland from the United Kingdom, were brought to the infamous Kilmainham Gaol. Today, the jail is a museum that tells the story of Ireland's rebels, many of whom were executed here. The museum also delves into the plight of ordinary citizens — even children — who were brought here, some for offenses as minor as stealing food.
Visitors can stroll through the cell blocks and imagine what life was like for those who were sentenced to hard time here, whether for fighting for independence or merely trying to survive.
Tickets cost 8 euros; consider booking ahead, since they tend to sell out quickly.
Travel Back In Time
To get a feel for just how far back Irish history goes, plan a visit to the National Museum of Ireland's Archaeology branch. The museum, located on Kildare Street, is a treasure trove of artifacts from prehistoric times through the Middle Ages. Of particular note are the museum's "bog bodies," well-preserved humans from the Iron Age. These unfortunate souls were found buried in peat by farmers, and they appear to have been sacrificed thousands of years ago.
Also be sure to visit the central part of the museum, which contains an extensive collection of goldwork, including stunning jewelry dating to 2200 B.C. The [Tara Brooch](https://www.museum.ie/Archaeology/Exhibitions/Current-Exhibitions/The-Treasury/Gallery-1-Iron-Age-to-12th-Century/Tara-Brooch-(1) is the most famous of the lot. Found by the seashore in County Meath back in 1850, it's painstakingly crafted of silver and gold and dates to the eighth century.
The museum is open seven days a week; admission is free.
Take In The World With Chester Beatty
When you're ready to broaden your horizons to artifacts beyond the Emerald Isle, make your way to the Chester Beatty Museum, located on the grounds of Dublin Castle. Two carefully curated galleries display manuscripts, rare books, prints, and paintings that were once part of Sir Chester Beatty's private library. These come from around the globe: Europe, Asia, Africa, and the Middle East are all represented in the impressive collection. As you stroll these halls, you'll realize that there's more that unites us than divides us, and you'll come away with a greater appreciation of the cultures featured in the collection. There's a lot to love about this quirky, educational place.
Admission to this special spot is free, but donations are accepted. The museum offers free drop-in tours, and even tours designed for visitors with dementia. The museum's Silk Road Cafe is a terrific place to refuel before heading back out for more sightseeing.
Relax On Saint Stephen's Green
To enjoy a leafy respite from the bustling city center, stop at Saint Stephen's Green for a breather. This urban oasis dates to 1663, when Dublin's city assembly established it. It quickly became the place to see and be seen among the town's high society. While it fell into disrepair in the 19th century, Sir Arthur Guinness bought it back from its commission, paying its debts and restoring its landscapes. It now features a 3-acre lake, a waterfall, formal flower beds, and fountains.
On Easter Monday in 1916, the Irish Citizen Army tried to overthrow the governing British in Dublin, and they took control of Saint Stephen's. Traces of the fighting still remain; bullet holes can be seen in the arch at the northwestern entrance of the park.
Pro Tip: If you're visiting the Green in the summer to enjoy a snack or picnic, keep a close watch on your food. The resident seagulls are renowned for being brazen thieves!
Eating And Drinking In Dublin
Irish fare is hearty and filling. We love the basics, which include Irish stew, colcannon (a mashed potato and cabbage dish), soda bread, fish and chips, and shepherd's pie. These dishes can be found at most pubs in Dublin, and they won't break the bank.
There are also refined takes on these Irish classics. Chapter One, located in the basement of the aforementioned Dublin Writers Museum, serves elegant dishes from locally sourced ingredients. Delahunt, a bistro housed in a former liquor shop, retains a cozy feel with delicious dishes including house-smoked salmon and beef cheeks.
As far as drinking is concerned, beer and whiskey reign supreme in Dublin. While most tourists have heard of the Temple Bar neighborhood, crammed with pubs including the historic Brazen Head (Ireland's oldest pub), we were charmed by Doheny & Nesbitt, the watering hole for journalists covering the nearby House of Parliament.
Keep in mind that the further you get off of the tourist trail, the cheaper your pints will be!
Shopping In Dublin
Grafton Street is the place to shop in Dublin, with a great mix of high-end and more affordable boutiques. Here, you'll also see the famous Molly Malone statue and be serenaded by street buskers. For a more local and less crowded shopping experience, head west a few blocks for more independent stores, cafes, and galleries.
Handcrafted claddagh jewelry, linens, and thick wool sweaters are traditional gifts that are perfect to take home as souvenirs.
Where To Stay In Dublin
Dublin has many high-end and historic accommodations from which to home base. Our favorite is The Shelbourne, a 200-year-old, beautifully renovated building overlooking Saint Stephen's Green with a wide range of dining options. To stay in a castle just 10 minutes from the city center, consider booking at the Clontarf Castle Hotel. For a boutique-style stay at a quiet property located inside a historic Georgian townhouse, check in to Number 31.
Pro Tip: Dublin has a notoriously fickle climate. No matter the time of year you visit, pack a waterproof layer in case of pop-up showers.