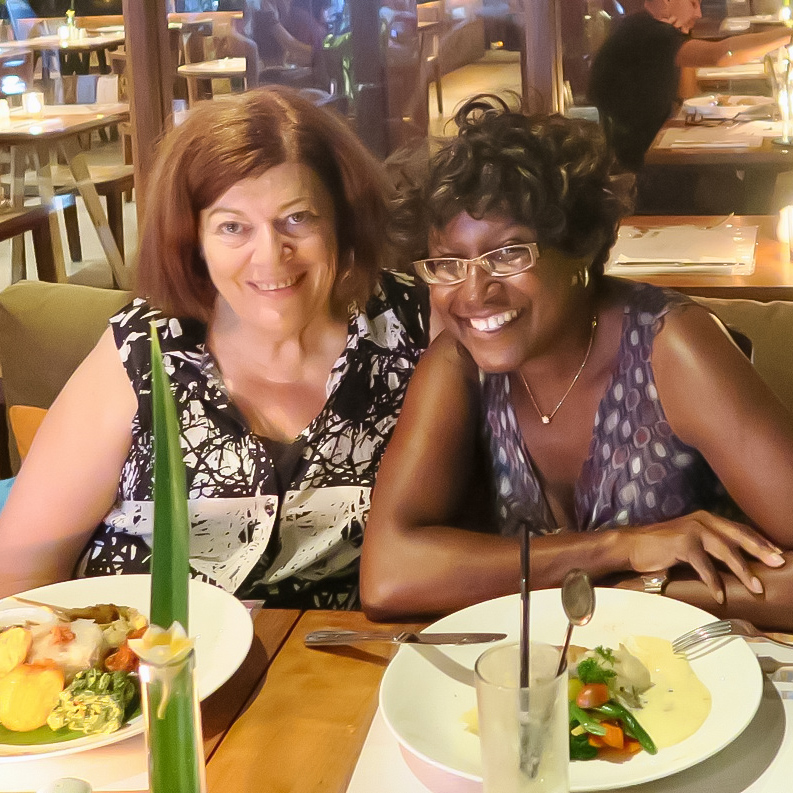 Age is no barrier to traveling solo. I was 61 when I left Australia on my first independent trip overseas. It began with a 23-hour flight from Melbourne to London. Then I spent seven weeks crisscrossing England and Scotland by train and rental car.
I'd always craved a solo adventure, but my vacations had been taken up with family holidays. And even when the kids grew up, I felt I couldn't simply take off as I was an only child and responsible for an elderly parent.
As the years passed, my score on the Holmes and Rahe Scale of life's most stressful events escalated. I'd had a couple of operations. My husband hadn't died, but we were separating. Our kids had left home. My teaching job of 25 years was axed, and then my mother passed away.
When I found a new job working online it felt like a consolation prize until I realised the opportunity of being able to work from anywhere. So I walked into a travel agency thinking I would just inquire about prices — and walked out waving an airline ticket.
Since my first trip in 2016 I have taken six lengthy solo trips overseas. I've visited the U.S. twice, plus Indonesia, Ireland, New Zealand, and Canada. Yet, looking back, I had subconsciously been preparing for that first overseas adventure for years by setting myself challenges of doing things solo. Here are some of the best ways to prepare.
1. Going Out Alone
It began with movies. Heck, you don't sit in a cinema to socialize, unless you want people shushing you from all sides. It was a niche film about a poet, and after the movie, I began chatting with the other solo person I was seated next to, and we ended up going off for coffee. This spontaneous experience with a like-minded person was so much better than dragging someone along who didn't share my taste in movies.
Trying local dishes when traveling is one of life's pleasures. So, I knew solo dining was a hurdle worth overcoming. Breakfast and lunch are easily done. But solo dinners are more challenging.
The first time I dined alone, I was plunked in the middle of a restaurant surrounded by couples. As I was leaving, I overheard a woman whisper to her companion, "Poor thing. Her husband must be dead." Her comment steeled my resolve to continue doing things solo as her world-view seemed so narrow-minded. Would I end up like that if I never branched past only doing things with a partner?
The next time I chose bar seating and bonded with a young woman who was traveling solo for work. We had a great conversation and still stay in contact.
2. A Woman Walked Into A Bar…
Bars can be a tall order. But the world has some spectacular ones, so it is worth putting yourself out there. I don't go to many at home, but in Bali, I really wanted to experience some of their famous beach bars. As my Grab driver pulled up outside Potato Head Beach Bar, I muttered, "I can't do this on my own." The driver, who had pretended not to speak a word of English, suddenly turned around and said, "Of course you can, love. You go, and have a drink and watch the sunset over the ocean." I took his advice, chatted with a lovely young couple, and saw the sun set over the Indian Ocean through the lens of an excellent tequila sunrise.
3. Experiencing The Joys Of Train Travel
Years before heading overseas solo, I'd started doing short local trips away. Train travel can be a good option for solo travelers as it alleviates the need for driving, and you generally meet people. If you travel solo, people always talk to you. It is couples who have more trouble meeting others. On my first train journey, I settled in to read my book. A woman sat down next to me and chatted away for the next three hours. Luckily she was interesting!
4. Learning On The Road
My train journeys took me further from home until I had covered most of Australia. A woman I met on a train in Outback, Queensland, told me how she normally traveled around in her RV. "I could never drive anything that big," I said. "Do you drive in the city?" she asked.
"Well, yes." "I could never drive in the city," she countered.
I understood her subtle message. Women can do anything we set our minds to; we just need to put ourselves in situations where we actually do it.
That said, long-distance driving had eluded me as my husband loved the challenge of road trips, and my relief stints behind the wheel had been minimal. When I began challenging myself to drive long distances solo, I thought it would be awful, but it opened up a whole new world. Solo road trips are totally self-immersive, listening to the podcasts you enjoy and stopping whenever you see something of interest.
I did have to master certain challenges, such as overtaking large trucks and steep mountain climbs with sheer drops. Uttering expletives really helped on those hairpin bends.
On that first UK trip, I was thankful I'd honed my driving and tech skills at home. One night I was sandwiched between trucks on the M1 Motorway. The emergency lane was blocked by roadwork. Visibility was already low when it started to pour, and just then my fuel light flashed on. "Hey, Siri! Petrol!" I screamed. She directed me to safety. It was the first time I had tried that command. Solo travel builds up your resourcefulness.
5. Surrounding Myself With Role Models
Having a positive mindset helps. I immerse myself in podcasts, films, and books about independent female travelers. A memoir I found particularly inspiring was Tales of a Female Nomad: Living at Large in the World. When Rita Golden Gelman's marriage ended, she was nearly 50. After years of looking after others, she set off to travel the world. While solo female travel might feel like the new norm, Gelman did this back in the 1980s and remained on the road for the next 30 years.
I also have a friend who takes off to Japan every year and has done so for the last 35 years. In the second half of each year, she flies to Western Europe challenging herself to stay in rural places where English is not widely spoken. Another writer friend took off for Spain. Her plan was to walk the Camino solo, and then find work teaching English. Her year abroad turned into two, and she has now been away for three years. Last time we spoke, she was in Moscow. Her partner back at home has moved on with his life, but she has forged some memorable bonds with her son who occasionally joins her for a few weeks wherever she is in the world.
I don't have a black belt in solo travel, but with a few trips now under my belt I am working toward a yellow one. I am no Rita Golden Gelman traveling the world for 30 years. But I continue to challenge myself. My knees may never allow me to walk the Camino, but I've promised myself a trip to Japan, and perhaps even a solo road trip in an RV.
Each solo challenge set and overcome builds resilience and confidence. If you can travel solo, you can conquer most obstacles in your life. A solo journey of a thousand miles begins with a single step of doing something you may feel slightly uncomfortable attempting on your own. So what movie, restaurant, or road trip do you have in mind?