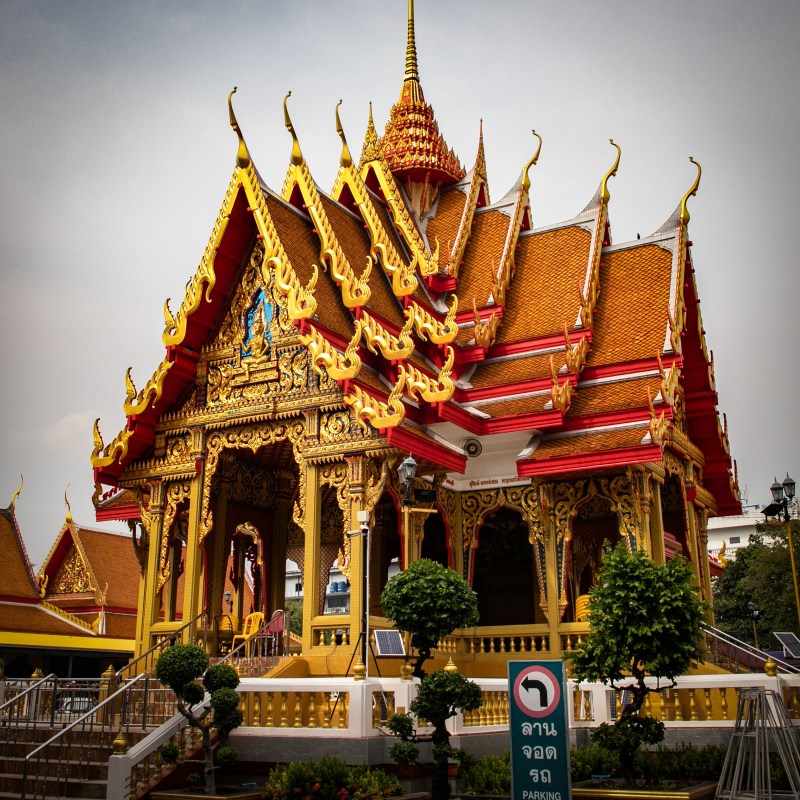 Step off the bustling BTS at Bangkok's On Nut station into a world of vengeful ghosts, true love, and a long-ago massacre that spans the murky place between Thai myth and actual history.
Wat Mahabut, located on Sukhumvit Soi 77, is a fascinating shrine to Bangkok's most infamous ghost: Mae Nak. According to legend, Mae Nak's lover, Mak, was sent to war while she was pregnant. Mae Nak and her baby died during childbirth, but their spirits lingered on to await the return of Mak. When Mak learned that his lover and their child were actually ghosts, he fled, leaving a heartbroken Mae Nak to exact revenge.
Here are seven things to know about the Mae Nak legend.
1. It's Said That Mae Nak Terrorized Prakanong
Mak's neighbors tried to warn him that he was living among the dead, but he refused to listen until he saw Mae Nak hyperextend her arm to fetch a lime wedge. When Mak finally fled his ghostly wife and child, Mae Nak unleashed a wave of terror on the people of Prakanong that was only quelled when her spirit was captured and contained in a jar.
2. She's Nicknamed 'The Mother Nak Of The Prakanong District'
Paradoxically, murderous Mae Nak is also known as "Mae Nak Prakanong," or the Mother Nak of the Prakanong District. The intervening years have transformed her from a horrifying wraith to one of Thailand's most popular ghosts, and even a beloved figure in Thai folklore.
3. Her Story Has Been Immortalized In Film Many Times
Thailand's appetite for all things Mae Nak is apparent in the number of films that have featured her story. Thailand has an affinity for the horror genre, so it should come as no surprise that this hometown haunting has been retold several times on the silver screen.
4. Her Shrine Is Full Of Pretty Clothes And A Television That's Always On
Mae Nak's shrine is officially located at Wat Mahabut, a 20-minute walk from the On Nut BTS station. Visit the shrine, and you'll find some peculiar objects, including a bust of Mae Nak, rows of beautiful dresses, and a television that is always turned on. The dresses are gifts from those looking to win Mae Nak's favor.
5. She Could Help You Strike It Rich
Despite her fearsome origin story, many people go out of their way to interact with the spirit of Mae Nak, especially those who want to try their luck with the Thai lottery. Amazingly, the jilted lover of Mak and destroyer of Prakanong is adept at picking winning numbers.
6. Her Shrine Is A Popular Place To Make Merit
The act of making merit is a common practice in much of the Buddhist world, as it's thought to ensure a life of good luck and happiness. Wat Mahabut's location on the Prakanong River makes it an ideal place to release fish or turtles back into the wild, thus saving their lives and racking up some major merit. The practice of using animals to make merit is controversial, but still widely practiced.
7. In Thailand, The Scariest Ghosts Are Women
There is no shortage of bone-chilling spirits in Thai culture, and many of them are women. From cannibalistic phantasms like Phi Pop and Krasue to the pitiable but petrifying ghost of Mae Nak, the female spirits are always the most formidable.
Mae Nak's story is one of Bangkok's most enduring tales of love and loss, and her shrine preserves both her memory and legacy. It's unclear whether the Mae Nak story is purely legendary or based on events that transpired in Bangkok long ago, but her mark on Thai culture is undeniable. Visit the Mother Nak of the Prakanong District for an experience like no other.
Planning a trip to Thailand? Check out these eight things to know before you go, this guide to cultural etiquette in the country, and this list of the best things to see and do while you're there.