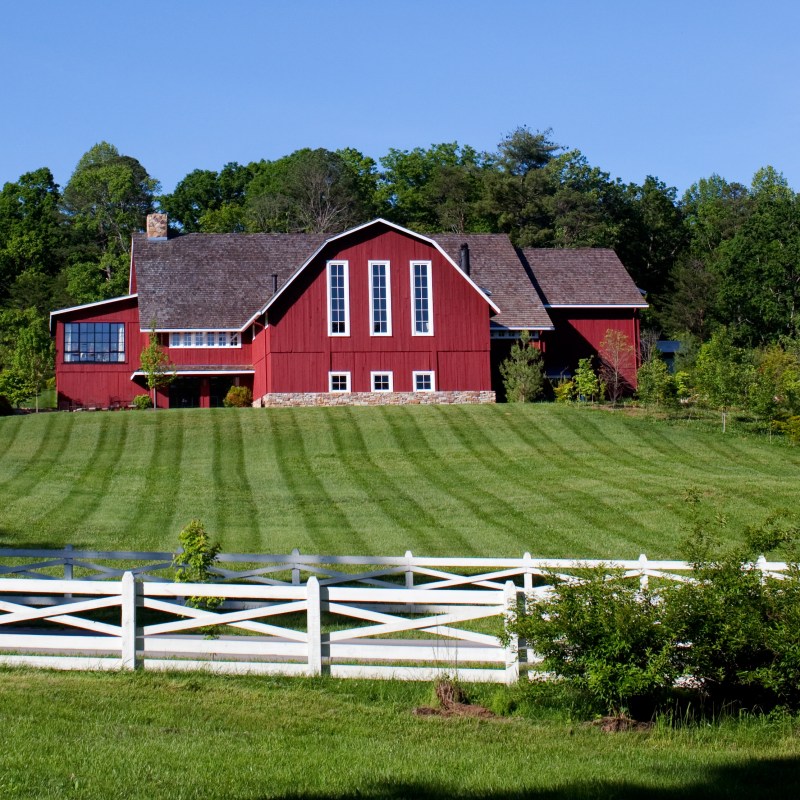 When I came to work for TravelAwaits, one of the first new-to-me destinations I heard about was Blackberry Farm — a Walland, Tennessee, resort that's been Zagat rated the best small hotel in the United States.
While my family almost moved to Huntsville, Alabama, when I was a teenager, aside from a week of househunting there and a few long weekends in Nashville and Memphis, I haven't spent much time in the American South. And I never considered any place in Tennessee an "it" vacation destination.
But TravelAwaits' VP, Missy Glassmaker, lived in Knoxville and is connected to people who are connected to Blackberry Farm. And so I listened with interest (and, admittedly, some shock and even jealousy) as she relayed stories about this seemingly enchanted place that butts up to Great Smoky Mountains National Park — and where room rates are a minimum of $750 a night.
What makes it so special? And who do these people think they are!
Well, I now have deeper answers to those questions than I ever anticipated. I write monthly reviews of soon-to-be-released books, and when I got the opportunity to read an advance copy of Blackberry co-founder Kreis Beall's memoir The Great Blue Hills of God: A Story of Facing Loss, Finding Peace, and Learning the True Meaning of Home, of course I had to take it.
I was captivated, entertained, and deeply humbled by this book — and I consider it the perfect vacation read. Here's why:
1. It Reads Like New York Times Bestseller Little Fires Everywhere
If you've read Celeste Ng's 2019 novel Little Fires Everywhere, which is being made into a Hulu miniseries, you know what I'm talking about. Reese Witherspoon, who's acting in the miniseries, called Little Fires "a deep psychological mystery about the power of motherhood … and the danger of perfection" that moved her to tears.
It's easy for me to echo that sentiment about The Great Blue Hills of God. But this isn't a novel; it's a riveting true story that involves family secrets, unlikely friendships, big business, traumatic accidents (including a fire), untimely death, and a great deal of honesty about how Blackberry, a seemingly picture-perfect place, came to be. I didn't expect it from a memoir, but this is the kind of page-turner I want when I board a plane or sink into a lounge chair by the pool or on the beach.
2. It Invites You To Reconsider The American South
While Blackberry Farm is the epicenter of the book, Kreis and her family moved around a lot (and owned a lot of homes, each of which she creatively named). From her childhood in Knoxville to mothering two babies and starting a restaurant in Hilton Head, South Carolina, to homemaking in Lower Alabama, The Great Blue Hills of God covers a lot of ground. And Kreis treats her readers to an intimate snapshot of life in each place.
One of the most interesting things she introduced me to was hunting camp culture in Alabama, and her accounts of splitting her time between a house on Eaton Square in Mobile, her family's rustic hunting lodge, and her "Little Bay House" in Point Clear are illuminating. I was born and spent my young childhood in Alaska, and some Southern mores confound me, but Kreis's reflections prove that wherever you are, people seek creative ways to kindle and maintain connection — and to find the beauty in their lives and natural surroundings.
3. It Will Inspire You To See Our Country
For many of us, international travel boasts the ultimate allure. Darjeeling, Scotland, and climbing more Maya ruins in the Yucatan are at the top of my list. But what about the places within driving distance of home?
In addition to her tremendous capacity for writing about food and design, Kreis has undeniable topophilia: a strong sense or love of place. And while she references overseas travel once or twice in The Great Blue Hills of God, it's her appreciation of all the stateside places she loves, from the hills of Tennessee to The Ashram in Calabasas, California, that reminds her readers they don't have to go somewhere far-flung to enjoy an adventure or rejuvenate their spirits.
4. It Invites You To Commune With Your Feelings (And Put Work In Its Place)
Kreis writes vividly about decadent meals, her favorite aubergine floors, and training with culinary greats like Martha Stewart. But she also gets real about her traumatic brain injury, divorce, the loss of a child, and the moments she sacrificed to her perfectionism and workaholism. "I realized I had helped to create a place of flawless beauty, accolades, and daily perfection, Blackberry Farm, while living a life that was flawed."
The Great Blue Hills of God winds up being a very spiritual read as Kreis relates her experience of finding faith (not just going to church) without proselytizing. Her courage to extract herself from work to seek out solitude is a nod to the power of time alone for reflection, and her book will be loved by the solo traveler or anyone craving time for themself, whether it's found at home or on the road.
5. It Reinforces The Value Of Home
Few folks can travel full time. Eventually, most of us make our way home, wherever that is. And sometimes it's with an immediate desire to start planning our next trip. But as her book's subtitle suggests, Kreis speaks to the value of home, not just luxury resorts and high-end farm-to-table dining.
In between chapters, she shares heartfelt advice for daily living, hostessing, and so on. She also asks wonderful questions that will help readers of all ages revisit what health, home, happy travels, and family mean to them.
Want more on Blackberry Farm? Read one vacationer's account of why Blackberry Farm is the ultimate relaxing getaway destination, and preorder The Great Blue Hills of God, out February 4, here.
Want inspiration from Kreis's travels? She's been on safari, goes RVing with her grandchildren, has climbed Machu Picchu, and enjoys hiking in Sedona.