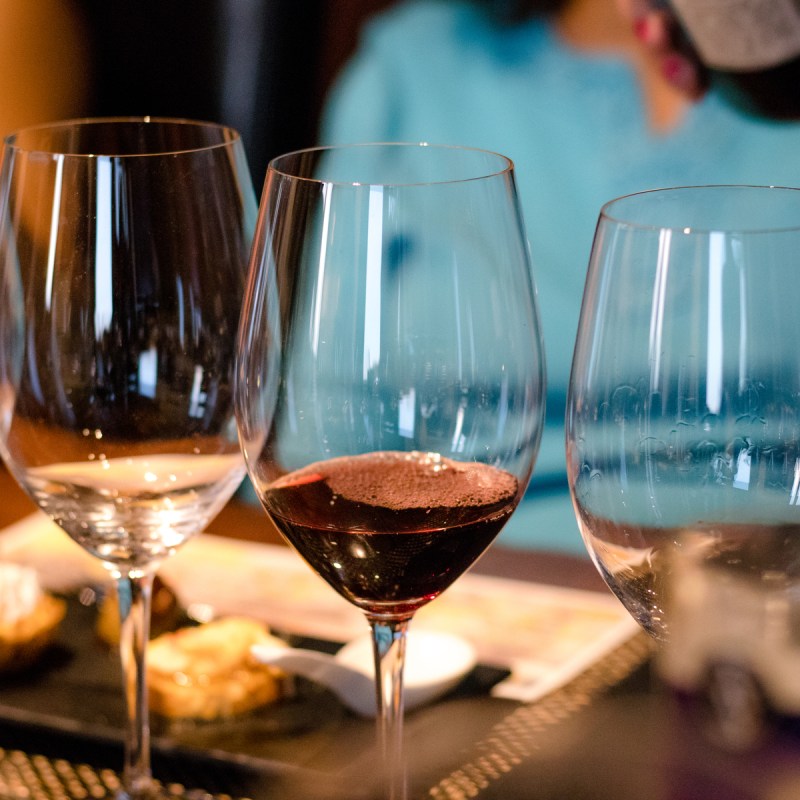 Franklin, Tennessee, is a charming and historic city located just south of Nashville. This rapidly growing destination deserves some attention from thirsty travelers: Two of the 27 spots on the Tennessee Whiskey Trail can be found in Williamson County, and Visit Franklin also highlights the area's beverage scene with its Masters & Makers Trail. After a recent hosted press trip to the region, I'm already itching to get back and sample even more local beverages!
From a law-changing distillery to a vineyard owned by a country music superstar, here are some of the highlights of Franklin's beverage scene.
Arrington Vineyards
Roughly 20 minutes from downtown Franklin is the small, unincorporated community of Arrington, and set upon its rolling, verdant hills is the impressive 100-acre Arrington Vineyards. Music fans will recognize the cofounder, Kix Brooks of the well-respected country duo Brooks & Dunn. A country superstar owning a winery is perhaps the most Tennessee thing I can think of!
As far as the grapes go, there are 15 acres of vines winding around the property, but the winemakers source from other American wine regions like Washington State and New York's Finger Lakes area. Some of the grapes grown on-site include viognier, chambourcin, and Vidal blanc.
Arrington offers two sparkling options as well as a full selection of white and red wines. I was impressed with the Kinzley Reserve 2018 Sauvignon Blanc that smelled of grapefruit and had other fruity and citrus notes. I also enjoyed the Stag's White Lot 18, an eight-grape blend including Vidal blanc for a refreshing, fruit-forward sip. My favorites were the popular, medium-bodied Red Fox Red, which uses some local grapes, and the Encore Lot 17, a ruby port-style dessert wine made from fortified grape brandy and estate-grown grapes. A number of sweet wines, including blackberry wine and raspberry wine, are also available.
Perhaps the most unique offerings at Arrington are the Antebellum wines, available in both red and white iterations. These are aged for 11 months in Tennessee whiskey barrels for a toasty, rich flavor profile. Arrington was one of the first wineries to treat wine this way, which makes sense considering Tennessee's whiskey culture. While these weren't my favorites, my traveling partner couldn't get enough.
Visitors can either taste four wines for $7 or eight wines for $14 at the bar in the main building. Signature and premier experiences are offered on occasion and require reservations. These could include a guided walking tour with wine and small bites or wine, a cheese plate, and an Arrington Vineyards glass.
Those visiting between April and October shouldn't miss Music In the Vines. Every Saturday and Sunday during that time frame, there's live music in two locations at the winery. The barn hosts a bluegrass band, and the nearby pavilion offers a jazz music experience. On Fridays from May through October, the winery hosts Food Truck Fridays, and there are occasional Cigar Nights.
No trip to Franklin would be complete without some quality time at Arrington Vineyards. This beautiful property offers wine plus tons of cool events and is one of the most worthwhile stops on the Masters & Makers Trail.
H Clark Distillery
Just 20 minutes south of Franklin is Thompson's Station, Tennessee, home to the second-most-visited distillery in the state, H Clark Distillery. (The top honor obviously goes to the big kahuna, Lynchburg's Jack Daniel's.) In 2014, H Clark Distillery opened and became the first legal distillery in Williamson County in over a century. Lawyer by day, distiller by night, and co-owner and namesake Heath Clark was part of the machine that changed Tennessee's liquor laws. Before legislation in 2009 and 2013, only three counties had permission to craft spirits. Since the lifting of these Prohibition-era laws, the 27 distilleries of the Tennessee Whiskey Trail have blossomed.
H Clark Distillery is one the best boozy spots I've ever been. It's located in a beautifully repurposed granary building, there's an adorable black cat named Stout wandering around, Heath himself is warm and engaging, and — best of all — the spirits are amazing.
Currently, H Clark Distillery offers Tennessee Bourbon, Tennessee Black And Tan, Tennessee Dry Gin, Heirloom Gin, and Tennessee Rye. My favorite was the dry gin, and I even brought a bottle home with me. It's the perfect blend of a traditional English-style gin and an American gin; additionally, this gin is great on its own but equally enchanting with tonic. After sampling all the delicious offerings, I could easily tell that H Clark Distillery is a microbatch, artisan distillery with hand-selected grains, malts, and botanicals.
Complimentary tours are offered daily on the hour. While the tours themselves are free, the tastings cost $10.
Mill Creek Brewing Company
This tasty taproom and production facility is situated in Nolensville, Tennessee, roughly 20 minutes east of Franklin. Mill Creek Brewing Company has an industrial chic space complete with a huge patio, local art installations, and a food-truck kitchen. That tiny kitchen boasts big results and is even home to a famous burger, the Smashville burger, that has been named the best burger in the Nashville area. The taproom is very family friendly and has a designated children's menu.
Mill Creek's staple beers include 615, a premium light American lager; Landmark, a vintage lager; and Silo, a farmhouse ale. The bestseller is Lil Darlin, a citrusy wheat, while two IPA options, Neon Daze and Easy Daze, round out the core beer offerings.
However, my absolute favorite was the seasonal Peachy Darlin, a citrus-infused wheat with peach. Keep an eye out for it during the warmer months, though I was lucky enough to sample it in January. Other seasonal winners include the boozy sparkling seltzer in both blackcurrant and lime, as well as the summer sours.
Brewery tours are available on Saturdays by request for about $10. Expect to spend about 45 minutes chatting with your guide, learning about the brewing process, and sampling Mill Creek's core beers.
Leiper's Fork Distillery
Open since the summer of 2016, Leiper's Fork Distillery is located in the picturesque village of Leiper's Fork, Tennessee, just 15 minutes outside of Franklin. The distillery focuses on resurrecting small-batch, artisan brewing in Williamson County. Many of the early settlers of the region were Irish or Scottish, so it has long been a tradition in the area. Leiper's Fork uses local ingredients as well as pure limestone-filtered water for an exceptional end product.
The Leiper's Fork portfolio includes Tennessee Premium Rye Whiskey, Colonel Hunter's Single Barrel Tennessee Bourbon, Old Natchez Trace White Whiskey, and more. My favorite was the Old Natchez Trace White Whiskey, but the distillery is perhaps best known for its award-winning Colonel Hunter's Select Barrel Tennessee Bourbon Whiskey. This spirit won Best in Category and received a gold medal at the 2019 American Distilling Institute competition.
According to the website, the spirits are filtered through layers of sugar maple charcoal, resulting in ends products that are smooth, clear, and crisp.
Tours of the distillery include a guided tasting and are offered multiple times each day. They cost $10 and can be booked ahead of time online. If you do get a chance to tour, be sure to request Pops for your tour guide. I don't think I've ever met a more charming man in my life. He is a total hoot. If you're lucky, he'll share some haunting stories, fun facts, and a moving Irish toast passed down for generations in his family. The distillery also boasts an awesome gift shop, so be sure to stock up on curated items and delicious beverages during your visit.
These four purveyors of alcohol comprise Franklin's Masters & Makers Trail. For an extra fun twist, visitors can complete the trail passport by doing a tasting and tour at each of the aforementioned spots and getting a stamp at each. The paper passport is available at every Masters & Makers location. Once you've completed the trail, you can return the passport to the downtown visitor center to get a special prize. (Hint: It's a cool T-shirt!)
If you want to stay in town, be sure to check out local favorites like Gray's on Main, whose Anthym Spirit has been named the best cocktail in the South. O Be Joyful is another of the town's favorite watering holes. Its name refers to a Civil War-era nickname for an intoxicating drink. Dive-bar connoisseurs will feel right at home at The Pond, and wine lovers will enjoy the historic feel of JJs Wine Bar.
Franklin and the surrounding county offer some exceptional beverages for both travelers and locals. There's truly something for everyone in Tennessee's wealthiest county, from great wine to perfectly crafted spirits.