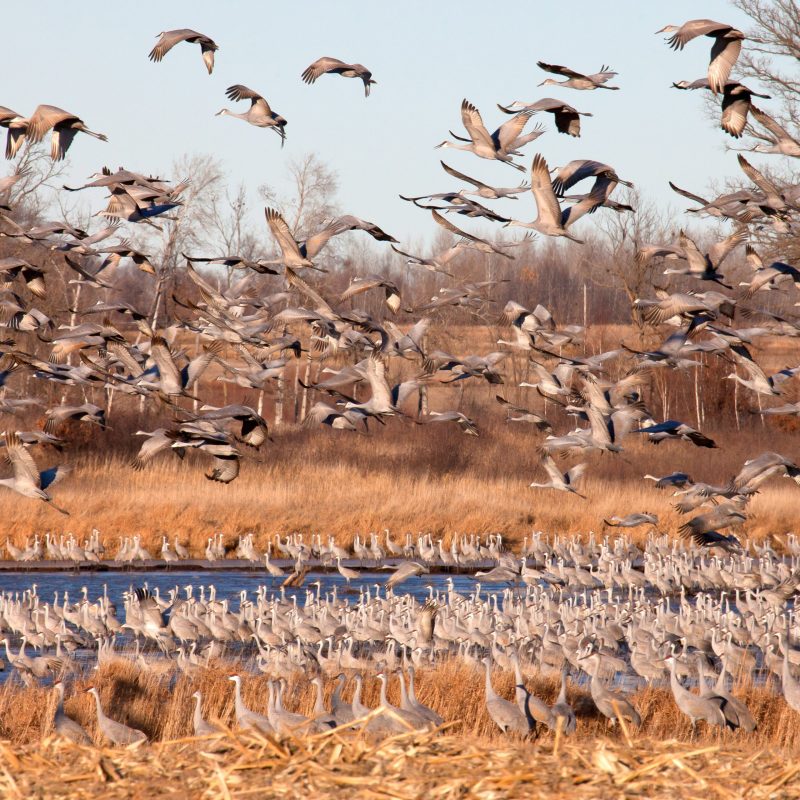 It's a spectacle that draws thousands of people from around the world. The annual sandhill crane migration in central Nebraska offers you an opportunity to witness a historic event that's taken place for more than 10,000 years. More than 500,000 sandhill cranes, unique-looking birds that can stand up to four feet tall with a red crown on their heads, spend parts of a six- to eight-week period in central Nebraska every spring, resting to regain their strength for the final leg of their northern migration. Following winter in the southern United States in places such as New Mexico and Florida, plus Mexico and parts of Central America, the birds head north to summer nesting spots in the upper Midwest, Alaska, Canada, and Siberia in Russia.
The sandhill cranes visit a 100-mile section of Nebraska between Grand Island, Kearney, and North Platte known as the Central Flyway. The Platte River, a shallow and wide waterway, provides natural protection for the birds at night as they huddle together on the sandbars. Sandhill cranes are naturally jittery, and the sandbars provide security from predators such as foxes and coyotes.
Where To Watch Sandhill Cranes
My wife and I have become avid fans of the sandhill crane migration, visiting the Kearney area almost annually for nearly 20 years. Once you see the birds hopping around and playing in cornfields and open spaces, it's easy to fall in love with them. They're fun birds to watch. Each year brings new opportunities to view the cranes in their environment. We've viewed the cranes in both the Grand Island and Kearney areas. And while we've yet to visit North Platte during the migration season, the area at the western edge of the flyway offers great viewing as well, according to friends in the area.
Kearney is centrally located in the flyway. We've found farm fields that are easy to access to watch the birds. We pull off to the side of a gravel road where we can safely watch the birds without posing a traffic risk. Once you have a favorite area for crane watching, it becomes routine to visit. Fort Kearny State Recreation Area south of Kearney is another good spot for crane watching. You do need a state parking permit for the location (daily permits are available). Most of your viewing involves watching the cranes spend their day in the fields, eating corn, worms, and anything else they can find.
While Kearney remains a popular viewing area for most of the 46,000 people (according to a 2017 University of Nebraska Kearney study) who visit from nearly every state and multiple countries, Grand Island and North Platte offer similar viewing experiences. We've enjoyed visiting some of the smaller towns south of Grand Island where the birds are known to spend time just outside the city limits in farm fields.
Watching sandhill cranes come in to roost each night is a special occasion. You'll see and hear hundreds of birds flying overhead as they return to their sandbars from a day in the fields. As the sun starts to set, the sky is filled with the silhouettes of the sandhill cranes flying in a V-formation. Their bugle call is a distinguishable sound you'll appreciate.
Pro Tip: An observation deck is available a few miles south of Interstate 80 at exit 285. We've found this to be a fun experience. You'll be joined by about a hundred other people who also want to watch the birds fly in for the night. Situated next to the Platte River, you'll get excellent views of the birds flying overhead and landing on sandbars downstream. We recommend you get there about an hour before sunset for a nice viewing spot.
Reserve A Viewing Tour
Opportunities for close-up views are available at two local wildlife centers. Rowe Sanctuary near Gibbon offers day and night tours that take you next to the river, where you spend up to two hours behind specially constructed blinds watching the cranes. The evening tour allows you to watch the cranes land and settle in for the night. You're just a few feet from the cranes as they land.
The morning tour allows you to watch as the birds take off for the day. Rowe Sanctuary also offers a limited number of overnight viewing blinds. There are strict rules when it comes to using the blinds. Check availability and costs on the sanctuary's website.
The Crane Trust Center near Grand Island also offers special morning and evening blind viewing tours. The center also offers a footbridge viewing tour. You can spend about two hours on a bridge across a river channel, and you'll see cranes landing downstream. Availability and costs can be obtained on the center's website.
Read more about why one photographer loved his viewing tours as he recounts finally witnessing Nebraska's sandhill crane migration and why he can't wait to go back.
What To Pack For A Sandhill Crane Migration Getaway
Since you'll be visiting mid-Nebraska in spring, the weather can be challenging. You may visit on a day with sunshine and temperatures in the 50s. Or, you may visit on a gray, chilly day with strong winds. You can even experience both types of weather in one day. As Nebraskans say, "If you don't like the weather, wait 15 minutes." Since you'll spend time outside, you'll want to dress in layers. Bring a nice warm coat and gloves as well as a light jacket. Toss in some hand and foot warmers (available at outdoor stores and big box stores), and you're set for a truly special experience.
Binoculars will help you watch the cranes as they avoid humans. When you park alongside a country road, they'll likely move away from you in the field. After a while, they may stroll toward you but not very close. Cameras with telephoto or extended lenses are perfect for crane watching. They'll help you capture outstanding memories of your sandhill crane experience. You can also read up on TravelAwaits' nine travel photography tips for amazing photos on your next trip.
Practice Crane-Watching Etiquette
The Nebraska Park and Game Commission recommends you practice crane watching etiquette, which includes the following:
Stay in your car and use it as a blind.
Use appropriate locations for viewing the cranes on the river. Do not attempt to approach or otherwise disturb cranes on the river.
Never approach a whooping crane. Forcing a whooping crane to fly away violates the Endangered Species Act. Stay in your car.
Do not slow or stop on the road. Drive onto the shoulder.
Never block a driveway or any other farm road.
Stay on county roads. Do not drive on farm roads.
Assume all property is private and obtain owner permission before entering.
Never cross a fence or open a cattle gate without the owner's permission.
Do not disturb farm animals, cross cropland, or touch farm equipment. Respect the rights of the people who live in the area.
Area Attractions To Visit
Kearney
After spending a few hours crane viewing during the day, you may want to take a break and visit some of the area attractions. Kearney is home to The Archway, which traces the westward migration of pioneers as well as life on U.S. 30, better known by some as the Lincoln Highway. You can also check out hundreds of vintage cars at the Kearney Classic Car Collection museum.
Grand Island
Known as the hometown of Academy Award-winning actor Henry Fonda, Grand Island is home to the Stuhr Museum and living history railroad town. Downtown Grand Island is home to several antique stores that offer interesting collections of vintage wares.
North Platte
The Lincoln County community is home to the Buffalo Bill Ranch State Historical Park. The ranch was home to the famous cowboy entertainer of the 1800s. Fort Cody Trading Post, also in town, is a great spot for souvenir shopping and checking out unique exhibits, including a miniature version of the Buffalo Bill Wild West Show.
Where To Enjoy A Good Meal
Kearney
Angus Burgers and Shakes is a Kearney original with a menu that features unique burger combinations, such as the country-fried burger featuring a chicken-fried patty and pimento cheese. You must try the shakes, which will challenge your concept of what a shake should be with ingredients like Captain Crunch cereal.
Grand Island
Pizza lovers will enjoy a visit to Wave Pizza Company. With outstanding pizzas and sides such as buffalo wings, the ambience is part of Wave Pizza's charm. Beyond the surf boards and other beach decor, the restaurant's true attraction is a VW van in the middle of the dining room.
For great coffee and desserts, stop in at The Chocolate Bar in downtown Grand Island.
North Platte
The Lincoln Highway Cafe is a cute diner on Highway 30 that features homestyle cooking.
Where To Stay
Kearney
With a wide selection of hotels to choose from, we've found the Country Inn and Suites and the Hampton Inn and Suites to be excellent choices for accommodations. We also enjoyed a weekend at the Best Western Mid-Nebraska Inn and Suites.
Grand Island
The city has an excellent list of hotels to choose from. We enjoyed a weekend at the Best Western Plus Inn and Suites.
North Platte
The Best Western Plus is one of the hotels we've stayed in while visiting North Platte. It's centrally located in the city near Interstate 80.
Planning a Nebraska vacation? These are the best things to do in Omaha, plus eight fun and weird Nebraska festivals worth checking out and the ultimate river experience: tanking in Nebraska.