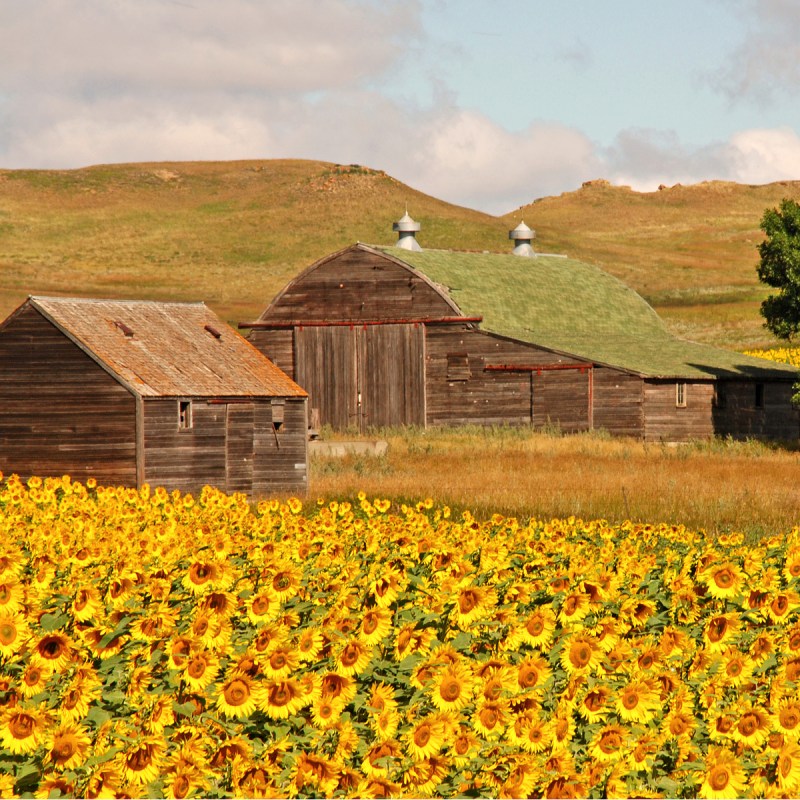 North Dakota is a state that many reserve as their 50th state to visit. What most people don't realize is that they're missing out on a lot of things by waiting so long.
The Enchanted Highway, Theodore Roosevelt National Park, and the World's Largest Things are a sampling of what visitors can expect in North Dakota. Here are the 10 best things to experience in North Dakota.
1. The Enchanted Highway
North Dakota is home to a 32-mile stretch of highway that is speckled with giant sculptures and called the Enchanted Highway. It is located off of Exit 72 on I-94 in western North Dakota. At the exit, you will see the giant Geese in Flight, which offers insight into the drive that awaits you. Highlights of this drive include Teddy Rides Again and "Pheasants On The Prairie." There are parking areas near the sculptures along the route, which travels from Gladstone to Regent. You will want to take pictures at each sculpture as you will marvel at the vastness of them. Keep in mind that there are no restrooms along this route, so plan accordingly.
At the end of your drive, visit the Enchanted Castle in Regent. Lodging is available, as well as a restaurant. Your road back to I-94 is the same one you came on. Rest assured that you will have a different view on the way back north. A tip that I would give you is to make this trip at sunset in June or July. There's something to be said about a North Dakota sunset with the wide-open skies.
2. International Peace Garden
When I mentioned that I was visiting the International Peace Garden in North Dakota, most people asked me what it was. This has to be among the most forgotten gardens in the world, yet it's so majestic. You can have one foot in Canada and one foot in the United States while visiting. June and July are optimal times to visit, as the gardens are in their glory.
The one thing that surprised me is that these gardens are home to one of the largest cacti and succulent collections in the world, which I would expect to find in Arizona, not along the Canadian-American border. It's located north of Rugby off of U.S. Highway 281, toward the middle of the state. You will cross the border when visiting, so a passport will expedite your return to the United States or Canada. If you do not have a passport, be sure to carry your driver's license and a birth certificate.
3. Theodore Roosevelt National Park
National parks are some of the best places to spend time all year long. Theodore Roosevelt National Park is no exception, as this park looks different during all four seasons. The bison roam 365 days a year, as do the wild horses. The bison will be near your car, which means that you need to stay in your vehicle when they are nearby. You will want to have your camera handy, as you never know when one of the majestic wild horses will appear. Wear a good pair of walking shoes and dress in layers, as the weather can change rapidly in North Dakota.
I would highly suggest investing in an annual national park pass so you will be encouraged to visit more national parks throughout the year. Your admission fees will be covered for numerous national parks and monuments when you hold one of these passes.
Tip: Visit both the South and North Unit when you go to the park. The North Unit is about an hour from the South Unit but worth every mile. Dickinson, North Dakota, is home to the nearest airport and rental cars are available.
4. Bully Pulpit Golf Course
Located three miles south of Medora is Bully Pulpit Golf Course. This 18-hole golf course offers a beautiful backdrop: the North Dakota Badlands. This course was designed in the spirit of Theodore Roosevelt, and that homage is made clear as President Roosevelt often used the word "bully." Golf enthusiasts will appreciate the challenge and the views. If you are not a golfer, I would still suggest visiting the course. It's truly one of a kind.
5. World's Largest Things
North Dakota prides itself on being home to several of the world's largest things. Dakota Thunder, the world's largest buffalo, is located in Jamestown. Salem Sue, the world's largest Holstein cow, can be found at Exit 127 on I-94. She comes into view from a few miles away, as she's on a hill. Drive up the hill to see her up close and stand under her. That is when you will realize how big she is.
Steele, North Dakota, is home to the world's largest sandhill crane. Sandy is 40 feet tall and is located partway between Bismarck and Jamestown on I-94. The whopper of all of the world's largest things is the Wahpeton Wahpper, weighing in at 5,000 pounds. This is the world's largest catfish. Spectators can view this masterpiece in Wahpeton, North Dakota.
6. Medora Musical And Steak Fondue
Medora is located on the western edge of North Dakota and is the gateway to the South Unit of Theodore Roosevelt National Park. The Medora Musical is the longest-running outdoor musical in the country. Talented musicians perform a family-friendly musical every evening of the summer. The season runs from June through the middle of September.
Before the musical, I would suggest indulging in the supper served on the grounds where the musical is held. The Steak Fondue is served up with all the country fixings, with the North Dakota Badlands in view. Dining on a fried steak makes for an epic North Dakota experience. After the meal, an escalator and elevator transport guest to the outdoor theater seating.
7. Street Art
Bismarck, North Dakota, is home to Art Alley. Alley 5.5 is located between 5th and 6th streets, halfway between Bismarck's Broadway and Main Avenues. Several artists have contributed to this beautiful project since it came to fruition in 2016. Take a selfie with your favorite work of art.
I would suggest parking your car along the street near the alley and beginning your stroll from your car. Parking along the streets is free, but keep in mind that the 90-minute maximum park time is enforced.
8. Foodie Tours
Fargo, North Dakota, is home to some amazing food experiences. Sign up for a foodie tour and experience the wide variety of foods that North Dakota has to offer. You will be pleasantly surprised to learn that Fargo is more than meat and potatoes. Coffee shops, brewpubs, Mexican street food, German bier halls, and Japanese sushi are some of the tasty foods you will experience in Fargo.
Start your foodie tour at the iconic Fargo Theatre, located in the heart of downtown, and prepare to experience the food and culture of North Dakota in Fargo on a foodie tour that you will be talking about for years to come. Prices range from $35 to $50+ per person, depending on the tour you choose. You can book your tour here.
9. Fishing
Devils Lake is the largest natural body of water in North Dakota. It covers more than 160,000 acres with hundreds of miles of shoreline. Fishermen of all skill levels will have a great time fishing here. It has earned the reputation of being the Perch Capital of the World and has been ranked as one of the top five fishing lakes in the United States. It's not uncommon for fishermen to catch perch weighing in more than two pounds.
Devil's Lake is located off of Highway 2, approximately 80 miles west of Grand Forks. The fishing is good all year long, provided you embrace winter and ice. Ice fishing is very popular in the winter and makes for an epic North Dakota adventure. Educate yourself before you take to the lake and familiarize yourself with the fishing laws in North Dakota.
10. Fort Abraham Lincoln State Park
History buffs will appreciate all that Fort Abraham Lincoln State Park in Mandan, North Dakota, has to offer. It is located near Bismarck, North Dakota's capital city, and the park is home to many reconstructed military buildings. This state park was established in 1907 and is the oldest state park in North Dakota. A fun way to experience this park is to stay in a cabin or in one of the on-site tipis. Listen to the Mighty Missouri as you place yourself back in time. Wherever you choose to stay, the On-a-Slant Indian Village offers insight into Native American history.
There is a gift shop, coffee shop, and visitor center on site. Guided tours are available May 1 through the middle of September for an additional fee. The visitor center is closed during the winter season. In my opinion, May and June are wonderful months to visit. Spring is in full bloom, which makes for beautiful photo opportunities.
These North Dakota experiences are sure to leave you wanting more. Once you set foot in this state, you will find that the people, food, and experiences will welcome you with open arms.
Want more ND advice? Consider these six reasons to spend your next family vacation in North Dakota.