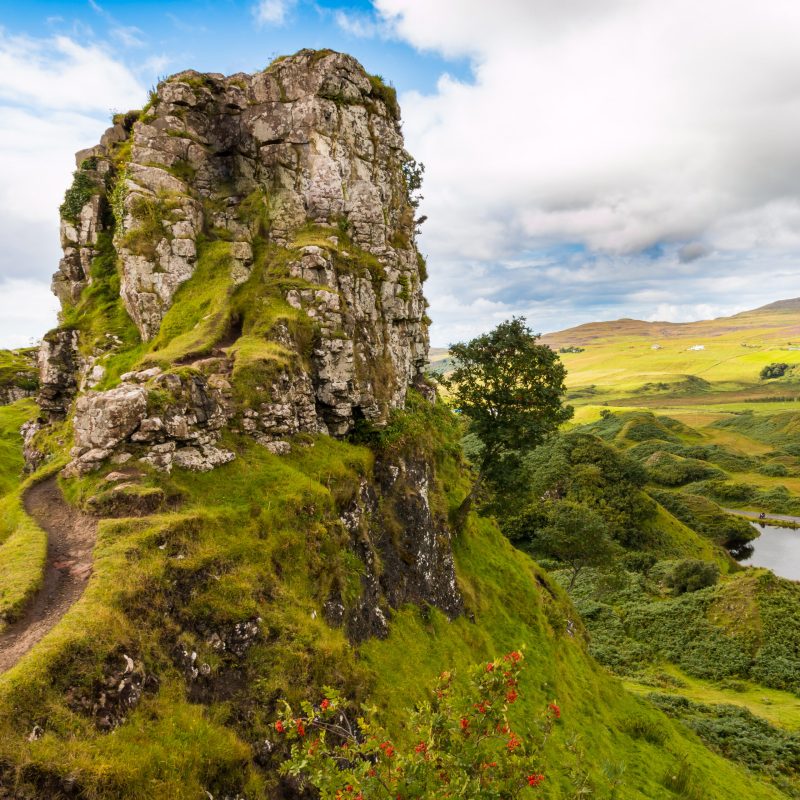 A great grassy landscape full of sloping green peaks, sparkling lochs, and proud castles, all set against an azure sky, the Scottish Highlands defies the imagination. This heather-scented, hearty Scotland is what most people think of when they envision the country.
Although you could easily spend several weeks wandering the Scottish moors and acquainting yourself with their tiny towns and villages, it's possible to check out the best of the Highlands within three days if you plan strategically. The key is to travel within a specific section.
This article focuses on the area between Loch Ness and the Isle of Skye, a complete journey of roughly 2.5 to 3 hours. This will give you enough leeway to relax and soak in the atmosphere while still enjoying the best that the Scottish Highlands has to offer.
Here's how to spend 72 enchanting hours in the Scottish Highlands.
Try To Spot Nessie
You can't visit the Scottish Highlands without paying tribute to its most famous resident. Nessie is the notoriously bashful monster who occasionally makes an appearance gliding along the misty waters of Loch Ness. According to legend, Nessie is dark green or grey with a lanky body and a long neck. Visitors can try to spot the elusive Nessie on one of the lake's many boat tours. Plan to spend between 1 and 4 hours on the lake.
Loch Ness is also home to one of the most important castles of medieval times: Urquhart Castle. Tour the great ruins and take in the beautiful view of Loch Ness and the Scottish Highlands beyond. Some areas of Urquhart Castle are wheelchair-friendly, but there are other places in the fort that could pose problems for those with mobility concerns.
Tour One Of The Most Iconic Castles In The Highlands
Eilean Donan Castle looks like it jumped right from the pages of a fairy tale. This island-bound structure is surrounded by interwoven lochs and set against the magnificent backdrop of the western Scottish Highlands.
Eilean Donan Castle also enjoys quite a bit of cinematic fame. It's been used as a set for plenty of movies and television shows, including Highlander, and is one of the most-recognized castles in the world. Plan to spend a few hours exploring Eilean Donan Castle to truly appreciate it.
Unfortunately, those with mobility issues could find it difficult to navigate the uneven terrain or pass through some of the narrower passageways. Eilean Donan Castle offers a virtual tour of the grounds, however, and you can always explore the visitor center and flatter areas of the island and castle exterior.
Hike In Glen Coe
It's hard to believe that one of the loveliest places in the Scottish Highlands was the site of the infamous Glen Coe Massacre, where the MacDonald clan met a grisly fate.
Today, Glen Coe is a more peaceful place — a place where nature is celebrated. Glen Coe's walking and hiking trails wind through some of the most spectacular spots in the northern Scottish Highlands. The trails vary in difficulty and length, but all of them require proper hiking boots.
Bring a lightweight rainproof coat and an extra pair of socks, as well as plenty of water, bug spray, and snacks. Most of the animals in the Scottish Highlands aren't dangerous, but the terrain can be rough and slippery depending on the season. Bring a whistle along and let someone you trust know where you are going before you hit the trail.
Get A Round Of Golf In
Scotland is famous for its legendary golfing. The rich fields of grass and heather are absolutely optimal for putting 18 holes. No matter what your skill level, you'll find a course that's perfect for you. Explore the links yourself or sign up for one of Scotland's golf tours. It's a great way to weave together leisure and fitness on your vacation.
Most courses are relatively flat, but many of them require some gentle uphill walking. In order to fully enjoy the game, you'll need to be moderately fit and able to stand for a certain amount of time.
Need to upgrade your clubs before such a trip? Check out TaylorMade's latest deals!
Visit The Ancient Cairns
Many ancient people called the Scottish Highlands home, and memorials and burial sites are scattered all over the moors and valleys of the region. The Clava Cairns are thought to be at least 4,000 years old.
Open year-round, the ancient cemetery is a somber place with great religious significance. The cairns themselves are built to face the setting winter sun, which has led some experts to speculate that their positioning coincided with the winter solstice.
The Clava Cairns can be fully appreciated in about an hour, although you might want to budget a little more time for taking pictures. The terrain is slightly rocky and rough, although not completely impassable for those with mobility concerns.
Spend Some Time In The Fairy Glen
The United Kingdom has its fair share of fairy mythology, and Scotland is certainly no exception. The Isle of Skye in the northwestern part of the Scottish Highlands takes its celebration of sprites to the next level with Fairy Glen, a curious bit of landscape that seems more than a touch magical.
Fairy Glen consists of stout rock formations, crooked trees, and shallow caves where you can leave a coin tribute to the magical creatures. You'll need a moderate level of fitness to be able to explore it enjoyably, and the paths can be muddy during certain parts of the year. Seeing the entire Fairy Glen takes roughly an hour.
Pick A Historic Accommodation — Or Go Camping
When it comes to deciding where to lay your head in the Scottish Highlands, you've got plenty of options. Those craving a quaint bit of history should try an authentic bed and breakfast. If you want to be royalty for a night, why not rent out a room in a Celtic castle? It always pays to book early, especially for castle stays.
There are also plenty of camping options in the Scottish Highlands. The region is usually much cooler than the rest of the United Kingdom, even in the summer, so it's always helpful to have winter gear on hand if you're planning on pitching a tent on the moors.
Sample Scotland's Iconic Food And Beverages
Scotland's iconic dish is haggis, and it's unlikely that there's any fare in the world more revered or reviled. Haggis is a bold dish consisting of organ meat, oatmeal, fat, and spices. It's generally boiled and served with potatoes and parsnips. The Scots love their haggis so much that they've even engineered haggis-flavored potato chips, a delightfully salty and addictive snack.
A less controversial option is Cullen skin. This creamy fish soup is the ideal marriage of potatoes, leeks, and haddock. Eat it with a generous slice of bread for comfort food at its finest.
Scottish dessert options are equally hearty. Scones with clotted cream and jam are a popular snack, as is shortbread. Scottish shortbread is a buttery, decadent treat that pairs perfectly with tea or coffee. These snacks also make phenomenal souvenirs.
Of course, you should wash down all of this robust food with some fine Scotch whisky. This region of Scotland is dotted with distilleries, each one putting its own unique spin on single malt or blended whiskies. Generally, Scotch from the Highlands features notes of heather and dried fruit.
Go Shopping
Scotland's finest whiskies are popular souvenirs, but there are stringent rules regarding exporting and importing spirits. If your bottle is greater than 3.4 ounces, you won't be able to bring it in your carry-on. Stow fragile bottles of Scotch whisky in your checked luggage and make sure that they are firmly tucked in place. It's a good idea to wrap bottles in towels, blankets, or even sweatshirts to prevent them from jostling around.
Scottish shortbread is another fabulous gift, and you can get it just about anywhere in the Highlands. Most shortbread cookies come in small, attractive tartan-print tins, making them excellent stocking stuffers or hostess gifts. Scottish shortbread is authentic, relatively inexpensive, and a true crowd-pleaser.
Tartan-print products like ties or scarves make fantastic gifts that are easy to pack. If you want to go the extra mile, you can always pick up a kilt. Scottish kilts have a long, proud history going back to the clans of yesteryear. Since each tartan pattern relates to a specific clan, it's possible to find kilts, scarves, ties, or other printed products that reflect the lineage of people today. These sorts of gifts are excellent choices for friends and loved ones of Scottish descent.
Wool sweaters and scarves are other popular gifts from the Scottish Highlands. They are handmade, durable, and will be cherished for many years.
The Highlands is a uniquely beautiful region of the United Kingdom full of lore, history, and culture. Treat yourself to three amazing days wandering the lovely and lonely moors, hills, and lochs. This enchanting country is nothing short of bucket-list-worthy!
Want more to add to your Scotland itinerary? Here are seven reasons to visit Fingal's Cave, plus how to visit Hirta, the remote Scottish ghost island.