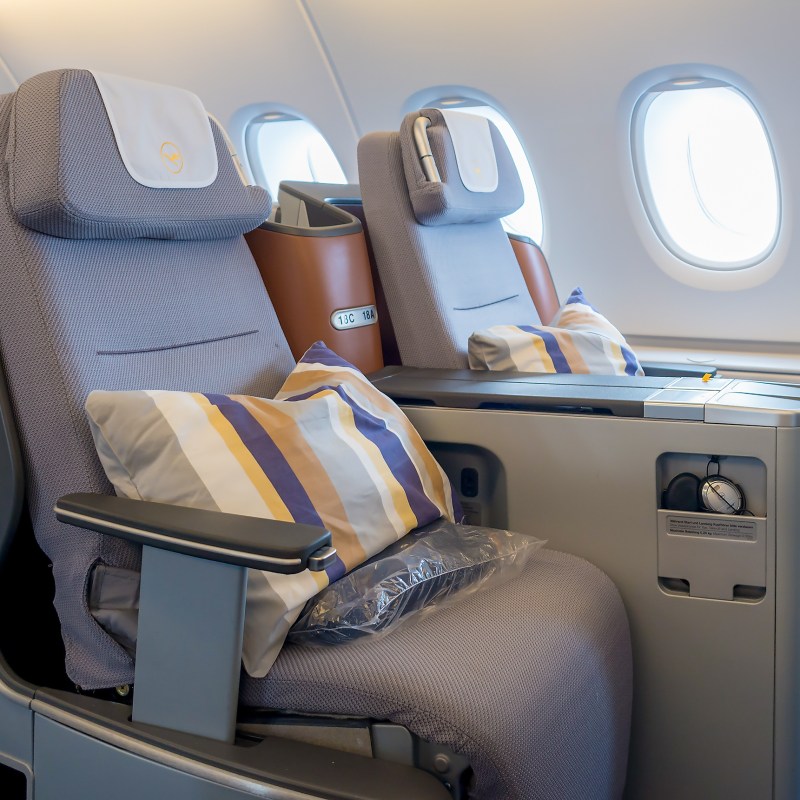 Flying business class has been on my bucket list since … forever. But being one to watch the dimes carefully, I could never justify the seemingly insurmountable cost difference compared to traveling coach.
How And Why We Flew Business Class
The opportunity to fly business class presented itself when we flew to Auckland, New Zealand, from Barcelona, Spain, for my godson's wedding. With enough Qantas Airpoints to upgrade, the time was right to tick this one off the list.
I have never been able to sleep on planes, even with the help of sleeping tablets, as I need to be horizontal in order to slumber successfully. Flying business meant a real chance of sleep with their fancy reclining beds, a mattress, and a real pillow — or so I thought!
Expectations Of Business Class Treatment
With expectations high, we were booked on Emirates, a code-share partner with Qantas, for the two legs of our journey. Barcelona to Dubai is a tolerable six-hour stretch on a Boeing 777, however Dubai to Auckland requires a daunting 17-hour passage — one of the lengthiest long-haul flights you can take — on the much larger Airbus A380.
What were we expecting from our maiden business class voyage? I think number one was to touch down feeling relatively rested, but we certainly anticipated being well fed and pampered along the way, too.
Newbie Mistake In Barcelona
Having flown from Paris to Barcelona earlier in the day, we had arrived eight hours prior to the departure of our Emirates flight. Looking forward to soaking up the spare time in the luxury of a business class lounge, we were sorely disappointed. We could only enter the lounge after checking in, but the check-in counter didn't open until four hours before our scheduled departure!
After checking in at the first possible moment, we discovered that the lounge was a general lounge for all airlines, not just Emirates. The only foods available were snacks: cheeses, crackers, ham, salami, potato chips, nuts, fruit, and a few cakes. Not the fancy spread of dinner dishes I'd experienced when delayed for almost a day in Hong Kong years earlier. They did, however, have a bottomless supply of beverages — from soft drinks to beer, wine, and champagne.
What Happens In Business Class?
Upon arrival at our business class seats, the champagne arrived quickly, served by a friendly, attentive hostess. And not just any champagne: Moet and Chandon Imperial Brut, and Veuve Clicquot Yellow Label NV. Accompanying the champers was a selection of tasty warm nuts.
The seats themselves were very comfortable with acres of legroom in front — hardly needed for my 5-foot 2-inch frame but much appreciated by my 6-foot husband. Our airhostess handed us complimentary "His" and "Hers" travel packs. Mine consisted of Bvlgari products including body lotion, a nourishing face emulsion, eau de cologne, a dental kit, a compact mirror, a comb, and a packet of tissues all neatly packed in a lovely case. My husband's pack contained shaving foam, a razor, deodorant (obviously boys smell more than girls, right?), a comb, a dental kit, and tissues.
When the menu book arrived I took my time studying not only the delicious-sounding international cuisines — light bites, lunch, dinner, and breakfast (phew!) — but also the cocktails, spirits, liqueurs, aperitifs, mocktails, soft drinks, and hot drinks on offer. An individual wine book of carefully selected fine wines accompanied the menu.
Ahead of our meal being served in record time, our hostess dressed the dinner table with a crisp white starched linen tablecloth, a wine glass, a water glass, our own cute bottle of balsamic vinaigrette, salt and pepper shakers, butter sitting in its own adorable dish, and our linen napkins wrapped inside silver holders. I could get used to this royal treatment.
My appetizer consisted of a cold salmon and trout cake, roasted beetroot, and seasonal greens dressed with truffle oil and lemon. Alan ordered a traditional Arabic mezze of hummus, muhammara, stuffed vine leaf, and shanklish salad.
Our main comprised of the most succulent fresh tasting poached cod, delicious giant capers that popped with flavor in my mouth, and yellow and red cherry tomatoes sitting on a bed of tasty lightly spiced black lentils. This may have been business class, but the meals, in my opinion, were first class.
With full tummies, we reluctantly skipped the temptation of a chocolate and hazelnut torte for dessert but accepted a box of two fine luxury chocolates — you can't turn that down, can you?
Sleeping In Business Class
With the clock ticking past midnight and given that we had been awake since 3 a.m., it was time to retire and catch some much-needed sleep. The bed, however, didn't recline quite flat enough for me to get comfortable, and the sleeping tablets didn't kick in until just before landing. The result was that shortly afterward, I found myself walking around Dubai airport for the three-hour stopover in somewhat of a daze.
If you have ever been to Dubai, you would appreciate the sheer immensity of the airport. The walk to the main business class lounge was very long. There were many buggies around offering lifts to the elderly and disabled. That was great, but I would have thought the service could be extended to business class travelers as well. Maybe I expected too much?
The Dubai business class lounge is Emirate's flagship lounge and truly exceeded all expectations. It is massive, opulent, and offers all manner of foods. Fortunately, the lounge included rooms with beds, so I was able to grab an hour or so of rest between flights.
The 17-hour journey from Dubai to Auckland was still ahead of us as we climbed into the upper-deck business class seats on Emirates' magnificent Airbus A380.
The business class seating in the Airbus A380 included a side table with a cabinet containing drinks and a stowage area. More importantly, the A380 seats reclined to form a completely flat bed.
Once on-board and with a comfortable mattress on top of the seat, I was happy to trade food for shut-eye.
Unexpected Luxuries
A nice addition to business class on the A380 was the separate socializing lounge. Set up with a bar and comfortable seating, we could chat with other passengers or the crew while nibbling on beautiful designer snacks and drinking yet more Moet, coffee, cocktails, or fine wines.
Why I Wouldn't Fly Business Class Again
So, the question begs, Would I pay to fly business class when flying long haul again, and would I recommend Emirates business class?
My expectations were that we would land in Auckland feeling refreshed and ready to face the day. That didn't happen — we were both exhausted on arrival.
We currently tour Europe full-time in an RV and the typical cost difference between business class and coach one way equates to over two months of our normal traveling costs. So we have to weigh up 24 hours of extra comfort, better meals, and a little more sleep at a combined cost of over $6,500 USD against two more months of experiencing the sights, sounds, and foods of Europe.
For this traveler, flying coach will be my future preference, allowing us to use the money for additional travel opportunities.
As for Emirates business class — we couldn't fault their service, friendliness, food, or drinks — and the seats were certainly a class above coach.
The Airbus, however, provided a better overall experience than the Boeing. So if you are only going to fly business class once in your life, I would recommend choosing a flight on an Airbus A380.
Click here to browse Auckland discounted tours!
Want more on luxe travel?