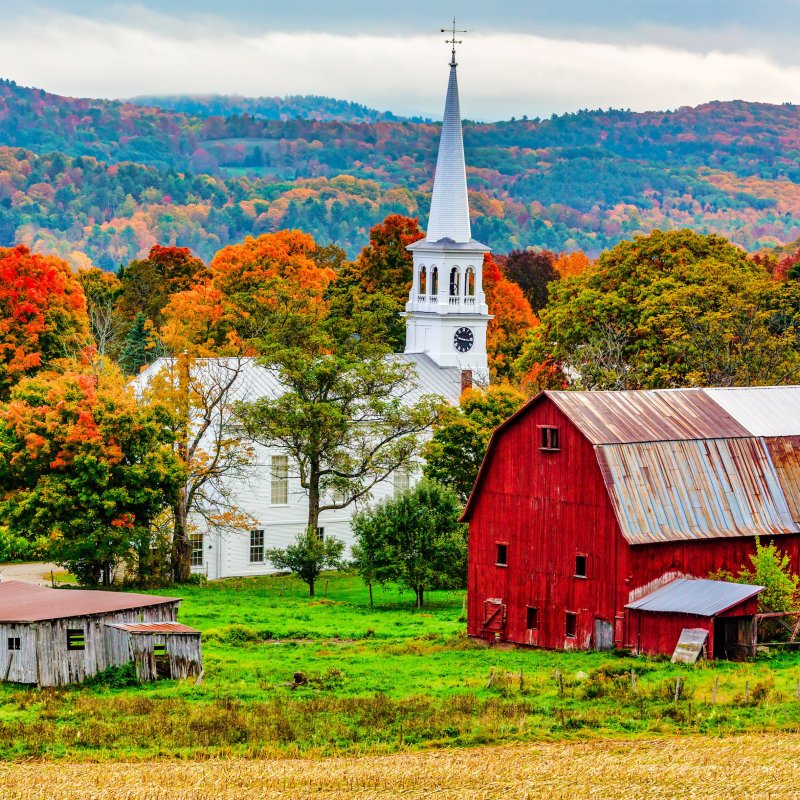 A large, central green surrounded by turn-of-the-century shingled houses and stately brownstone manners promises visitors homespun mountain magic. Woodstock, Vermont, is a haven for artisans, farmers, and purveyors of local goods who take immense pride in their work. Here are the best things to do during your time in town.
Commune With Nature
The Marsh-Billings-Rockefeller National Historical Park was donated to the American people by Laurance and Mary Rockefeller. Previous owners were George Perkins Marsh and later Frederick Billings.
The park is composed of 20 miles of carriage roads and hikeable/skiable trails. Annual and day passes are available from the Woodstock Nordic Center. Day pass trail fees range between $14 and $25 per person.
While you're here, try something new, like fat bike riding. Fat bikes are a traditional mountain bike fitted with extra-wide tires for more traction in the snow. A mini clinic from the Woodstock Nordic Center includes a 20 minute lesson, a one-hour bike rental, and a one-hour trail pass for only $40 per person. It is a fun and interesting way to try a new mode of transport. It will certainly give you an interesting story to tell!
Additional ungroomed trails are open to the public free of charge and are perfect for snowshoeing and cross country skiing in the winter months and horseback riding and hiking during the summer months.
The Billings Mansion inside the park is adorned in the Queen Ann style and was redecorated by the Rockefeller Family in the 1950s. Schedule a Park Ranger guided tour of the mansion and the gardens from late May through late October. There are lots of tour options including The Mansion Experience and a Thursday Art Tour.
Ski The Green Mountains
Don't let the name fool you, the Suicide Six ski area — less than 10 minutes north of Woodstock — is actually small and family friendly. The 24 trails supported by three lifts offer a variety of difficulty levels to accommodate every skier and snowboarder.
A 30-minute trip northwest of Woodstock is Killington Ski Resort. If you are looking for the quintessential New England ski experience, Killington is your destination. Their 212 trails on seven mountains with 28 lifts offer some of the best skiing in New England.
If you're looking for a beginner ski adventure, check out Ski Quechee. The Quechee Ski Hill has 13 trails, three lifts, and is the perfect size for beginner skiers and small children.
Hike The Appalachian Trail
The Appalachian Trail — locally referred to as the Long Trail — runs through Woodstock, affording great hiking opportunities. You can access trail updates on the Green Mountain Club web page. This is an important resource when planning a hike on the Long Trail.
A more gentle hike up Mount Tom takes about 30 minutes from the trailhead on Mountain Avenue. The panoramic view of Woodstock from the top is charming. In the winter, the summit can be reached with snowshoes, providing the weather is clear.
The Walk Woodstock map is a handy guide for day hikers, and Green Mountain Club also hosts a list of accessible trails here.
Learn Falconry
Imagine standing in a beautiful summer meadow, arm outstretched, as a magnificent hawk lands gently on your hand. For an experience you can't find in your backyard, visit New England Falconry.
Lessons include introductory sessions, participating in a free-fly session, and a wild quarry hunt session. Private sessions are also available upon request.
Watch A Glassblowing Demonstration
Visiting the Simon Pearce Flagship Store in Quechee (approximately 15 minutes east of town) is a must during your Woodstock visit. Watch a glassblowing demonstration by these amazing crafters. The one-of-a-kind, turbine-powered mill is a classic photo backdrop. The glass and pottery wares are beautifully crafted. They also sell nearly perfect seconds at the mill. They offer unique items that make perfect gifts for yourself or someone else.
After the demonstration or shopping, you can enjoy a bite at the Simon Pearce Restaurant that looks over the Ottauquechee River.
Tour A Historic Farm
Billings Farm and Museum is located a short walk outside the center of Woodstock. Housing a fully operating dairy farm, exhibits, and educational programs, it is a fun place to enjoy a beautiful Vermont day.
You can tour the restored 1890 Farm House and heirloom garden. The farm is open for tours daily from April through October and weekends and vacation weeks from November through February.
Stroll Dartmouth's Quad
Dartmouth College is located in Hanover, New Hampshire, just a 30-minute drive over the border from Woodstock.
Relive your college days as you wander through this old-world-esque, Ivy League campus. Anchored by traditional New England brownstone buildings that support over 4,000 undergraduate students, the grounds are a study in colonial architecture.
Cook With A King
Located in Norwich, Vermont, 30 minutes northeast of Woodstock, the King Arthur Flour flagship store is awash in the aroma of delicious baked goods.
Take classes like If the Choux Fits: Cream Puffs and Eclairs, Bagels and Bialys, or Macaron, to name just a few. Classes are available for beginner bakers and expert chefs alike. If you prefer to use a box mix, they have a large selection, including some delicious organic and gluten-free options.
Spend the morning shopping and watching the bakers at work. Take time to grab a nibble at their cafe, which is open for breakfast, lunch, and afternoon snacks.
Where To Stay
The Woodstock Inn is the backbone of Woodstock. Timeless elegance and attention to detail are the hallmarks of the Woodstock Inn. Intimately wrapped in the history of the town and clearly inspired by nature (as is demonstrated by its preservation of green space), the inn is synonymous with the village.
You can also try the Jackson House Inn for a classic bed and breakfast experience. Luxuriously appointed rooms, beautifully maintained gardens, and sumptuous breakfast offerings await you.
Airbnb options for Woodstock include tiny homes near babbling brooks, National Historic Homes, and everything in between.
Eating In Woodstock, Vermont
The food scene in Woodstock is farm-to-table focused, as you would expect from a historic farming village nestled in the Green Mountains. Below are a few local favorites.
The Woodstock Inn
The Woodstock Inn offers two different restaurants. The Red Rooster is known for casual fine dining and Richardson's Tavern serves dinner only in a cozy pub setting. Additionally, they have two seasonal food options: Perley's Poorhouse serves Suicide Six and the Fairway Grill supports the Woodstock Country Club.
The Worthy Kitchen
A true pub with lots of local craft beer and cider options, the Worthy Kitchen offers comfort farm-to-table, seasonally inspired cuisine.
Cloudland Farm
Cloudland Farm is only open Friday and Saturday and reservations are required. The food for your table is produced on the property or a neighbor's farm. You know you are in for a real treat when you view the prix fixe menu that changes weekly. It's like going to dinner at a friend's home. This is a bring-your-own-beverage establishment. They recommend visiting F.H. Gillingham and Sons General Store, where they will suggest a wine for menu pairing.
The Harpoon Riverbend Taps And Beer Garden
Head on over to the Harpoon Riverbend Taps and Beer Garden in Windsor, Vermont, (about 30 minutes southeast of town) for a tour of the brewery and a sampling of their craft beers. Tours are available Friday, Saturday, and Sunday; $5 includes a tasting. Grab a pint and sit down for some serious bar food in their restaurant.
Shopping In Woodstock, Vermont
If you are looking for amazing cheese, Vermont maple syrup, great craft beer, homespun goods, and fun shopping, Woodstock has it all and more.
Gillingham's General Store is exactly what you would expect from a Vermont general store. They stock traditional New England wares, penny candy, toys, and clothing in addition to beer, wine, cheese, baked goods, and more. If you are hungry for a snack or are looking for that perfect vacation souvenir, stop here.
Sugarbush Farm makes and sells their own cheddar cheese and Vermont maple syrup. You won't find it any fresher than this. They also sell all the great condiments you'll need to put together a food-forward gift for someone special.
Shopping in Woodstock village center is a step back in time — visit the country stores, boutiques, restaurants, and art galleries where you can discover Vermont's treasures.
Woodstock, Vermont, is a picturesque New England country village where you can relax and enjoy the natural beauty. The people are friendly, the food is amazing, and the scenery and surrounding towns and mountains are gorgeous.
Touring Vermont? Don't miss Vermont's hidden gems and best-kept secrets, or the curious history of Vermont's witch windows.