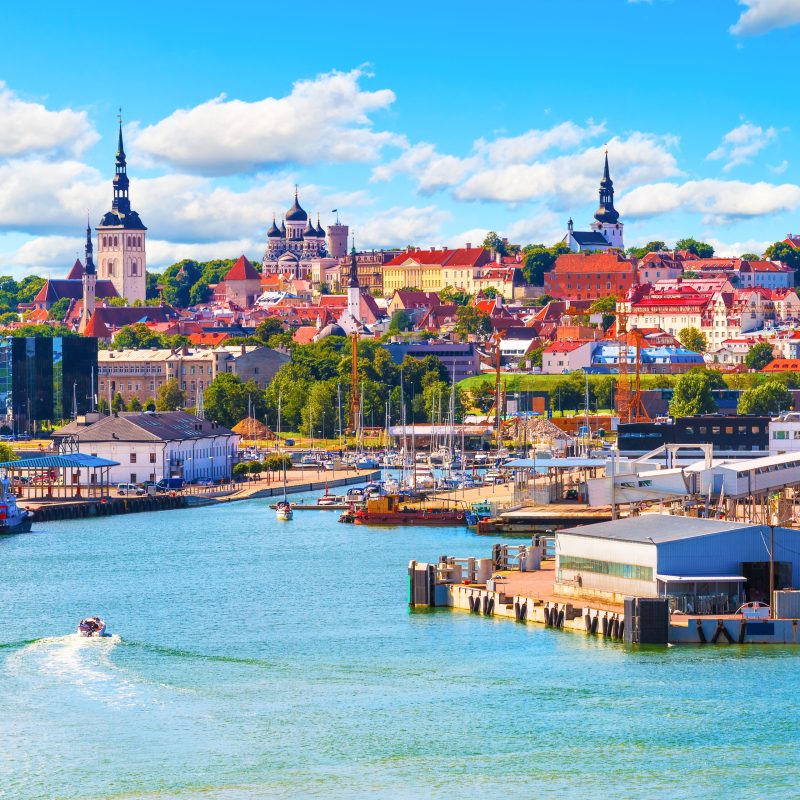 My visit to Tallinn was hosted by Visit Estonia, but all opinions remain my own.
Tallinn, Estonia, is a lively Baltic capital that deserves more attention from travelers. From its dynamic attractions to its funky and historic neighborhoods to its lively food and drink scenes, this cool city is full of surprises.
After a recent trip to the area, I can confidently say that Tallinn was the sleeper hit of my year in travel; that simply means that I was completely and unexpectedly blown away by what the city had to offer.
Here's how to make the most of a day in Estonia's under-the-radar capital.
Discover The Old Town
On my first morning in Tallinn, I signed up for a free 2-hour walking tour of the Old Town area. Conveniently, the tour began just 5 minutes away from my hotel. You can either take a tour or just explore this enchanting area solo.
Tallinn's Old Town is a must-see, especially for first-time visitors to the area. It's considered the city's biggest tourist draw and is a UNESCO World Heritage site. The Old Town is broken into two main sections, the Upper Town and the Lower Town.
The Upper Town contains Toompea Castle, the home of Estonia's Parliament; the impressive Orthodox Alexander Nevsky Cathedral; and two picturesque lookout spots.
Every morning on top of one of Toompea Castle's towers, the Estonian national anthem is played and the flag is raised. It's a very cool sight to behold.
The Lower Town is home to some of the best-preserved Gothic structures in Northern Europe, including pretty churches, medieval city walls, and narrow cobblestone streets. The historic Town Hall Square and Tallinn Town Hall, the oldest city hall in Northern Europe, are also here.
You'll also find Europe's oldest continuously run pharmacy, Raeapteek, in the Lower Town; it now serves as both a pharmacy and a quirky museum. Some of the oddities that can be found in the museum portion include treatments like bleached dog feces and dried deer penises. I'm not sure what ailments those were supposed to cure, but it was certainly entertaining to see the items that used to be considered medicinal.
This beautiful and old area of Tallinn should be number one on any day-trip itinerary.
Explore Telliskivi
Another cool area in Estonia's capital is Telliskivi Creative City. It's known as the creative hub of the city and actually borders the Old Town. The former industrial area is now home to a number of must-see attractions in Tallinn.
The street art, murals, and public art installations sprinkled throughout Telliskivi make for stunning free art exhibits and also unique photo backdrops.
But the crown jewel of the neighborhood has to be the unreal Fotografiska, a Sweden-based art center that highlights photography. There are outposts in Stockholm, New York City, and Tallinn.
During my visit, I was lucky enough to catch the moving and ethereal Wonderland exhibit by British photographer Kirsty Mitchell. Compiled over five years, this body of work explores the artist's grieving process after her mother passed away from cancer. The result is one of the most visually stunning, unique, detail-oriented, and creative exhibits I've ever had the pleasure of experiencing in person.
Fotografiska Tallinn generally puts on about four large exhibits each year, along with 20 or so smaller-scale exhibits. Make sure to visit if your schedule allows, especially if it's a cold day when an inside activity is especially attractive.
Telliskivi is a trendy district with tons of other businesses to explore, so make time for it on your trip. You never know what you'll discover around the next corner in this creative part of Tallinn.
Experience Tallinn's Beverage Scene
Even if you only have a short time in Tallinn, try to experience some of its diverse and exciting beverage scene.
Visitors should try the national drink of Estonia, Vana Tallinn, which is a dark and sweet rum-based spirit that is readily available in the capital.
Beer lovers should check out Pohjala, Estonia's largest brewery. It's known for taking traditional beer styles and adding unique twists of its own. Some well-known staples here are the Pilky pilsner, Ohtu porter, and Kosmos IPA. Brewery tours are available almost every day of the week in both English and Estonian for about 10 euros.
Another great spot is BrewDog, a craft beer-focused establishment; it's located close to the Old Town in the trendy Rotermann Quarter, another cool enclave in Tallinn. It's also located near the port for easy access for cruise day-trippers.
Cocktail aficionados should check out Botaanik, an artisan cocktail bar that is widely considered one of Europe's best new watering holes.
Gin fans will love Junimperium in Telliskivi, the country's first artisan gin distillery; if time allows, check out its distillery tour.
Wine lovers will want to visit R14, also in the Rotermann area, which boasts a huge selection of wines.
For the extra adventurous, there is a speakeasy I recommend called Whisper Sister. As with any good speakeasy-style bar, there is no large sign to highlight the place. Instead, visitors should locate the teeny-tiny sign on the door and call the mobile number to gain access. When I was there, a lady answered and let me know that there were seats left, so I got in. This will not always be the case, but it's worth a shot.
Eating In Tallinn
There are plenty of delightful places to eat in Tallinn.
For the best farm-to-table experience, I suggest Leib in the Old Town. It's described as a partnership between farmers, sommelier, and chef. Leib has the best wine list I saw in the Baltics and is even a Wine Spectator award-winner! Try the unique feta-style goat cheese appetizer and the pan-fried deer for your main course. Splurge on dessert and get both the creme brulee with Estonian black bread and the oat milk cream with sea buckthorn ice cream and black pepper shortbread. Leib even has homemade liqueurs in flavors like rowanberry, rhubarb, and black currant. Be aware that the menu changes often due to availability of fresh items, so just ask your server for recommendations if mine aren't available or in season.
Visitors with less time should at least stop by the oldest cafe in Estonia, the Old Town's charming Cafe Maiasmokk. This spot is home to a spoon Ferris wheel, a mini marzipan museum, and an authentic historic interior. I loved the latte I got there; the cafe was a sweet sipping spot perfect for catching up with a travel buddy.
Dessert lovers should be sure to visit Cafe La Muu, an organic ice cream laboratory in Telliskivi. With tons of unique flavors, including eco-friendly iterations, this place is a win-win.
Plant-based foodies should visit Ulo, visitors seeking ambience should try CRU, and veteran brunchers will love Sesoon in Kalamaja.
Shopping In Tallinn
Tallinn is an excellent place to find authentic souvenirs and handicrafts.
I suggest checking out the Saint Catherine's Passage area and the Katariina Gild. Here visitors will find art galleries and even open working spaces and studios. Everything from fine leatherwork to handcrafted jewelry and glass can be viewed and purchased here.
Estonia is known for its textiles, specifically its delicate and paper-thin Haapsalu scarves. I was able to snag a cute cape and matching mittens at the Tallinn Christmas Market in Town Hall Square; it was voted the best Christmas market in Europe this year!
Bargain hunters should visit the Saturday flea market in Telliskivi. While there, check out the Baltic Station Market in the same neighborhood, which is a food hall that also offers Estonian crafts, clothing, and antiques.
Another great Estonian design shop is Tali, also within the creative confines of Telliskivi. It features the work of numerous local artists in various media.
Visitors have lots of cool activities to choose from on a day in Estonia's vibrant capital city. From its amazing restaurants and beverage scene to its historic areas and traditional handicrafts, Tallinn is a real gem.
Want to discover more hidden gems of the Baltic region? Consider visiting Latvia's capital city of Riga or Lithuania's capital city of Vilnius. You could also take the 2-hour ferry ride from Tallinn to Helsinki, Finland.