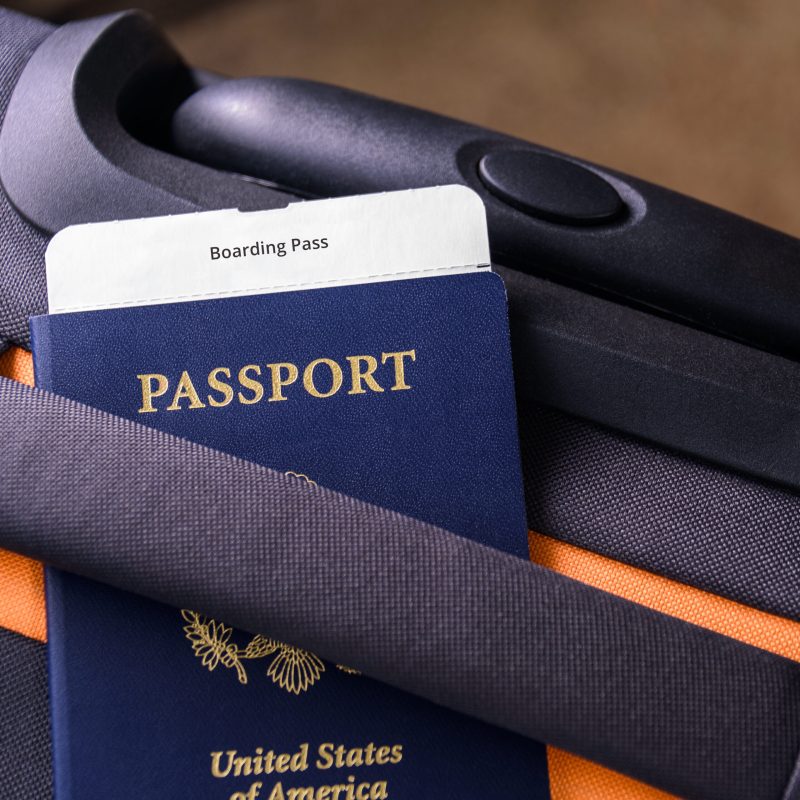 Travelers know they should be mindful of their possessions, especially their passports. A lost passport can wreak havoc on a trip.
An easy time to let down your guard is when homeward bound. After a seven-week solo trip to the UK, I was transferring through Abu Dhabi Airport like the 24.5 million other passengers who transit there each year. The queues were endless and the processing rushed and unfriendly. It was a relief to be over the scrutiny and to know that after a short wait and another four movies during the flight, I'd be home.
An hour before boarding I began reorganizing my bag. "It has to be here somewhere," I thought, pulling out underwear and crushed souvenirs. But no, my passport was gone.
I rushed back to security — the last place I remembered having it. Police officers stood chatting. "Has a passport been handed in?" I asked. "No, go there."
The airline desk was thick with travelers bombarding staff with questions. It was minutes before I blurted out, "I've lost my passport, but I have a photocopy. Will that get me through?"
"No passport. No board plane," growled the official, demanding I sit down. I asked him to ring my consulate, but he said it was the middle of the night and they would be closed.
I sat comforting a woman who was crying. She'd lost her passport and had been waiting for hours. Clearly I wasn't going to resolve this calamity by sitting down, so I barged back to the counter requesting someone walk back with me to the police. The male official snapped no, but a female employee — gauging my rising hysteria — rose to help. ''Be back in two minutes!" the man barked.
We'd only walked a few feet when someone came toward us waving a passport. I'd left it at a desk when I'd been asking about flight times. Thanking my saviors, I particularly turned to the airline employee who'd been willing to help me despite displeasing her superior. Reaching for her hand, she suddenly hugged and kissed me. It was my first brush with a hijab and one of the kindest women I have ever met.
I swore I'd be more careful, and for years, traveled without incident — until there was a transport hiccup, and I almost missed my ferry. The passenger ramps had been retracted, so I was rushed through the vehicle entrance where I squeezed between tightly crammed cars before climbing endless flights of steel stairs. I hadn't recovered from the fluster when the ferry docked in Victoria, Canada, where I was met by long queues and grueling security checks.
But the world seemed righted when I emerged from the underground customs area and saw Victoria's heritage buildings bathed in sunshine. My host welcomed me to my lodgings in the Janion Building, which had idyllic views over the majestic harbor. Feeling safe, I dozed off until a thought jolted me upright. It was my host's parting comment: "By the way your bag's open!" I'd immediately zipped it up, but now checked the contents. No passport!
The recorded message played monotonously when I called the police. "Unless this is a life-or-death situation, continue to hold." After 40 minutes, I reached a human. "It's a long weekend," she said. "The police station is unmanned until tomorrow. Your closest consulate is in Vancouver, and closed for the holidays."
I tossed and turned, weighing my options. Perhaps I could live in Canada for the rest of my life. Handmaids always try to reach Canada, so perhaps it wouldn't be too bad. Or I could make my way to Vancouver. I hadn't budgeted to stay there, and the costs were mounting up in my head. Should I panic my family or resolve the problem myself? Knowing the answer, I found myself knocking at the police station door the next morning.
While unmanned, there was a wall phone at the entry. I'd expected the cold voice of the law, but instead received motherly advice. "Retrace your footsteps," she said. She also said that Victoria was the kind of place where if someone found a passport they would put it in the nearest letter box, and the postal service would get it back to the owner. "Great," I thought, "My passport is heading to Australia while I am stuck in the land of the long weekend."
Retracing my steps, I saw a church, and while not religious, I prayed. There is only so far self-reliance will go.
Reaching customs, I noticed the street level of the same building housed the ferry office. I hadn't been there previously, so wasn't expecting much. "Have you had any passports handed in by any chance?" I asked, watching the attendant rifle through a drawer where he had a few. "That's mine!" I yelled. "That one in the grey folder.''
Never before had I felt so elated or grateful, although I spared a thought for the other passport owners. Perhaps they were still on hold ringing the police or in church praying.
I have no idea how my passport ended up there. Perhaps I'd left it at customs and when closing they sent it upstairs, or maybe it had fallen from my bag and a passing stranger handed it in.
I'd love to say the stress ended there, but 12 hours before my U.S. flight, I tried downloading my boarding pass but it wouldn't accept my passport details. Was it possible my passport had been blacklisted? It was late at night when I confronted Calgary Airport. As most flights had ended for the day, it was like entering a monolithic morgue. Nobody could help me with checking my passport's validity, although a janitor took some interest in my plight. With only four hours left to sleep before the early morning flight, I phoned my country's Department of Foreign Affairs. "Nobody can cancel your passport except your own government, and we haven't cancelled it,'' came the Aussie twang of reason. The next morning I crossed the border without issue.
Perhaps you never lose anything, but spare a thought for the woman crying at Abu Dhabi Airport or the owners of the passports filed in the ferry office drawer. The chance of losing a passport is an ever present danger. Here are some lessons drawn from my experiences.
Zip It
"Zips are your friends," my son said when seeing me off. Yes, keep your passport safely stowed at all times. But recheck where it is after any travel incident where you feel hurried, prodded, or exhausted.
Holler
Losing your passport means an interrupted holiday, additional travel costs, a new passport fee, and extreme anguish. So make a ruckus. Most officials don't care about your loss and may even treat you as an inconvenience. I sometimes wonder whether that woman waiting in a corner of Abu Dhabi Airport is still there today because she failed to make a fuss.
Most Times It Will Be Okay
Good citizens hand in lost passports but don't usually bother taking them to a police station. When my son was backpacking in Europe, he left his passport on a railway station bench. No wonder he later told me to zip mine. He hurtled back on the next train to find it gone. Checking at the ticket office, he found someone had handed it in there. So always place yourself in the shoes of the person finding your passport. Where is the closest desk they could have taken it to? Go, ask there.
If All Else Fails
Contact your closest embassy or consulate. They'll cancel your missing passport. A new one requires photo identification such as your driver's license, a photocopy of your missing passport (You do travel with one, don't you?), and a police report if available. See the full list of requirements here. It's a stressful process.
Consulates tend to be in capital cities and might take days to reach. There should be a duty officer on call if you ring, but in some cases you will have to leave a message, especially on weekends. Losing your passport may feel like an emergency to you, but to them it's just another day in the office. The only person greatly affected by the loss of your passport is you. So look after it.