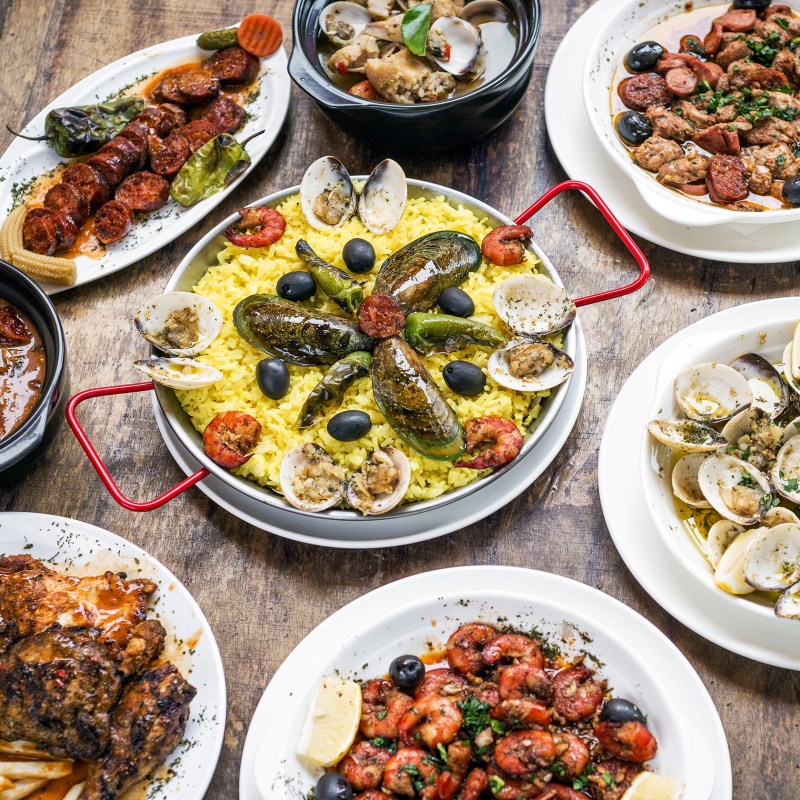 Our visit to Madeira was hosted by Discovering Madeira and TAP Air Portugal. All opinions are strictly our own.
Portuguese cuisine is undoubtedly some of the world's most delicious. Regions and even individual towns within the country have their own specialties rooted in local ingredients and preferences. Some specialties are so closely associated with a particular area that visitors make long journeys to seek them out. Portugal is also home to unique beverages, and Portuguese bakers are some of the best in the world.
We explored the culinary regions of Portugal from top to bottom, and these are some of the best local dishes, drinks, and treats we found.
Pasteis De Nata — Lisbon
Starting with a secret monastery recipe, the Pasteis de Belem bakery began making sweet egg cream tarts in 1837. The combination of crunchy, creamy, sweet, and salty was a big hit with the folks in Lisbon. Today, there are lines out the door almost all day long. Considered to be the original producer of these treats, Pasteis de Belem is the only bakery allowed to use "Belem" in its name. Plenty of other shops in town now make the delicacy, however, though they call them pasteis de nata, with nata referring to the creamy egg filling.
Today you can find pasteis de nata at bakeries big and small in Lisbon and other parts of Portugal. If you want to try the original, Belem is just a short distance from the center of Lisbon — but be prepared to wait in line. Otherwise, our favorite pasteis de nata come from Fabrica da Nata, which has a few locations. We loved the large factory in Restauradores Square with its patio, cafe, and lovely indoor dining room. If you have a real sweet tooth, you can do a pasteis de nata crawl and try the tarts at several of the bakeries to see which ones you like the best.
Queijadas — Sintra
A cousin to the pastel de nata is the queijada, most commonly found in the picturesque town of Sintra. Queijadas are noticeably different from pasteis de nata, however, because they feature a thinner, denser, crispier crust. Rather than the trademark dark spots on the custard of pasteis de nata, queijadas have brownish, caramelized tops. The difference comes from the custard ingredients. Queijadas, as the name indicates, incorporate a fresh Portuguese cheese similar to ricotta.
Similar to single-serving cheesecakes, these sweet bites are great with a warm beverage. One of the best places to try them is Fabrica das Verdadeiras Queijadas da Sapa, a small bakery on the road toward the palace in Sintra. Grab a few and enjoy them with the spectacular Sintra views.
Ginja — Obidos
Ginja, sometimes called ginjinha, is a sweet liqueur made from sour cherries soaked in brandy and sugar. Sometimes spices like cinnamon are added for flavor. And though it is found in other parts of the country, it is most closely associated with the medieval village of Obidos in central Portugal.
There are several producers of ginja in Obidos, each with a slightly different approach or recipe. But one of the common touristy delights of drinking ginja is having it served in a chocolate cup. The chocolate and cherry flavors complement one another quite well, but it can become a very sweet endeavor.
One of the best places to try ginja in Obidos is Bar Ibn Errik Rex. Errik serves the real deal, and his ginja is not quite as sweet as some others we have tasted. The bar is unique, giving you so much to look at while you sip. Errik himself may be there, watching a soccer game and joining you in conversation during commercials. You don't need to use the chocolate cups — and, in fact, with Errik's delicious liqueur, we suggest you sip it from a glass. You can purchase a bottle of Errik's ginja or one of the other brands available all over town.
Ovos Moles And Tripas De Aveiro — Aveiro
Aveiro is a romantic town with canals, brightly painted boats, tiled buildings, and fresh seafood. The area also offers some sweet treats that are known throughout Portugal and beyond.
Ovos moles de Aveiro originated at a convent that needed large numbers of egg whites to starch the nuns' habits, but hadn't found a use for the yolks. Experimentation led to a recipe for a dense and sweet filling using just sugar, egg yolks, and water. The filling is found inside many thin, crispy rice wafers that are pressed into various shapes, including fish, shells, animals, and more.
Another specialty of the region is the tripa de Aveiro, more often found at kiosks than in bakeries. These tripas have nothing to do with the other tripas specialty of intestines. Rather, they are like a cross between a crepe and a waffle. Thin batter is cooked on a waffle iron, folded, and filled with sweet or savory fillings like chocolate and ice cream or tuna and cheese. Tripas also come with toppings, so there is flavor inside and out. Some of the kiosks create a variety of imaginative combinations that keep customers returning.
Pork And Sparkling Wine — Mealhada
The tiny town of Mealhada may not make many tourist guides, but when it comes to amazing Portuguese dishes featuring pork, it reigns supreme.
Mealhada is known as the suckling pig capital of Portugal, with its signature dish being leitao, or milk-fed, spit-roasted suckling pig. But pork is served in many delicious ways here, including braised with tiny clams and served atop a bed of fried potatoes in a dish known as porco de Alentjena. Though the name implies otherwise, the dish originated in the Algarve and was arguably perfected in this porky capital.
The Bairrada region in which Mealhada lies also specializes in sparkling wine. Espumante de Bairrada is made from locally grown grapes according to the traditional Champagne method. The Bairrada region is becoming one of the most important areas in Portugal for wine production.
Francesinha And Port Wine — Porto
Many Portuguese dishes combine classic ingredients to produce new and unusual flavors. Nowhere is this more evident than in Porto's legendary gut-busting, fork-and-knife specialty sandwich called the Francesinha.
The sandwich was the brainchild of Daniel de Silva, a French immigrant who thought the croque monsieur could use some spicing up for Portuguese tastes. The Francesinha is now one of Porto's signature dishes. The essential sandwich includes layers of ham, linguica, fresh sausage, steak, or roast pork in between two slices of bread; melted cheese with a tangy tomato-beer sauce; and, frequently, an egg on top. The ones we tried at the award-winning Cafe Santiago seemed to cover all the bases — and we covered the scale after eating them.
It would be just plain silly not to mention port wine as a specialty of Porto. The delicious sweet fortified wine is a treat, but enjoying it in Porto, steps from where it's made, is wonderfully memorable. You can have fun learning and tasting at several places in the city. Take your time and savor the special flavor of this legendary local drink that is now served around the world.
Limpets And Madeira Wine — Madeira
Just an hour's flight from Lisbon is the glorious autonomous region of Portugal called Madeira. Funchal is the capital of Madeira Island and well worth a visit for its beauty and its food.
Limpets, or lapas as Madeirans call them, are very popular with the locals. We had never seen or tasted these mollusks before; they are like a cross between a mussel and a clam cooked with garlic and butter and sometimes a squeeze of lemon. They often come with a side of bolo do caco, a thick, round bread made with a blend of wheat flour and cooked sweet potatoes, perfect for dipping into all that garlic butter from the limpets.
No visit to Madeira would be complete without a taste of Madeira wine. Madeira wine is fortified and produced from different types of grapes. It can be blended or from a single varietal. Malmsey, also known as Malvasia, is the richest and sweetest type of Madeira wine, great for pairing with dessert (or enjoying as a dessert all by itself).
Funchal has several great spots to taste Madeira wine, including Blandy's Wine Lodge and Paixao do Vinho.