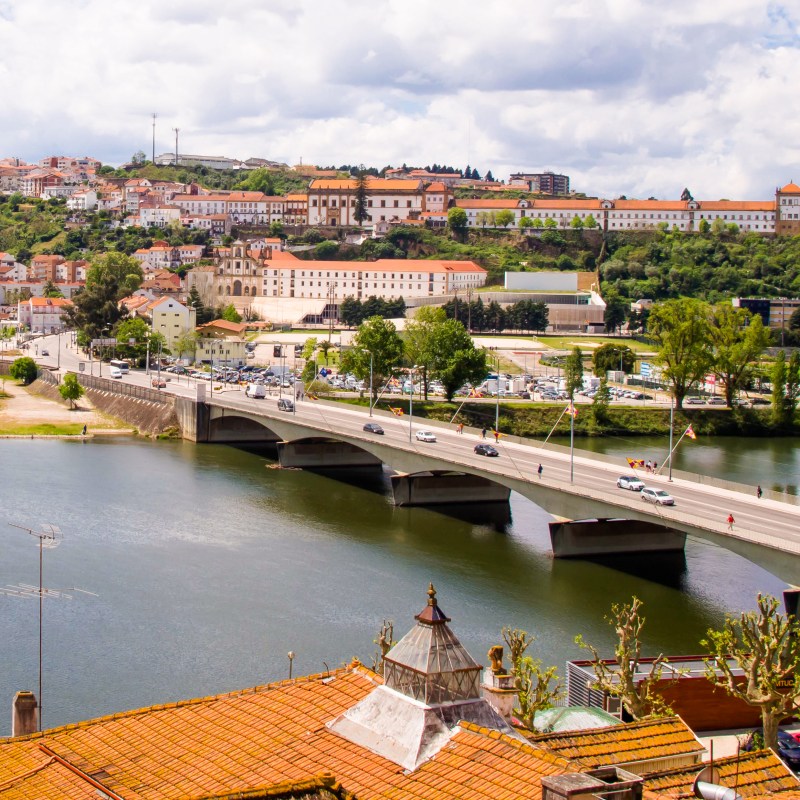 Portugal is a small country, but there are many wonderful places to see within it. The landscape offers so much variety, from sandy beaches and grassy meadows to dense forests and mountains.
One of the best ways to see a lot in a relatively short period of time is to take a driving tour of Portugal. Rent a car at the airport in Lisbon and plan at least five days to explore these eight stops. Of course, taking more time would allow for even more stops.
Here's a rough itinerary that starts in Lisbon and ends in Porto. You'll be able to see much of what this lovely country has to offer.
1. Lisbon
Wherever you come from, chances are you'll land at Lisbon's Portela Airport, so that's where you'll begin your journey. The largest city in Portugal as well as the country's capital, Lisbon offers everything you would expect and more. Plan to spend at least two nights in town to give yourself enough time to enjoy the flavors and vibe of the city.
It's better not to drive around Lisbon, which is loaded with cars, pedestrians, and traffic. A great idea is to take a taxi or rideshare to your hotel and then back to the airport to get your rental when you're ready to start your driving tour. Many hotels also offer a free shuttle to the airport, so you might take advantage of that.
For your stay in Lisbon, choose a place that suits your style. The ritzy area around Avenida da Liberdade is relaxed and filled with high-end hotels and shops, while the fun and funky Baixa District downtown is right in the center of the action. We stayed at Brown's Central Hotel, a colorful spot within walking distance of many of Lisbon's sights and bites.
For a great overview of the city's major attractions, choose one of the hop-on, hop-off bus tours. There are different bus companies and multiple routes, so you can pick one that covers all of your interests — then you'll know where to spend more time.
The food in Lisbon is amazing, but be sure to avoid the tourist traps. Instead, head to one of the local spots on the side streets.
2. Cascais
From Lisbon, drive to the coast to check out the beachside town of Cascais. Only about 30 minutes from Lisbon, Cascais was once a fishing town and getaway for Portuguese royalty. Today, it's a seaside resort full of hotels, shopping, mansions, museums, and more.
The waterfront promenade offers many attractions. Don't be surprised to see people walking and bicycling at all hours when the weather is good.
You can explore the older part of town with its traditional houses and cobblestone streets to get a sense of Cascais's history. There are several art galleries and museums, including the beloved Museu Condes de Castro Guimaraes, housed in what was once a nobleman's summer home.
Take time to sip a drink and have a bite at one of the many cafes by the ocean.
3. Sintra
A hilly town with colorful buildings, Sintra looks like something out of a fairy-tale. The National Palace and Pena Palace, regal structures rising from the steep hills, are the main attractions. Other palaces, a Moorish castle, and grand mansions complete the picturesque scene. Several parks, the convent, and the museums, especially the Archaeological Museum of Sao Miguel de Odrinhas, are also worth your time.
It can get quite busy in Sintra, especially during the warm-weather months when busloads of tourists come to marvel at its beauty. One way to avoid the crowds is to get there early before the hubbub begins and park in one of the designated spots along the roadside.
If you don't want to exert yourself too much, park near the center of town for shopping and easy strolling. You can also take a tourist bus to the hilly spots and save some time.
Sintra has earned UNESCO Cultural Landscape status for good reason. Just wandering the streets imparts a sense of wonder. For a real fairy-tale ending, you can book a carriage ride through Pena Park.
4. Peniche
Portugal has plenty of beautiful coastline, and visiting a seaside town like Peniche provides a great way to enjoy both the beach scene and the amazing seafood available there.
The beaches of Peniche are first-rate and have become popular for surfing, offering mighty tubes and hosting many international competitions. Peniche also boasts a clifftop fort, now a national monument, that used to guard the area, which was and still is a major fishing port.
An industrial town that has not put on a shiny veneer for tourists, Peniche is a seafood lover's dream. The meals on your plate are as fresh as can be — after all, the ingredients come from just a few feet away. Check out Avenida do Mar and Largo da Ribeira for the city's most popular dining areas.
5. Obidos
Ancient walled cities stir the imagination and create a sense of mystery and delight, and the medieval town of Obidos is no exception. This jewel of central Portugal is as romantic as can be; long ago, King Denis gave the city to his queen as a wedding present. The enchanting town is full of winding narrow roads and brightly trimmed buildings. Of course, it also has a castle, which now houses an elegant Pousada, or luxury heritage hotel.
Bibliophiles will love Obidos, since it's a UNESCO Creative City of Literature and a place where books are held in high esteem. In addition to hosting FOLIO, an international literary festival, Obidos is home to numerous unique bookstores. There's even a hotel, The Literary Man, where guests are not only encouraged to curl up with a good book — they are surrounded by volumes from which to choose.
Because picturesque Obidos is a walled city, you'll want to park your car in the lot by the entrance. The small tourist building nearby has maps and information to help you make the most of your time in this charming area.
6. Santarem
You'll head inland from Obidos on the way to the historic town of Santarem. Inhabited by everyone from the Greeks and Romans to the Visigoths and Moors, Santarem has some spectacular architecture, including one of the largest collections of Gothic churches in the country. Enjoy a stroll through the town's beautiful gardens and parks, including the Portas do Sol Gardens, for wonderful views of the Tagus River.
In the heart of the Ribatejo agricultural region, Santarem is also noteworthy for its gastronomy. There is a beautiful tiled public market, currently under renovation, that will be ready to visit next year. And the town holds an annual Gastronomia de Santarem festival to showcase and celebrate the best restaurants and traditional regional dishes Santarem has to offer.
7. Coimbra
Portugal's former capital of Coimbra is home to the oldest university in Portugal. Located on land previously occupied by a palace, the school offers views of the ruins of a Roman aqueduct. The baroque library and large bell tower are popular attractions with visitors from around the world. Coimbra also boasts a beautiful botanical garden.
Fado, the music of love and longing that's so much a part of Portuguese culture, gets favorable treatment in Coimbra, where artists perform the music without meal service, which can often detract from the experience. Fado ao Centro is a great place for daily concerts.
Be sure to take a drive around Coimbra itself to appreciate the gorgeous scenery, including beautiful river, city, and countryside views.
8. Porto
The second-largest city in Portugal, Porto defines the northern region of the country. Porto is a very hilly town, so when you visit, park your car in a local lot and plan to walk everywhere.
Start in central Porto, where you'll find the Clerigos Tower and Praca da Liberdade. There is a wealth of shops, museums, restaurants, markets, and attractions in this vibrant city. Know that — unless you're spending several days here — you won't see everything, so stick to those things that interest you most.
The Sao Bento Railway Station has stunning tile mosaics, as does the Capela das Almas on Rua Santa Catarina, which also happens to be one of the best shopping streets in Porto.
Harry Potter fans will recognize the gorgeous Livraria Lello, the bookstore that inspired J. K. Rowling's descriptions of Hogwarts. Unfortunately, the experience of the bookstore can be marred by hordes of tourists jamming in to take photos. There is a small fee for admission that can be used toward the price of a book. Our advice is to get there before the shop opens to beat the crowds; otherwise, stroll by later to see if you can get a glimpse of the marvelous place toward the end of the day.
Another spot well worth seeing is the gorgeous Belle Epoque-era Majestic Cafe, where you can grab a coffee and a pastry in the morning.
If you allow yourself to linger in Porto, check out the colorful Ribeira neighborhood on the banks of the Douro River or stop for a tasting at one of the many port wine cellars for a treat that will keep Porto forever in your heart.