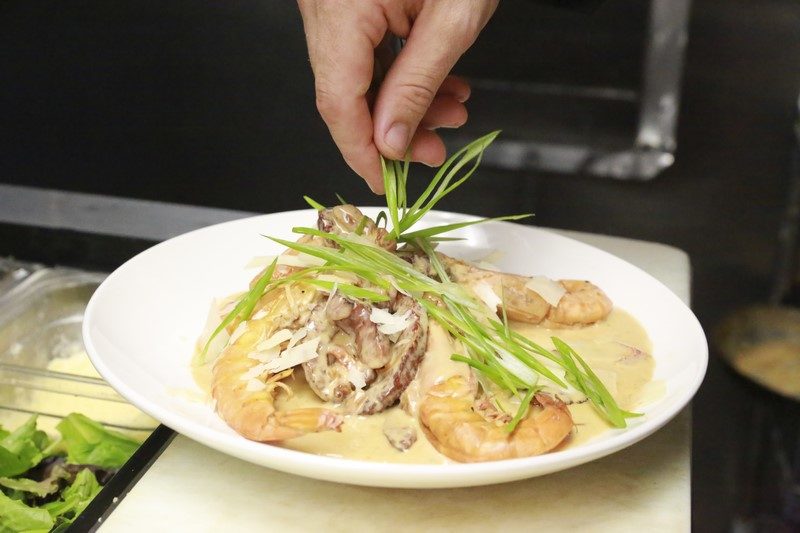 Anna Maria Island is known for spotless beaches, charming locals, and a laid-back way of life. When you're looking to spend your days lounging in the sun, there's no better destination in the United States — and when your stomach starts rumbling, you usually don't have to walk too far up the beach to enjoy a nice dining experience.
Whether you're looking for a simple burger or true fine dining, you'll find it on Anna Maria Island, provided that you know where to look. Here are our picks for the island's eateries, along with some crucial information about each restaurant's signature dishes.
Beach Bistro
Arguably the most famous restaurant on Anna Maria Island, the Beach Bistro provides a true fine-dining experience with gorgeous views of the beach. Over more than 30 years, it has gathered an impressive set of culinary awards, including a James Beard Foundation nomination and a Top Restaurant in America designation from Zagat.
Awards aren't everything, but the food lives up to the hype. Carefully sourced ingredients — many of which come from the Gulf region — create vibrant, fresh, and innovative dishes including "lobstercargots" (a take on escargot, but with lobster in place of the snails), blue tomato soup (seasoned Parrish plum tomatoes with sweet cream and blue cheese), and prime beef tenderloin (brushed with truffle butter and cooked in the Charlemagne style).
In recent years, Beach Bistro has continued to expand and refine its menu. You'll find plenty of sumptuous vegetarian options, though the restaurant's signature dish is unquestionably the bistro bouillabaisse. This soup is packed with lobster tails, jumbo shrimp, octopus, premium market fish, and shellfish, supported by an excellent broth and served with herbed garlic toast.
Anna Maria Oyster Bar
For more than 20 years, Anna Maria Oyster Bar (AMOB to the locals) has been one of Florida's premier spots for casual seafood dining. The menu is long, but it isn't overly complicated, with plenty of American-style favorites like buffalo chicken strips, onion straws, Maryland-style crab cakes, and fried clam strips.
In other words, this isn't a fine-dining restaurant, nor is it intended to be. AMOB simply serves an outstanding assortment of high-quality seafood, perfectly prepared and with enough options to suit any traveler's tastes. The fish and chips is the most popular item on the menu, but since this is an oyster bar, we'd recommend adding a few mollusks to your plate when placing your order.
The Sandbar
One of the oldest restaurants on Anna Maria Island, The Sandbar was established as a beachside bar in 1911. Current owner Ed Chiles purchased the building in 1979 and gradually transformed it into a premium casual restaurant focused on local, sustainably sourced ingredients.
Today, the menu draws from a variety of culinary influences. You'll find guests dining on Mexican street corn, New England clam chowder, and chicken and waffles while enjoying serene views of the ocean. Steak lovers won't want to miss the Sandbar Steak, a thick-cut chargrilled ribeye served with bacon-braised greens and a baked potato.
Smoqehouse
When you think of barbecue, you probably don't think of Florida. Nevertheless, Smoqehouse is a legitimately great barbecue joint. Give credit to its owners — this is their second barbecue restaurant (the first Smoqehouse opened in Minnesota), and they've managed to offer a compelling set of dishes that stretches the boundaries of barbecue without straying too far into haute territory.
The pulled pork is the obvious favorite, but the Korean beef and jerk chicken sandwiches are equally impressive. If you're not a native Floridian, you might opt for the Smoqehouse Cubano, a pulled-pork take on the traditional Cuban sandwich.
All sandwiches can be served on a bed of greens, so if you're gluten-free, you'll have plenty of options.
Old Hamburg Schnitzelhaus
For authentic German food, Old Hamburg Schnitzelhaus is unquestionably the best choice on the island — which isn't saying much, since German food isn't exactly big business on the beach. Nevertheless, Schnitzelhaus combines a welcoming atmosphere, a traditional menu, and true culinary artistry to bring a taste of Europe to the Gulf Coast.
The restaurant is designed to be a Wirtshaus, a tavern-style establishment where families gather to enjoy great food, drinks, and company. House-made bratwurst, schnitzel, and spaetzle make up the bulk of the menu, with plenty of inventive options to keep diners coming back.
Schnitzelhaus's signature dish is the pan-fried, bread-battered wienerschnitzel, prepared Vienna-style. Other options include deftige kohlrouladen (stuffed cabbage filled with ground beef and mashed potatoes) and Rheinischer sauerbraten (beef loin marinated in red wine and spices and served with red cabbage and spaetzle).
The drink menu features imported German beers and wines, and desserts like Tyrolean apple strudel will ensure that you leave satisfied (and very, very full).
The Waterfront Restaurant
The aptly named The Waterfront Restaurant attempts to create the experience of "tropical, laid-back Florida, the way it used to be." The regular menu is updated seasonally, emphasizing fresh, local flavors, and one page of the daily menu is dedicated to "special presentations." That's where the creativity of the kitchen staff shines; they work with small quantities of local ingredients to create artistic dishes that you won't find anywhere else on the island (or in the world, for that matter).
If you're an adventurous traveler, we recommend ordering from the daily menu, but the regular menu offers plenty of tried-and-true classics, including wasabi tuna, chicken Parmesan, and restaurant's famous fried shrimp.
Skinny's Place
Sometimes, you want a full multicourse meal — and sometimes, you just want to chow down on a cheeseburger while enjoying Anna Maria Island's perfect weather (we had part of a Jimmy Buffett joke here, but we lost it). Established by Carl "Skinny" Freeman and his wife, Janice, Skinny's Place is a no-frills burger shack with old-school appeal.
The most popular burger here is the Fatty Bacon Cheeseburger, but you'll also find hot dogs, chili dogs, BLTs, chicken sandwiches, and veggie burgers, along with an excellent selection of beers and soft drinks served in frosted mugs. Add in a bowl of Grandma's Homemade Chili, and you'll be in paradise. With a cheeseburger. Hey, there's that Jimmy Buffett joke.
The Feast
Billed as "casual fine dining," The Feast offers a comfortable atmosphere and a regularly updated menu of American classics like slow-roasted ribs, crab cakes, fried shrimp, and a selection of carefully sourced steaks.
This probably isn't the best place for adventurous foodies, but if you're looking for relatively simple dishes with locally sourced ingredients, you'll certainly find something that appeals to you. It's got an excellent selection of craft beers and wines, and the relaxed atmosphere makes for a pleasant change of scene after a day on the beach.
Start with the fried green tomatoes or the grouper bites, or if you're dining with friends or family, pick up the seafood sampler. All of the entrees are delightful, but the hand-tossed gourmet pizzas are famous for a reason (and yes, there's a gluten-free option). Finish with a slice of Key lime pie — this is one of the best places on Anna Maria Island to try this Florida classic.