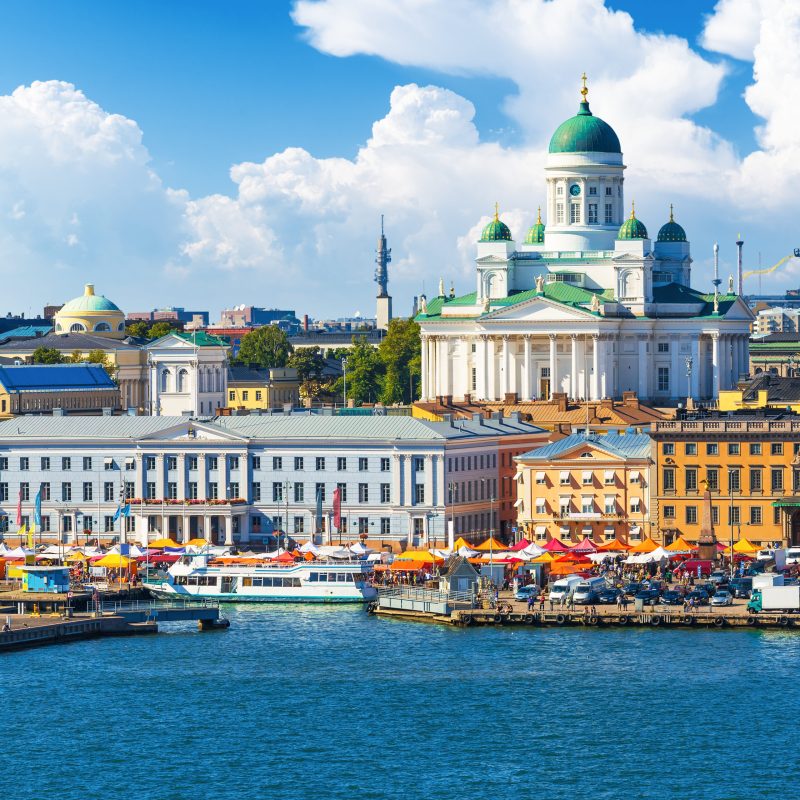 Finland's beautiful capital city, Helsinki, sits in the south of the country on the scenic Gulf of Finland. With a dynamic urban core and more than 300 islands in its archipelago, this Scandinavian metropolis has much to offer visitors. It would be easy to spend much more than a day there, but if you've only got a day, you can still experience a lot of what Helsinki has to offer.
Read on to learn about the city's top attractions, restaurants, and shopping opportunities.
1. Head To The Design Museum
Helsinki is known as a hip and trendy design capital, so it makes sense to visit its design museum while you're in town. Called Designmuseo, this institution is one of the oldest museums in the world and is situated in Helsinki's Kaartinkaupunki neighborhood. The museum features a permanent exhibit on Finnish design throughout the centuries, plus numerous galleries reserved for rotating displays. During my trip last month, there was a Collections & Collectors exhibit, plus an annual national design prizewinning exhibit. A funky carved wooden map and nice gift shop round out the offerings at this can't-miss stop.
On winter days when outdoor activities are less attractive, travelers should consider visiting the Kiasma Museum of Contemporary Art. Conveniently, it's just a 15-minute walk from Designmuseo.
Both museums cost less than 20 euros to visit and offer discounts for children and students. If you happen to visit on the first Friday of the month, take advantage of the free admission at Kiasma. Designmuseo waives the admission cost on the last Tuesday of the month (except during the summer) between 5 p.m. and 8 p.m.
2. Discover The Sea Fortress
Finland is home to seven UNESCO World Heritage sites, including Helsinki's island fortress of Suomenlinna. Constructed when Finland was part of the Swedish empire in the 18th century, this cultural gem eventually passed into the hands of the Russians. Today it's under Finnish control and is an important example of the era's military architecture.
Suomenlinna translates to "Castle of Finland" and used to be called Sveaborg. It rests on a series of linked islands, six to be exact, and can be explored solo or on a guided tour. The sea fortress is easily accessible; since it is home to almost 1,000 people, regular ferry service to it is available.
Suomenlinna is one of Finland's most popular tourist attractions and receives about 900,000 visitors each year. To avoid the crowds, don't visit during the high season of June through August. However, it's important to note that many of the museums and restaurants on Suomenlinna are only open during the summer season.
There is no actual admission fee for this attraction — just the ferry fee. The ferry trip is roughly 15 minutes long, and a ticket that's good for 12 hours costs about 5 euros.
3. See Senate Square
This picturesque area is actually the oldest in Helsinki. Senate Square is a major tourist attraction and is a popular spot for photos. It's also the location of the Government Palace, the Helsinki Cathedral, the University of Helsinki, and a statue of Alexander II. Additionally, the square is home to the oldest building in central Helsinki, Sederholm House, which was constructed in 1757, as well as the city's large Christmas market. Please note that the Christmas market generally runs from the beginning of December until right before Christmas each year.
4. Experience A Finnish Sauna
A huge part of Finnish life is the sauna, and accordingly, one can be found in almost every home in the nation. In fact, it's said that there are three million saunas in Finland, which is roughly one for every two Finns.
There are plenty of urban saunas, as well as some that are just a short car ride away in the forest. Saunas for both sexes as well as single-sex saunas are available. I heard great things about the traditional Kaurilan Sauna, which is about a 20-minute trip from the city center. Travelers who are pressed for time might consider a visit to the sauna at the Helsinki Airport, the Finnair Lounge.
To fully embrace Finnish culture, travelers should take the time to relax with a sauna experience. Whatever time of year you visit Helsinki, visiting a sauna is an acceptable pastime and a great way to experience authentic Finnish life.
5. Visit The City's Churches
Besides the aforementioned Helsinki Cathedral in stunning Senate Square, Finland's capital city boasts a number of gorgeous churches. One stunning baroque structure is the Uspenski Cathedral, located in the Katajanokka district. This Russian Orthodox cathedral is on a hill close to the pier and is said to be the largest Orthodox church in Western Europe. It is a well-recognized landmark of Helsinki.
Another cool house of worship is the so-called Rock Church or Church of the Rock. Located in the Toolo neighborhood, this Lutheran church dates to the mid 1900s. It was built into solid rock, has great acoustics for concerts, and is a popular tourist spot.
6. Check Out Additional Museums
Besides the previously discussed contemporary art and design museums, the capital has a couple of other noteworthy spots that you may want to consider visiting if you've got extra time.
The Seurasaari Open-Air Museum is an open-air folk and history museum that is more than 100 years old. Guided tours are available between June and August, but the museum opens for the season each May and remains open until September. Travelers can expect to pay around 10 euros for admission.
Another spot, the National Museum of Finland, celebrates the history of Finland from prehistoric times through the 19th century. The building itself is lovely and houses a cafe and gift shop along with both permanent and rotating exhibits. Free admission is available each Friday between 4 p.m. and 6 p.m. Students pay 12 euros or less, and anyone under 18 receives free admission.
Eating And Drinking In Helsinki
Finland's capital city has a refined Nordic dining scene with plenty of unique dishes and beverages.
Some dishes travelers should try include pea soup, rum cake (runeberg torte), Baltic herring, lingonberry pie, cinnamon buns (pulla), grilled sausage (grillimakkara), salted licorice (salmiakki), Karelian pastries, and cabbage rolls.
But in my opinion, the most Finnish item I sampled during my three days in the capital city was reindeer. I tried both a reindeer egg roll and a reindeer kabob at the oldest market in Finland, Vanha Kauppahalli. The market is only a 2-minute walk from the Suomenlinna ferry stop at the port of Helsinki.
Additionally, on my trip I found out that Finns love Asian food, so any tourist who needs a break from Nordic/Baltic cuisine can check out the bevvy of Thai, Chinese, Singaporean, and other Asian eateries. They are sprinkled throughout Helsinki and sit at a variety of price points.
For visitors interested in a more upscale experience, Helsinki is home to five Michelin-starred restaurants. They are the modern farm-to-table Ora Restaurant, the plant-focused Gron, the Finnish pioneer Palace Restaurant, Restaurant Olo, and the innovative Restaurant Demo.
Some of my favorite restaurants in town were the organic, relaxed Jord and the laid-back Putte's Bar and Pizza.
When it comes to beverages, perhaps the most Finnish thing you can try is sima, a low-alcohol mead that is very common in the area. For a stronger beverage, thirsty tourists can sample some Finlandia vodka.
Finnish brews and whiskey can be found at Eastern Helsinki's Olutravintola Pikkulintu.
For a small-batch artisanal coffee experience, travelers can check out the Helsinki Coffee Roastery's Coffee Bar.
Shopping In Helsinki
Helsinki is known for sleek design, and that makes it a very fun shopping destination.
My personal favorite spot was the famed Finnish design house Marimekko, which is based in Helsinki. There are tons of these stores around the city. I picked up a super cute apron for myself and graphic printed potholders for my family and friends. Finland is known for its knitwear, so sweaters or winter wear would make great souvenirs, too.
Moomin mugs are another iconic Finland item and can be found in shops around the city; in fact, the collectors-focused exhibit at the Designmuseo features a large collection of these funky items.
Finland is also known for its glassware, so visitors should keep an eye out for iittala items around town.
Additionally, tourists should be sure to check out the aforementioned Vanha Kauppahalli for unique food items like caviar samplers, local teas, and reindeer fare. The Christmas market is another prime shopping destination during the month of December; I was able to grab a pair of reindeer-skin gloves that I really love.
As you can see, there's so much to do in the capital of Finland. From funky museums to traditional saunas to local markets and shops, Helsinki truly has something for everyone.
Have extra time to spend in the area? Consider checking out what nearby Sweden and Norway have to offer!