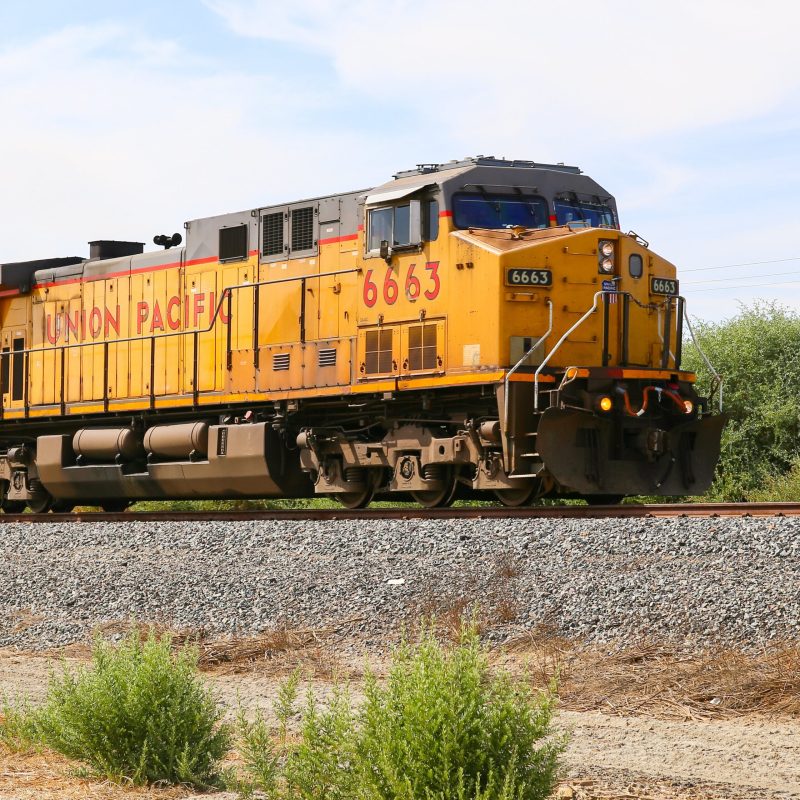 Five years ago, I set out to explore the United States by train. The vision started in part because I had spent three months in Europe as a teenager traveling with my mom and two Eurail passes. My sister was in the military, stationed in Augsburg, Germany, so we used her house as a home base as we traveled by train, staying in youth hostels or camping in Austria, Germany, England, Italy, France, and Switzerland. It was an immersive experience and train travel allowed us to connect while learning about foreign cultures.
When I decided to start travel writing, train travel was the obvious choice for me. While U.S. train travel is different than traveling with Eurail passes in Europe, the main benefits are the same: a luxurious, somewhat self-indulgent pace, a chance to see the backyards of America, an affordable ticket price, and the chance to connect with fellow travelers.
1. You'll View The Backyards Of America
There isn't a better way to travel if you want to see the changing landscapes and terrains of the United States. Car travel is a close second, except the driver misses out on a lot of the view — and there isn't the chance to sleep, eat, and stretch your legs while on the road. Plus, you can't drive to a lot of the locations where the trains travel. For example, on the California Zephyr that travels through Colorado, as the train passes through wild stretches of the Rocky Mountains, through tunnels, and along the Colorado River, you'll see steep drop-offs and mountain areas that can only be accessed by train.
But even in the more accessible areas, there's the peaceful voyeurism of seeing the homes as you pass. On my trip through West Virginia, my seatmate, an Amish woman, commented, "I see the houses as we pass and imagine what their lives might be like." People enjoy waving at the train, and I've received cheerful hellos from kayakers on the river, bicyclists, and a group of gentlemen sitting outside on a hot day in Mississippi who waved heartily from their lawn chairs as the train passed.
2. You'll Meet Fellow Travelers
Travelers are some of the most interesting people on the planet. They have a passion for exploring and are generally gregarious and friendly. I've made friends with my seatmates several times. On my last trip from Chicago home to Kansas City, I was seated next to an African American minister. When I mentioned a memoir my mom was writing, he immediately called his wife, also a writer, and we chatted on the phone. All three of us have stayed in touch.
A lot of times the passengers in coach are sleeping, but moving to the observation car or cafe car will give you a chance to meet fellow travelers. I can't name the number of times I've asked or been asked, "Where are you from?" "Where are you going?" I'm fascinated by other people's stories, and it's a great way to pass the time.
3. You'll Move At An Indulgent Pace
It's been said before, but train travel is all about the journey. Time feels altered as I settle in for a long ride. The clacking of the train and the rocking motion often lull me into a relaxed state. When I'm traveling by car or airplane, my thoughts go to wondering How much longer? When will I arrive? But on the train, I slow down mentally and enjoy the ride. As I'm never on a schedule when traveling, delays don't bother me.
Often there isn't cell service or Wi-Fi, so the chance to detach digitally is a welcome vacation of its own. Bring a book, pens and paper, maybe an adult coloring book — you know, those things we used to do to entertain ourselves before social media — and indulge yourself in a digital detox while enjoying the opportunity to spend time in reflection, take in the scenery, and make new friends.
4. You Can See An Entire Region For The Price Of One Airline Ticket
When wanting to visit multiple cities, I am a big fan of Amtrak's USA Rail Passes, which allow me to travel to multiple cities over a two-week period for a much cheaper rate than if I were to fly to each city. For $459, I purchase a 15-day, 8-segment rail pass (there are also 30- and 45-day passes). Keep in mind that any time you change trains (for example, I must change trains in Chicago when traveling east since I depart from Kansas City), it will count as one of your segments.
Each year I plan a two-week trip through a region of the U.S. One year I wanted to explore parts of the South by train so I departed Kansas City and took several trains to make stops in Chicago, New Orleans, Tuscaloosa, Gainesville, Greensboro, and Washington, D.C., before heading back to Chicago again, then home to Kansas City. If you have the time to explore a region, a rail pass is your best option for the price. Keep in mind that the rail pass is for coach seating. I enjoy sleeping in coach and don't usually upgrade to a sleeper car; however, sometimes on the last leg of the two-week trip I will splurge and get one.
Still, you'll want to check individual prices, too. Although I usually purchase a rail pass when it's a large area I want to cover, sometimes individual tickets are cheaper than the rail pass. Be sure to check both options when planning your trip. When I visited Colorado, and also when I toured Virginia, the stops were close enough together that it was more affordable to purchase individual tickets to each city instead of a rail pass. No matter which ticket I purchase, when visiting multiple cities, the rate is always less than it would be to fly.
Get away by train and you'll enjoy a slower pace and a chance to reconnect with yourself, fellow travelers, and the countryside — indulgence at a bargain price.
Want to see the country by train? Consider these eight great stops to make while riding Amtrak's Southwest Chief, plus seven Pacific Coast stops to make while riding the Coast Starlight.