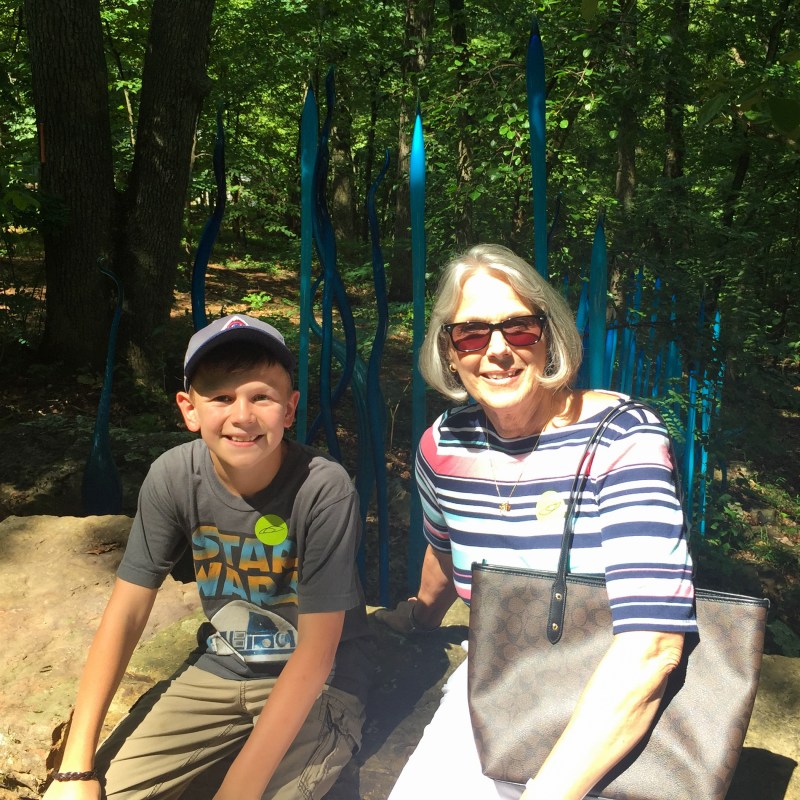 Traveling with family can be a double-edged sword: It's wonderful to create lasting memories while you're on the road, however, it can be tough to balance everyone's needs when you consider age and generational differences. I decided to pack up my mom and teenage son for a five-hour trek to Bentonville, Arkansas. Both the foodie and art scenes there fascinated me, and I figured there would be plenty to keep the three of us busy. I did wonder, though, Would we have a good time? Would we get on each other's nerves? While in the end, it was a great trip, I did learn a few lessons along the way.
1. A Long Weekend Was The Way To Go
Taking off work Friday — and returning Sunday — was the perfect amount of time to get away with my mom and son. I didn't want him to miss a lot of school time, and I think my mom was appreciative of the truncated but jam-packed vacation. As much as she loves me and her grandson, I realized hitting the road with your relatives follows the same rule of fish and houseguests: Both start to get stinky after about three days. We certainly didn't want to irk or annoy each other, and a long weekend was the perfect amount of time to be together and not have that happen.
2. We Took Breaks (A Lot Of Them)
We built plenty of break-time into our road trip, and looking back, this was absolutely the right move. My mom needed to use the bathroom and stretch her legs along the way a bit more than we did; my son got hungry and wanted snacks on a near-constant basis. By taking our time, going with the flow, and not being in a rush to get to Bentonville — or get home — we were able to enjoy each other's company so much more. Our only goal was to get to and from our destination safely, no matter how much time it took. And of course, the conversations we had along the way were priceless!
3. It's Good To Have Space
When it comes to transportation, and accommodations, even the closest of family members are more comfortable if they're not right on top of each other. To make the most of the space in the car, we stashed all of our luggage in the back cargo hold, and only brought the light essentials up in the passenger area with us. As far as our lodging was concerned, we opted for an upgrade and got a suite so everyone could spread out and retreat to their own areas as needed at the end of each day. Having just a smidge of extra room really did make all the difference.
4. We Had To Consider Everyone's Interests, And Make Concessions
When selecting a destination for a multi-generational trip, it's imperative to consider what everyone likes to do. I know that seems like a no-brainer, however, I was reminded several times during our trip that we'd chosen our spot really well. It had great art (check my box), fabulous food, and a picturesque town square with a farmers market (mom was pleased) plus some great hiking trails (my son loved the nature walks!). There were also a few other museums and points of interest we all found worthwhile. Bottom line: Make sure there is something for everyone in your travel group so everyone feels included in the fun!
Let's be real: Did my son really want to wander every single gallery at Crystal Bridges Museum of Art, or spend an hour in the gift shop afterward? Nope. Did he do it? Yup. Did my mom and I really feel the need to hike Bentonville's lovely trail system in the summer heat? Not especially, but we did it (and brought lots of water!). And let the record show my mother absolutely humored me when I suggested a wine break at the Crystal Bridges cafe mid-way through our time there.
When it comes down to it, to have a successful multi-generational trip, you've got to make concessions from time to time. We are so glad we did!
5. Preparation Was Key
While we did have flexibility built into our travel time, there were certain things we absolutely were not going to leave to chance. I knew didn't want the added stress of flying by the seat of our collective pants on the basics once we got to town. I made all of our lunch and dinner reservations, booked our hotel, and ordered museum exhibition tickets online well in advance. It gave everyone in our little traveling party of three a bit of peace of mind knowing the big things were set, which then gave us the flexibility to customize the in-between bits as we liked.
6. We Truly Enjoyed Each Other's Company!
Hands down, my best lesson learned from the experience of hitting the road with my mom and son was the wonderful fact that we honestly really enjoy being with each other. Our lives can get so busy and hectic, so it was extra-special for my mom and son to have this time together. By being mindful of each other's preferences, having a little patience, and giving each other a little bit of space and downtime at the end of each day, we were able to avoid the squabbles that can often come up between even the closest of traveling companions.
I'm so grateful we made the space and took the chance on this road trip. Even though I've been fortunate enough to visit different places around the world, this will go down as one of my favorite vacations ever, not because of the destination (although Bentonville is an absolute gem), but because of the experiences and memories made for me, my son, and my mom!