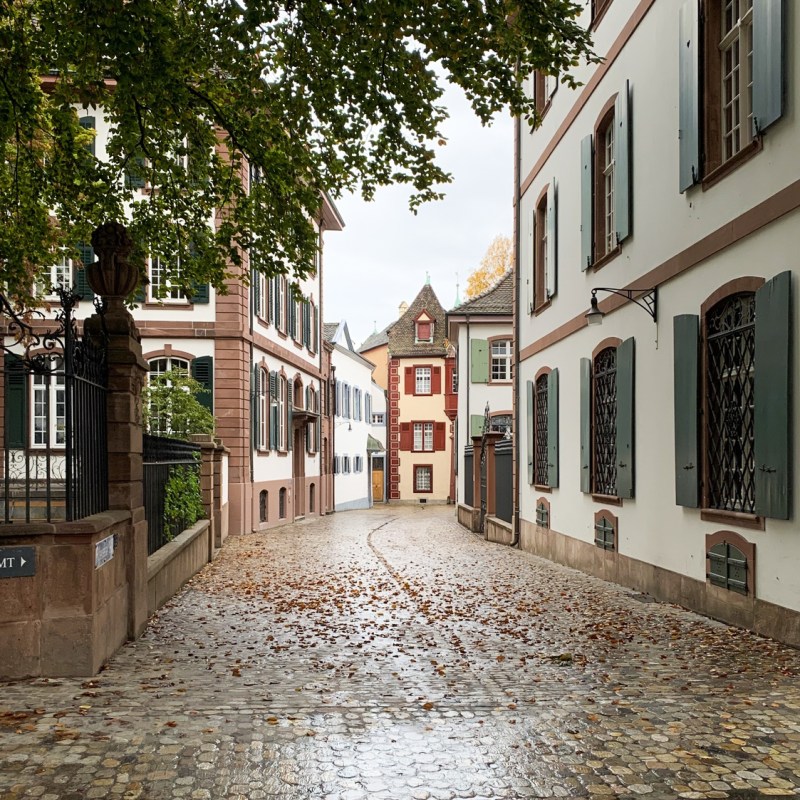 Basel, Switzerland, an ancient city split by the Rhine River, is captivating with her winding cobbled streets and Swiss charm. The country borders France and Germany and connects to many European cities by high-speed train and continental airlines. English is spoken most everywhere in the city, making navigation a breeze.
Since Switzerland was neutral in the war, Basel had no building destruction and therefore boasts some of the oldest and best-preserved buildings and bridges in Europe. Exploring the winding streets, exquisite views of the Rhine, unique medieval architecture, and hidden graffiti art will require sturdy, comfortable shoes!
Note: Some information included in this piece was obtained during a sponsored press trip, but all recommendations are my own.
Floating In The Rhine
"Floating — or swimming — in the Rhine after work is one of my favorite summer activities," Petra Emmel, General Manager of the Sorell Merian Hotel in Basel, told me. "You pack your clothes in a waterproof swim sack called a Wickelfisch, jump in at the Wettsteinbrucke Bridge, and float in the current downstream. Jump out at Johanniterbrucke Bridge, then you walk back to the start and go again." In the hot summer months, the river is dotted with brightly colored swim caps and Wickelfisch.
If you prefer to experience this Basel phenomenon vicariously, on the east bank of the Rhine, near the Mittlere Brucke Bridge, there are long rows of steps where you can sit and watch the swarm of swimmers. Conversely, on the west bank, you will find some wonderful alfresco cafes where you can enjoy a Kronenbourg beer or sip a Kirsch.
Take a ferry ride that is unique to Basel, crossing the Rhine in one of the city's four motorless ferry boats. It's a fun way to get to the other side using just a wire and the powerful Rhine current.
Strolling Through Basler Munster And Munsterplatz
The Basel Mister (Basler Munster) is a Romantic/Gothic style cathedral built between 1019 and 1500. Perched on a hill, the church offers spectacular panoramic views of the Rhine below — a well-deserved reward after climbing the steep and winding cobblestone streets.
The cathedral's cloisters and gardens are open to visitors. Local artisan works are on display and inviting patios offer scenic views of the city. The church contains the tomb of Erasmus, a 16th-century Dutch scholar. Originally a Catholic cathedral, today it is a Reformed Protestand Church with services held on Sunday mornings. The gardens are free to visit and open daily (there is a fee to climb the tower). Check the seasonal schedule for up-to-date information.
The Munster Plaza (Munsterplatz) is a wide piazza that extends out from the church. It is surrounded by beautiful medieval homes and wonderful restaurants. The piazza is a hub of activities throughout the year where celebrations like carnivals, concerts, and many other community events are held. It is a beautiful spot for an afternoon cup of tea or a romantic evening dinner.
Wondering At The Fasnacht Carnival
Around the world, Fat Tuesday, the day before Ash Wednesday, is a day of feasting and celebration. In Basel, however, the celebration falls during Lent. This not-to-miss madcap festival draws crowds in the tens of thousands.
At 4 a.m. the Monday after Ash Wednesday, Basel's Fasnacht begins, and it continues for 72 hours until 4 a.m. the following Thursday. The parades, performances, costumed participants, and rhythmic Gigge musical bands satirically attack current events and political topics. Imagine a multitude of fantastically masked participants marching through the streets causing a ruckus, and you have an inkling of the Fasnacht Celebration.
On Tuesday evening during Fasnacht, the Munsterplatz is illuminated with 250 to 300 lanterns created by master craftsmen including Urs Degen. Urs spends months on his unique, hand-painted creations.
In 2017, Fasnacht was recognized as an Element of Intangible Cultural Heritage by UNESCO, elevating it to an elite status. If you want to visit, participate, or learn more about Fasnacht, the offical website is jam-packed with interesting information.
Celebrating Basel's Famous Christmas Market
If you are fortunate enough to visit Basel during the Christmas season, it will be an experience you will never forget. Freie Strasse is one of Europe's most elaborately decorated shopping districts for Christmas. The streets of Basel are lined with more than one hundred Christmas trees, and the historic old town shines with lights rivaling any European Christmas market.
Exploring The Museums And Art Basel
Basel has a deep-rooted love of art and artists. The world's premier art exhibit, Art Basel, is held annually, showcasing the works of over 4,000 artists. The exhibit is open for a week in June and encompasses a wide range of venues. Art installations found around the city and in the Munsterplatz also bring interactive art to locals and visitors.
Basel boasts 40 museums that house unique collections of local and international art. From Kunsthaus Baselland's contemporary art collections to the Spielzeugmuseum toy museum, you will find something for everyone in Basel's museum lineup.
Visiting Basel's Zoo
Basel's Zoo opened in 1874 and is one of the largest zoos in Switzerland. In addition to general admission, the zoo offers private guided tours that can be customized to include topics such as Elephants in Motion, The Place Where the Lions Are, or Eat and Be Eaten. Zoo hours of operation and entrance fees can be found on the Basel Zoo's Visit page.
Eating In Basel
There are a wealth of restaurants and cafes to choose from in Basel. A walk down the main street, Freie Strasse, will afford you a wide range of options.
However, for a more local flavor, make your way up to the cathedral square, where you will find quintessential local options like Zum Isaak. Dine in the garden, in the cafe on the square, or in the restaurant. The food and service are first-rate. Taste the likes of roasted fillet of bream on ratatouille with limoncello sauce. Finish with Basler Leckerli parfait with plum compote. Basler Leckerli is a hard spiced biscuit originating in Basel that's made of honey, hazelnuts, candied orange peel, and Kirsch, then finished with a sugar glaze. Yum!
Another local favorite is Walliser Kane. Famous for their cheese fondue and raclette, this is a Swiss institution. Be sure to try the wiener schnitzel prepared table-side for an entertaining dining experience.
Enjoy an aperitif at one of the many cafes and bars along the Rhine. Sip a prosecco at an outdoor table while watching the locals and tourists strolling along the river bank.
Make sure to try the Gebrannte Mandeln, candied almonds whose aroma fills the marketplace with that heady baked-sugar-and-roasted-nut smell. Served wrapped in a paper cone, it is the perfect to-go snack.
Please note: The Swiss value their work-life balance; they practice living well perfectly. Therefore, many shops and restaurants are closed on Wednesday afternoons and Sundays. Be sure to check your destination's website before heading out.
Shopping In Basel
Freie Strasse is the main shopping street in Basel. Here you will find many upscale designer shops and smaller fashion boutiques. The historic old buildings, local bakeries, and inviting window displays will pull you in for a closer look. Turn up a cobblestone street where you might discover local artisan jewelry, Swiss antiques, surprising street art, and vintage shops.
It's always Christmas at Johann Wanner Christmas shop, stocked with exquisite hand-blown decorations that make treasured souvenirs to remind you of your visit with each passing Christmas.
The Rathaus, or Town Hall, was built in 1509. The frescos, central meeting plaza, and beyond make evident the age-old craftsmanship in this imposing red brick building. The plaza adjacent to the Rathaus is the Marketplatz, where you can visit farmers markets, experience local events, and enjoy some interesting people watching.
Where To Stay In Basel
The Sorell Merian is a boutique hotel that stands proudly on the Rhine. The Merian is adept at offering her guests traditional Swiss hospitality and many wellness options. There are yoga mats in every room and free access to touring bikes, plus a caring staff. And the sumptuous breakfast makes you feel like you are all snug and cozy at home.
Book a room with a balcony facing the Rhine where you'll have a view of the river, Basel Munster, and the city's interesting medieval architecture.
Basel, Switzerland, is the perfect hub for jumping off to other Switzerland hot spots. It is easily reached by high-speed train, which can get you where you want to go in Europe. Many of the Rhine River cruises embark in Basel, making it a perfect spot to bookend your cruise, too.
Want more Swiss inspiration? Don't miss these seven truly stunning places in Zurich.