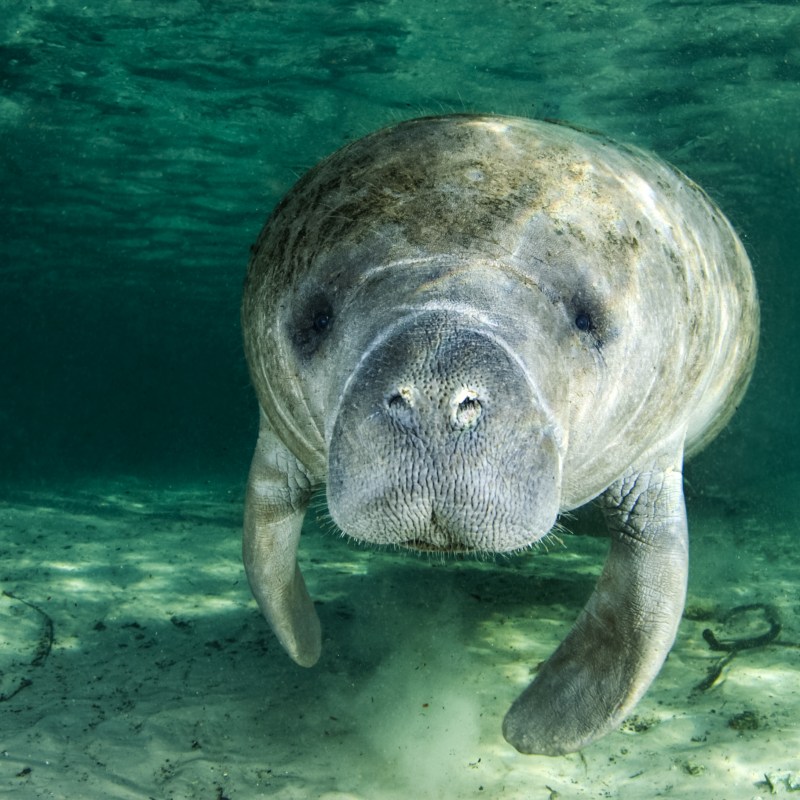 Manatees are the gentle giants of the sea: mysterious creatures who've earned the nickname sea cow and quite possibly inspired some of the most cherished and famous mermaid lore from around the world.
Manatees are also famously friendly and make excellent swimming buddies for those lucky enough to encounter them. Best of all, you don't have to travel too far to see these marvelous animals. Florida waters are full of manatees if you know where to look!
1. Manatee Springs State Park
The appropriately named Manatee Springs State Park is a popular manatee hangout during the chilly winter months because of a warm spring that heats up the Suwannee River. Although winter is one of the best times to actually see a manatee, summer and spring are ideal for getting your feet wet.
Water sports like scuba diving and snorkeling are popular ways to pass the time at Manatee Springs State Park. You might even come face-to-face with a sweet and squishy manatee. Alternately, you can canoe or kayak through the river, or stroll along the park's 800-foot boardwalk.
2. Blue Spring State Park
Blue Spring State Park takes manatee conservation seriously, and this Orange City manatee haven doesn't let visitors get into the water with the animals during the winter. Giving the manatees their space doesn't mean that you can't catch a good glimpse of them, though.
Blue Spring State Park is crisscrossed with plenty of viewing platforms and boardwalks where you can get up close to the manatees without actually disturbing them. While you might catch one or two of these creatures during the off-season, summer and spring in the area are suited to biking, hiking, and boating.
3. Edward Ball Wakulla Springs State Park
A hauntingly lovely park that is the epitome of old Florida, Edward Ball Wakulla Springs State Park is not only a manatee hangout, it's also been a prized natural spot since ancient times.
One of the most popular ways to fully immerse yourself in the park is to glide through the cypress trees on a glass-bottom boat tour. Glass-bottom boats provide an unparalleled perspective of the watery world below. Watching manatees glide beneath the surface in their natural habitat is a special treat and a true highlight of an Edward Ball Wakulla Springs State Park experience.
4. Lovers Key State Park
If you want to check out manatees away from the crowds, Lovers Key State Park might be just the place. This picturesque stretch of beach near Fort Myers is a fabulous destination for those who want to take an easy stroll through the sand and try their luck at spotting manatees or dolphins.
Although the famous sea cows don't flock to Lovers Key State Park as prolifically as they do to other locations on this list, they still tend to frequent these balmy waters. What's more, you can rent a sea kayak right on the beach and swim among the manatees.
5. Ellie Schiller Homosassa Springs Wildlife State Park
Ellie Schiller Homosassa Springs Wildlife State Park is one of the best places in Florida to see the Sunshine State's elusive wildlife. See Florida's famous predators: alligators, bobcats, bears, regional birds, and possibly even jaguars. Manatees shelter in the park during the winter, taking advantage of the warm waters that flow through Homosassa Springs. You can even go beneath the waves and see the animals via a special underwater observation area. The park is a fabulous place to bring the whole family as there are plenty of interactive exhibits, nature walks, and chances to learn about indigenous animals.
6. Crystal River National Wildlife Refuge
Crystal River National Wildlife Refuge on Florida's Gulf side is dedicated to sheltering the manatees that live in the Crystal River and Three Sisters Spring. Three Sisters Spring is a popular destination for the gentle giants, although occasionally the water itself is closed to swimming and watersports to protect the migrating manatees. You can always check out the refuge's Facebook page for up-to-date details. Note that you can tour the boardwalk at Three Sisters Spring year-round.
Move over flamingoes: Manatees are taking the spotlight as Florida's most cherished and celebrated indigenous animals! See these aquatic wonders for yourself at any of these bucket-list-worthy hot-spots in the Sunshine State!
Of course, you can visit these six places to see flamingos in the wild if you're after beautiful bird-watching experiences, too.