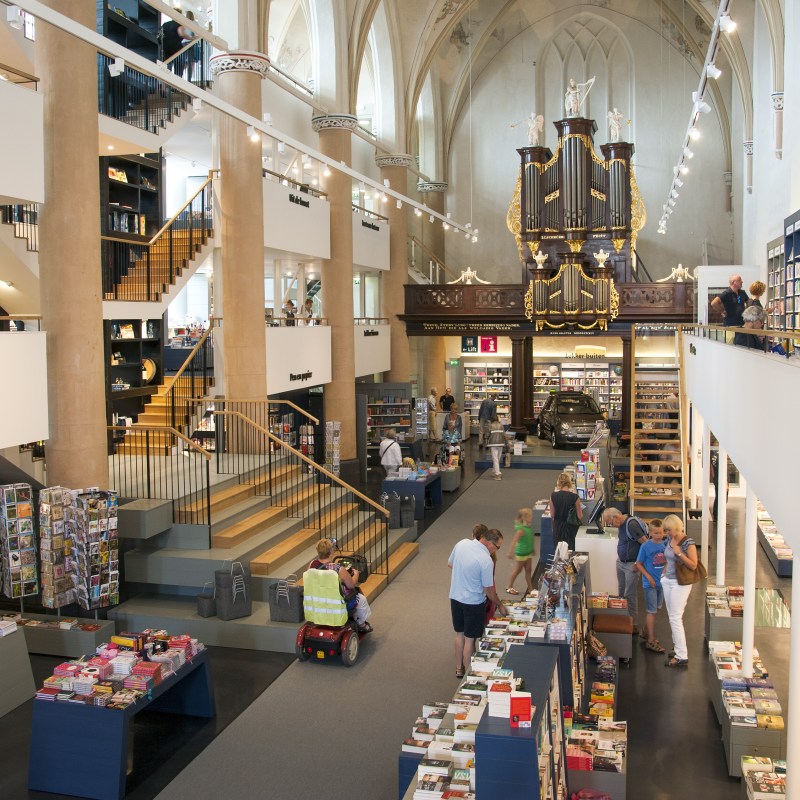 Is your idea of a heavenly vacation a quiet afternoon browsing a bookstore and sipping on coffee? If so, then you will love this special bookstore in the Netherlands that isn't just heavenly — it's a downright religious experience! In the small city of Zwolle, a 15th-century Dominican church has found a new lease on life by bringing in a new parishioner of sorts. The Waanders In De Broeren bookstore was the perfect partner for this venue. And what a venue it is! Here's what you can expect at this unique attraction.
The Bookstore Is A Visionary Space
The Broerenkerk, or Brothers Church, was an under-appreciated building before it was transformed in 2013 through the work of a Dutch architectural firm, BK Architecten. They added three floors and over 10,000 square feet of retail space without compromising the church's historical integrity. Meanwhile, it gave the Waanders In De Broeren bookstore a fresh start as well. The building now houses a collection of Dutch and English literature, non-fiction titles, magazines, and gifts — all while maintaining its cultural and architectural legacy.
The Preserved Architecture Is Rich With History
If a monk from a bygone era was to visit the space today, they might be slightly bewildered by its repurposing but would still recognize the church's arched nave, stained glass windows, chandeliers, painted ceiling, and early-1800s pipe organ. Most of the modern retail space is located in one of the side aisles of the church adjacent to the main worship area. A staircase at the center of the aisle connects shoppers to each of the upper floors. The church itself is protected as a cultural heritage site and the entire bookstore is designed such that if it were removed, the church would remain unaltered.
It Offers A Great Selection Of Books
Of course, the most important function of any bookstore is to provide a good selection of books, and Waanders in de Broeren does not disappoint. The bulk of the inventory is in Dutch and spans a wide array of topics, from cooking and interior design to fiction, art history, psychology, philosophy, and health. It also gets high praise for its children's collection. There's a noteworthy selection of English-language classics and best sellers available in English as well, so travelers should have no problem finding a new title to take with them on the road.
…But It Also Sells Much More Than Just Books!
Like most modern bookstores, Waanders in de Broeren has an extensive array of stationary, magazines, and gift items. Browsers can also find music and films for sale, as well as cooking utensils, cute household accessories, and even wine! It's the ideal spot to pick up some Dutch-made trinkets for your kitchen or a hostess gift if you're going to a local's home for dinner.
Like All Lovely Bookstores, I Has A Must-Stop Cafe
What is book browsing without coffee sipping? At the front of Waanders in de Broeren, there's a charming, small cafe called the Smaak in de Broeren where you can buy hot chocolate, tea, or a latte to accompany a slice of pie or cake or a pastry. The cafe also offers light lunch items, plus wine and beer. Leeshemel Cafe, also known as the reading cafe, is located under the vaults and is open on Fridays and Saturdays, offering a second choice for hot drinks and pastries.
It's An Event Space Too!
The main cafe space transforms as needed into a space for cultural activities such as choir performances and concerts, lectures, exhibitions, and art displays. Zwolle's city tourist information desk is inside the church as well, and they'll have the inside scoop on all upcoming events — both inside the church and all around the city.
Zwolle Itself Is An Underrated Destination
If the only reason you had Zwolle on your travel list was for a chance to see Waanders in de Broeren, that would be reason enough. Amazing bookstores like this one don't come along every day! However, the small city of Zwolle is itself a fantastic travel destination. It's filled with nice restaurants and boutiques and has a charming, sophisticated style. Cycling and rowing are popular pastimes, and there's beautiful public park space. While cities like Amsterdam may be struggling with tourism congestion, you may just have Zwolle all to yourself.
Just in case you haven't had your fill of historic churches-turned-cool modern venues, Zwolle is home to a second church that's been converted into a modern business! Blue Sakura is an all-you-can-eat Japanese restaurant situated in a church that dates to 1309! Clearly, Zwolle is onto something!
When To Visit
Waanders in de Broeren bookstore is open Mondays from 12 noon to 6 p.m., Tuesdays through Saturdays from 9:30 a.m. to 6 p.m, and for extended hours on Thursdays until 9 p.m, as well as Sundays from 12 p.m. to 5:00 p.m.
On the hunt for unique bookstores? Don't miss these six unique must-see bookstores around the globe, and meet Livraria Lello: Portugal's stunning bookshop (Harry Potter connection and all).