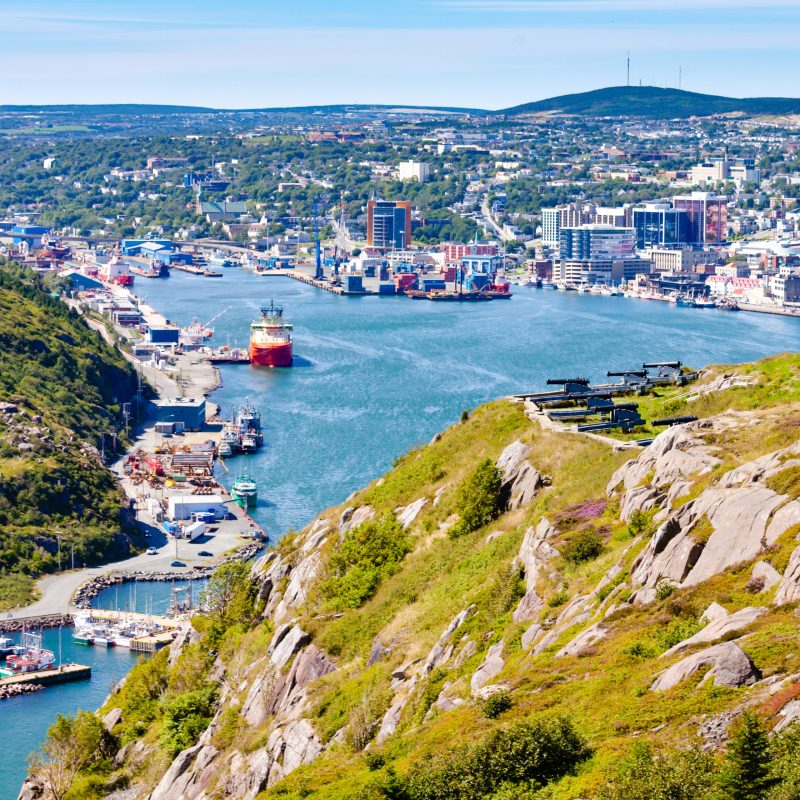 For the longest time, I would mumble whenever I was asked for a recommendation on what to see in St. John's, provincial capital of Newfoundland and Labrador. It wasn't that I didn't know the city — I had lived there for nearly two years. The problem was me. I first moved to St. John's to attend university and, as such, my expertise in the city was limited to take-out pizza and the best spots to study. Not exactly an exciting take on one of the oldest cities in North America! But I've been reintroduced to St. John's and have turned my attention to food, shopping, and attractions. I think you'll agree with me that the city is well worth exploring!
Signal Hill National Historic Site
So named because this is where Marconi famously sent the first trans-Atlantic wireless signal in 1901, Signal Hill offers the very best views in St. John's. It is cold and blustery here, even when the rest of the city is mild and warm. As such, the site is closed from mid-October to mid-May. When in season, however, you can enjoy the on-site Newfoundland Chocolate Cafe and the not-for-profit Heritage Shop craft store.
The Signal Hill visitor center also runs a comprehensive program of events. For instance, on Friday and Saturday nights in July and August, Signal Hill is the site of a popular folklore program that focuses on ghost stories. (If you happen to have an evening free downtown, note that there are two amazing ghost tours to choose from there as well.) General admission to Signal Hill is less than $4 for adults and is free for children.
Johnson Geo Centre
You'll notice this funky, modern building on the drive up to Signal Hill. The Johnson Geo Centre is a multi-part science center that focuses on geology, history, the solar system, and outer space. There's even an exhibition on the Titanic, which sunk just a few hours from the Newfoundland coast. It's an ideal place to spend some time with kids. Note that the center is closed from January to April. General admission is under $15 for adults.
The Rooms
Home to Newfoundland's provincial archives, museum, and art gallery, The Rooms is the largest public cultural space in the province. Exhibits range from one on the history of aviation in Newfoundland to another on local linguistics. If you can make it work, you'll want to come here on a Wednesday. On Wednesday afternoons, The Rooms Cafe serves afternoon tea complete with finger sandwiches, scones, and fancy sweets. Admission to all exhibition galleries is free between 6 – 9 pm on the first Wednesday evening of the month. There may be a charge for some Wednesday evening programs and events.
Cape Spear Lighthouse National Historic Site
Cape Spear, the easternmost point in North America, is less than 30 minutes from downtown St. John's. As staff like to point out, when you look out over the ocean from Cape Spear, you're really gazing out toward Ireland. This is a beautiful place for hiking, bird watching, whale watching, and photography. The Cape Spear Lighthouse is the oldest in the province and during July and August, there is a daily 2 p.m. workshop that explores different aspects of lighthouse life.
Similar to Signal Hill, Cape Spear Lighthouse National Historic Site is closed from mid-October to mid-May. General admission for adults is less than $4 and children are admitted free of charge.
Get Screeched In
Screech is the name of a brand of rum and it's also a key element of a ceremony that's part foolishness and part heartwarming solemnity. Getting "screeched in" is a way to mark your new status as an honorary Newfoundlander. The screeching-in ceremony involves saying a short oath, kissing a cod fish, and drinking a shot of Screech. Thankfully, the cod is always dead and nearly always frozen. Depending on the circumstances, you may or may not have to wear a bright yellow sou'wester hat, eat a piece of "Newfoundland steak" (that is, baloney), or stand in a bucket of ocean water. Nearly all the bars and pubs on George Street host screech-in ceremonies, complete with a certificate you can show off back home.
Tour Quidi Vidi Harbour
Quidi Vidi (pronounced kid-ee vid-ee) is a small neighborhood about a five-minute drive from the center of St John's. It was once a tiny fishing community, but today tourism and brewing account for a large chunk of its economy. Quidi Vidi Brewing Company is the province's largest craft beer brewery. Guided beer tastings happen every day at 11 a.m., so you can try some of their beer made with iceberg water. Another popular Quidi Vidi location is Mallard Cottage, a beautifully restored building — now a popular restaurant — that dates to the early 1800s and is recognized as a National Historic Site.
Eating In Newfoundland
St. John's is a foodie city. You can find everything from inexpensive classic pub grub to smooth, sophisticated meals that wouldn't feel out of place in London or New York. When in St. John's, there are several beloved Newfoundland dishes that should be on your bucket list, including toutons. Toutons are a kind of pan-fried bread. Occasionally served with corn syrup or jam, I think they're best when cooked in pork fat and served with molasses.
Another popular choice is a cold plate: a luncheon platter of cold roast turkey and ham served with potato salad, coleslaw, lettuce, tomato, bread, and butter. It's commonly served at church halls and community centers, and you can also find it on the menu at many pubs.
Fish and chips is served with a twist in Newfoundland. Fresh, locally caught cod is usually the fish of choice. And, in addition to regular french fries, you'll often see the option of ordering "fries, dressing, gravy." French fries are topped with dressing — also known as stuffing — which is always seasoned with summer savory spice. The whole plate is then covered in rich gravy. Delicious!
The Restaurants Of Churchill Square
It's had some ups and downs, but Churchill Square, just a short walk from Memorial University, is on an upswing again with several new cafes and restaurants. Noodle Nami is getting tons of buzz for its flavorful food, and the hugely popular Rocket Bakery has opened its second location here.
YellowBelly Brewery
This bar and brewery makes its own beer and wood-fired pizza in a building that dates back to 1725. In addition to pizza, YellowBelly has a solid selection of burgers, appetizers, salads, and chicken dishes, plus several vegetarian-friendly choices. It's my top St. John's destination when I'm not sure what I'm in the mood for.
Duke Of Duckworth
Everyone who visits St. John's walks away with a favorite downtown pub. Mine is the Duke of Duckworth. It's tucked away on a small side street and has a good mix of local and international beer. Their hot turkey sandwich is a favorite of mine and the weekend breakfasts include fried baloney, fish cakes, baked beans, and toutons.
Raymonds
A frequent entry in any list of the top restaurants in Canada, Raymonds' menu often features fresh seafood such as sea urchin, fresh game charcuterie, and forged wild edibles. A meal here is as much about visuals as it is about flavor. Every dish is a show stopper. The atmosphere is upscale and reservations are strongly recommended.
Oliver's
Once one of downtown Water Street's trendy bistros, Oliver's has plenty of competition now thanks to a good offering of hip new eateries. But it still holds its own. From the garlic mashed potatoes to the bread pudding, there's plenty of comfort food mixed in with the casual but chic decor.
International Flavours Inc
This tiny, unassuming restaurant serves up delicious homemade Pakistani food with a limited menu each day. You'll probably have a choice of lamb, chicken, or vegetable curry with a variety of sides.
Shopping In Newfoundland
St. John's is well known for being a hub of artistic activity and for its talented artisans who work in wool, felt, fur, wood, and mixed media. There is a wide variety of cute, fun, interesting shops downtown on Water and Duckworth streets in particular. Here are some of my personal favorites.
Home On Water Street
This gorgeous shop sells homewares — everything from tomato-red bread boxes to tiny soaps the exact shape and color as robin eggs.
Posie Row
This is where you go for homemade felt headbands, soaps wrapped in gorgeous paper, brightly patterned wool scarves, and cute plant pots.
O'Brien's Music Inc.
Operating since 1939, this is an excellent source for traditional Newfoundland music recordings.
Jellybean Row
Paying tribute to the "jellybean" houses of St. John's (rows of colorful townhomes), this shop sells jellybean house-styled wall hangings, coat hooks, and mailboxes.
The Craft Council Shop And Gallery
This store carries the work of more than 150 juried local artisans. It's a plum destination for homemade jewelry, ornaments, birch bowls, and intricately knitted mittens.
Food For Thought
This shop specializes in health food, gluten-free and vegan products, natural offerings, bulk tea and spices, and more.
Touring Atlantic Canada? Here's how to spend a day in Halifax, Nova Scotia.