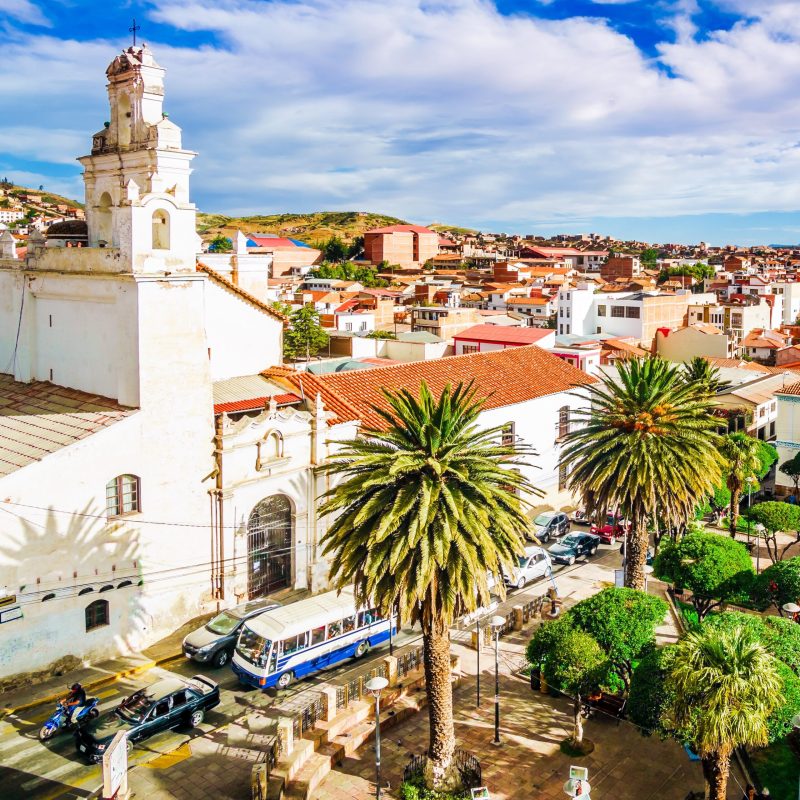 Bolivia is a spectacular place full of world-class cities, natural wonders, and prehistoric fossils. Despite all that Bolivia has to offer, it's often overshadowed by its neighbors Peru, Argentina, Brazil, and Chile. You won't find lots of tourists in Bolivia, and that's just another reason why this landlocked South American gem should be on your bucket list.
But before you pack your bags for Bolivia, there are a few key things that you need to know.
1. Bolivia Is Experiencing Political Unrest
Bolivia is currently experiencing political unrest. As of November 8, 2019, the United States Department of State has issued a Level 3: Reconsider Travel advisory for the country due to "recurring demonstrations, strikes, roadblocks, and marches in major cities." The State Department reports that some protests have become violent, and that local authorities have been using crowd-control measures to discourage protests. We strongly advise that you read the full report before traveling to Bolivia at this time.
Because protests are frequently "centered on plazas and major thoroughfares," and because the strikes have "cut off traffic on main avenues, highways between cities, and airport access and egress," exploring the country could prove difficult at this time.
"Domestic and international flights may be delayed or cancelled, and road travel around and between cities is regularly impeded," reads the report.
Consult the Safety and Security section of the State Department's Bolivia page for more information.
If you do decide to travel to Bolivia, be sure to avoid demonstrations and crowds, monitor the news for updates on the conflict, and make contingency plans to leave the country in case of an emergency. You can enroll in the Smart Traveler Enrollment Program (STEP) to receive updates from the State Department and to make it easier to locate you in an emergency. Read through the Crime and Safety Report for Bolivia before your departure.
When you are in Bolivia, avoid hailing taxis from the street when possible, and use Uber in La Paz. Any taxis or shuttles that your hotel calls on your behalf should be okay.
2. Americans Will Need A Visa To Visit
The American passport is one of the mightiest on the planet, and we enjoy blissful visa-free travel almost everywhere in the world. Bolivia is an exception.
Applying for your visa in advance will save you major headaches at the border, so to be entirely on the safe side, apply at the closest Bolivian Consular Office. There are some land and air borders where you can get your visa if you wish, most notably between Peru and Bolivia.
If you opt to apply at the border, go with a reputable company that will help you navigate the process. Bolivia Hop is a fantastic organization that shuttles tourists between Peru and Bolivia on a regular basis.
There is a very strict list of requirements for Americans, and you'll need to pay your visa fee in unblemished $20 bills. Border officials will reject any bills that are marked or torn, so bring a few extra just in case. There's a Scotiabank in Puno (on the Peruvian side) that dispenses United States currency. If you are missing any documents, you could be turned away. Planning ahead is the key to a successful border crossing.
3. Bolivia Is Home To Mosquito-Borne Illnesses
Mosquito-borne illnesses like malaria, dengue fever, and zika are present in certain parts of Bolivia. You can take medicine for malaria, but there are no reliable vaccinations for dengue fever or zika for those who are more than 45 years of age.
The best way to shield yourself against diseases spread by mosquitoes is to use plenty of insect repellent and wear loose, lightweight clothes in areas where mosquitoes are common. If you're hiking, make sure that you wear thick socks and hiking boots.
If you've traveled recently in certain countries, you might need a yellow fever vaccination, and if you're going to rural areas, hiking, or volunteering with animals, you should get a rabies vaccination. You'll need to get a follow-up shot if you were potentially exposed to rabies on your trip.
Make the most of your Bolivian vacation by playing it safe and understanding the risks. You'll feel more comfortable and have a far better time.
4. You Can Find Fabulous Alpaca Products
Coveting that perfect alpaca sweater or pair of cozy socks?
You can get authentic, quality alpaca clothing for a song in Bolivia if you know what to look for.
Alpaca is generally cooler to the touch than synthetic materials, and a handmade sweater or sock will have irregular stitching on the inside. You'll see a few errant threads where the craftsperson had to change their needle, and the thread might look bunched up in places.
Fakes also sell for suspiciously low prices. You won't pay less than $20 for a genuine alpaca sweater, so beware of bargain-basement deals.
The Mercado de las Brujas, or Witches' Market, is a fabulous place to find beautiful alpaca products in La Paz, and you can pick up some gorgeous leather bags while you're there.
Remember to bargain. The initial price is often a jumping-off point for negotiations, and if you buy multiple items, you'll usually get an amazing discount.
5. English Isn't Spoken Everywhere
It helps to have some mastery of Spanish in Bolivia, but even if you only know a few key phrases, you'll be able to get by in cities like La Paz. Most people operating in the tourism sector in popular destinations like Lake Titicaca and Salar de Uyuni will be bilingual. If you travel off the beaten path or try to navigate the country using public transportation, your Spanish will be tested!
Short of resorting to miming or recruiting a fluent friend, what's the best solution? Download Google Translate and Jibbigo, and you'll be able to translate text and speech with absolute ease. When traveling, look for companies that cater to tourists and have bilingual drivers. Generally, you'll pay a little bit extra, but it's well worth the money.
6. You Can Eat Like A King
When you think of great cuisine, Bolivia is probably not the first place that comes to mind, but this sky-high South American country is bursting with fresh fruits, wonderful street food, and regional favorites like papas rellenas. Don't be afraid to try a bit of everything, and to be on the safe side, head to street stalls and restaurants that the locals flock to. Rest assured, they know where the good eats are!
In South America, the menu del dia, or menu of the day, is a lunchtime favorite. Generally, you'll get a generous helping of soup, a main dish, a drink, and sometimes even a dessert. It's an economical way to sample all of the culinary delights that Bolivia has to offer.
7. Bolivia Offers Some Great Accommodations
Bolivia is full of charming little places to lay your head, and many of them are quite affordable. Most hotel rooms cost well under $100 per night, even in La Paz. For a carefree stay, it's best to book in advance, especially for weekends. Two places where you absolutely can't go wrong are Las Olas and Selina La Paz.
Las Olas overlooks Lake Titicaca and is a splendid example of whimsical design and functionality. Las Olas is famous for its private balconies, fully functioning kitchens, and comfy hammocks, not to mention its million-dollar views! Las Olas is highly popular and sells out often, so book well in advance.
Selina La Paz is part of a larger chain of high-end hostels that span Central and South America. Don't let the hostel part put you off. It's more like a hotel, complete with a restaurant, bar, coworking space, and spacious private rooms.
8. Altitude Sickness Could Be A Problem
La Paz is the highest administrative capital city in the world, and all of that height can come with a big dose of altitude sickness.
Knowing the signs of altitude sickness can spell the difference between a fantastic vacation and an overseas nightmare. Medications like Diamox can help. If you're prone to height-related problems, or just want to err on the side of caution, you can usually get a prescription before you travel.
If it's your first time at high altitudes, you might experience some discomfort or loss of appetite. These sorts of mild issues are very common and will go away in a few days. Soon you'll be able to feast like a local!
Coca tea is a popular remedy for altitude sickness and will quell the symptoms, but it could also show up on drug tests. Coca is a well-loved and even sacred substance in many Andean regions, and it's not the same as cocaine.
If coca tea makes you uncomfortable, chocolate is another delicious and potent way to fend off altitude sickness.
Beautiful Bolivia is an overlooked country that is worth exploring. Follow these simple tips, and you'll be well on your way to having the South American vacation of your dreams!