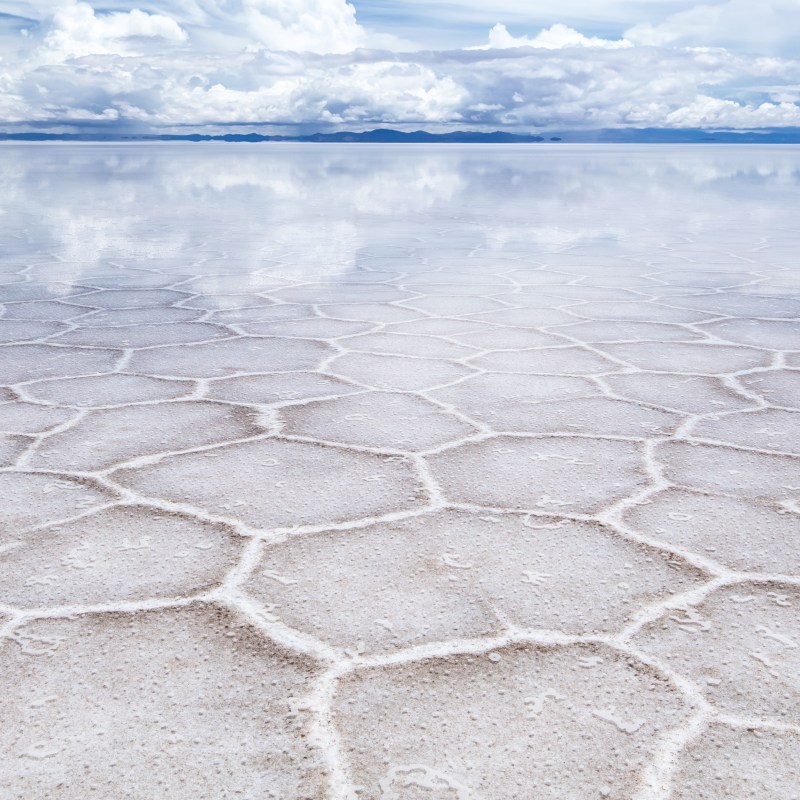 High in Bolivia's Altiplano is a glittering white salt flat that stretches as far as the eye can see. Salar de Uyuni is mesmerizing, otherworldly, and a bucket-list destination like no other.
According to local lore, the majestic salt flat is the result of an ancient tragedy. The goddess Tunupa was overjoyed to find out that she was pregnant and equally devastated when she delivered a stillborn child. Tunupa's tears mixed with her breast milk and flooded the land, creating the Salar de Uyuni. Today, Tunupa is a dormant volcano that watches over the flat.
Star Wars: The Last Jedi's planet Crait might look like something from a galaxy far, far away, but the scenes on the planet were actually filmed in Salar de Uyuni, making this Bolivian treasure a pilgrimage spot for serious sci-fi fans.
Here's everything you should know before you go.
Where Is Salar De Uyuni?
Salar de Uyuni is 4,085 square miles wide and sits perched nearly 12,000 feet above sea level in Bolivia's Potosi Department, about 10 hours south of La Paz.
Salar de Uyuni is the planet's biggest salt flat, full of giant cacti, pink flamingos, and miles of reflective alabaster.
Tourists from all over the world come to marvel at the natural salt flat. It's also a financial boon for Bolivians, who have discovered valuable lithium deposits beneath its snowy surface.
How To Get To Salar De Uyuni
Your Salar de Uyuni adventure will start in the tiny town of Uyuni, Bolivia, roughly 10 hours from La Paz by bus. Most people opt to take an overnight coach. Although the road between La Paz and Uyuni is generally safe and free of roadblocks, protests do often happen in Bolivia. As such, it's a good idea to check the United States Embassy website before you travel. Most mid-range overnight buses will have semi-reclining seats, blankets, and ports to charge your phone.
Alternatively, you could hop on a domestic flight from La Paz's El Alto International Airport to Joya Andina Airport in Uyuni. Joya Andina is about 10 minutes away from central Uyuni by taxi. Although you'll have no problem finding an Uber in La Paz, you won't have such luck in Uyuni.
Another popular option is to join a tour to the flat in La Paz.
If you're traveling to Salar de Uyuni from anywhere other than La Paz, have your hotel reserve your ticket and give you detailed instructions on how to find a bus back. Buses and trains run to Uyuni often from all over the country, but timetables vary, and there is no official bus station. Instead, the buses congregate on Cabrera Street and Arce Avenue. It can be extremely confusing, especially if you don't speak Spanish.
You can visit the giant expanse of Salar de Uyuni over several days or check out the highlights in one full day. Wheelchair-accessible tours of the salt flat are available.
You can take your tour in either English or Spanish, and most tours include at least one meal. There are dozens of tour operators on Uyuni's main street, so don't settle for one you're not entirely comfortable with. Regardless of the tour you choose, remember that most of them leave by midmorning at the latest.
When Is The Best Time To Visit Salar De Uyuni?
The rainy season is by far the most popular time to visit Salar de Uyuni because the glossy surface of the salt flat looks just like a giant mirror. It's almost impossible to distinguish between land and sky, and you can get some truly spectacular pictures.
The wet season runs from mid-December to mid-March, and you can expect big crowds. If you're traveling during this time, book your tour and accommodations well in advance. The downside to visiting Salar de Uyuni during the rainy season is that you might miss out on seeing Incahuasi, a stunning ancient mountain in the center of the salt flat. The wet conditions make traveling across the flat tricky, even for trained guides, and they won't risk the long trip to Incahuasi if the conditions are less than ideal.
You'll still get some marvelous perspective pictures during the dry season; you'll also avoid the crowds and be able to visit the ancient house of the Incas.
Tips For Visiting Salar De Uyuni
Americans need a visa to visit Bolivia. It's better to apply in advance, although you can get it at land borders and La Paz's international airport.
Salar de Uyuni is exceptionally high, so drink plenty of water to stave off altitude sickness. Coca tea is a popular and effective remedy as well, but it might show up in a drug test.
Sunscreen and proper footwear are a must, especially in the reflective rainy season. It's also a good idea to bring a light sweater or jacket, since the salt flat gets chilly in the evening. Most guides will wait until the sun sets to drive back, so you'll need it.
Your guide will have some fun props for those coveted perspective pictures, but it's a good idea to bring along some of your own, especially if they have sentimental value or signage from your hometown. The salt flat can be windy, so make sure that lighter objects are firmly secured.
What To Do In Uyuni
Uyuni is a tiny town with a ton of charm. There's plenty to do here aside from marveling at the wintery spread of the salt flat; the town is home to everything from a beautiful and haunting train graveyard to an ancient mountain. You won't forget unique Uyuni any time soon.
The Train Cemetery
The harsh conditions of Salar de Uyuni have aged her trains well beyond their years, and the local train cemetery is full of abandoned locomotives well past their prime.
Located on the outskirts of Uyuni, the graveyard is a favorite spot to snap pictures and wander among the hulks. Some people even climb on them to score the perfect pic, but they are rusty and unstable, so do so at your own risk.
There's a snack stand at the graveyard where you can stock up on water and goodies for your trip.
Isla Incahuasi
Isla Incahuasi is an enchanting island with tremendous views of Salar de Uyuni. Covered in massive cacti, Isla Incahuasi is an incredible landscape that you must visit while in Uyuni. There is a small fee to tour the island, and the hike up can be strenuous, especially at the higher altitudes, but the panoramic view of the salt flat is totally worth the trek. There are also bathrooms on the island.
Sol De Manana
You won't be able to see this fantastic geyser during a one-day trip to Salar de Uyuni, but three-day tours almost always include it. Visit during the morning when the columns of steam stretch up nearly 50 feet. The Sol de Manana is a hotbed of volcanic activity and an astounding natural spectacle.
If you want to see a landscape like no other, put the sensational Salar de Uyuni on your Bolivia bucket list.