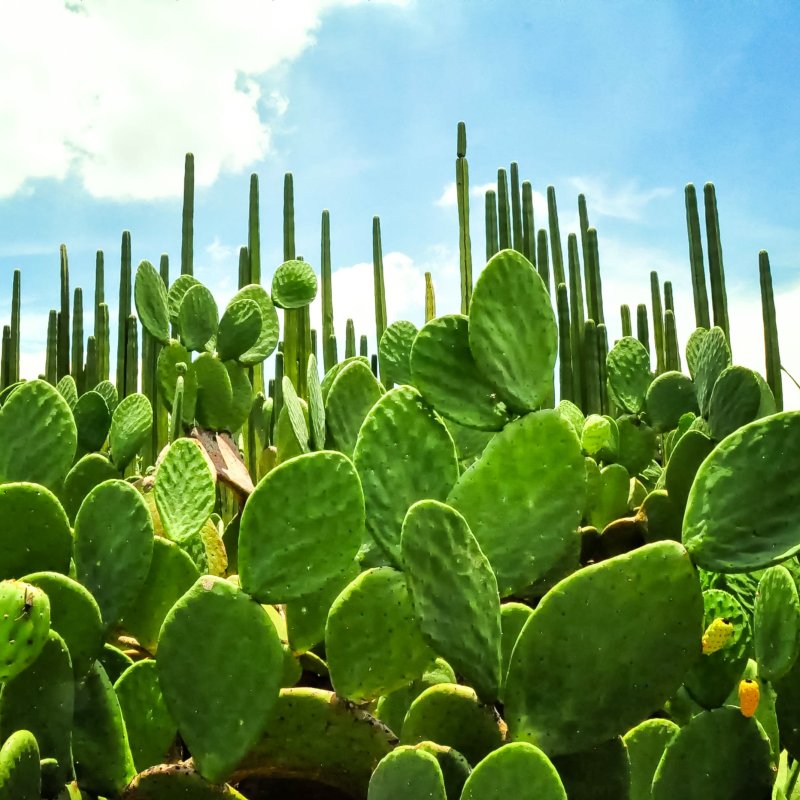 The humble succulent has taken over the internet. As we write, more than 8 million posts proudly bear the hashtag #succulents on Instagram alone.
Demand for cacti (which are always succulents) and other succulent plants (which are not always cacti) is actually endangering some Californian species due to the surprising surge of poaching in the desert.
Luckily, there's a better way to get your fix of charming succulents: Visit an established garden.
The succulent gardens on this list offer flowering desert obelisks that put houseplants to shame. They show off the startling variety of the wildly diverse plant group we call succulents. They make for wonderful vacation photos. And, best of all, they don't contribute to the black market of poached plants.
1. Arizona-Sonora Desert Museum's Cactus Garden
Tucson, Arizona
If you love the flowering subset of succulent plants known as cacti, book a flight to Tucson today. The Arizona-Sonora Desert Museum offers an outdoor, walkable, and accessible path through its spiny desert garden.
The Cactus Garden displays dozens of species of cacti with a few non-flowering succulents mixed in to complete the look. This is the place to see the barrel cacti of cartoon and cowboy fame — plus so much more. Directions from the Tucson region are available here.
2. Ethel M Chocolates' Botanical Cactus Garden
Henderson, Nevada
We're assuming there's a lot of overlap between fans of succulent plants and succulent chocolates — and the Ethel M Chocolates Botanical Cactus Garden has both.
This Las Vegas-adjacent factory produces luxury sweets. It also invites visitors to tour the largest cactus garden in the state. This outdoor attraction features more than 300 species of cacti and other succulents along a winding park path. There's even a cafe on the premises. Contact the Ethel M Chocolates company here for more information and to plan your visit.
3. New York Botanical Garden's Enid A. Haupt Conservatory
The Bronx, New York City, New York
It isn't easy to find a flowering desert cactus in New York City, but the wizard-gardeners at the Enid A. Haupt Conservatory have managed, much to our delight. A jewel of the city, this Victorian-style greenhouse is divided into various landscapes, each filled with the plants that define it.
This includes desert exhibits, which means plenty of cacti. And if you get tired of succulents, there's always the rain forest exhibit to refresh your imagination. Located in the Bronx, the conservatory is easily accessible via the Metro-North Harlem local line from Manhattan's Grand Central Terminal. More directions, via subway, car, and even bicycle, are available here.
4. Marie Selby Botanical Gardens' Succulent Garden
Sarasota, Florida
Next time you find yourself on Florida's Gulf Coast (during a visit to Tampa, maybe), head south to Sarasota to find the region's most gorgeous succulents on display. The Marie Selby Botanical Gardens devotes a portion of its grounds to a desert-focused succulent garden.
There's plenty more to see at the Marie Selby Botanical Gardens, of course, so pencil in a day at this attraction. The gardens are open daily from 10 a.m. to 5 p.m. (though never on Christmas). Directions available (via Google Maps) here.
5. The Oaxaca Ethnobotanical Garden
Oaxaca City, Oaxaca, Mexico
Perhaps the finest place to experience succulents in the world is in a repurposed 16th-century monastery located in the capital city of the Mexican state of Oaxaca. The Jardin Etnobotanico de Oaxaca was built to reveal the interactions between the region's plants and people and offers much more than your typical look-and-leave experience.
The landscapes are out of a dream. And, luckily for us, the garden offers tours in English every Tuesday, Thursday, and Saturday at 11 a.m. Oaxaca City, Mexico, is about an hour by air from Mexico City.
6. Anna Scripps Whitcomb Conservatory's Cactus House At The Belle Isle Conservancy
Detroit, Michigan
You can't always afford a ticket to Mexico, but even Midwesterners can get up close and personal with a spiny cactus (but not too close, now). Detroit's Anna Scripps Whitcomb Conservatory is divided into various houses — and one of the most stunning is the Cactus House.
Because Belle Isle really is on an island in the Detroit River, you'll have to take the bridge, which probably means going by car, taxi, or ride-share. Directions are available here.
7. Abbey Brook Cactus Nursery
Matlock, United Kingdom
So what are cacti doing in north-central England? Thriving, from the look of it. Abbey Brook Cactus Nursery is a regional center for all things succulent, even if this marvel has to be accomplished by grow lights.
The plants here are gorgeous. And impressively, Abbey Brook beat the rest of the world to the conservation party; it claims to be the first commercial grower to swear off dealing with field-collected plants, which it did in 1963.
The nursery, which is located almost exactly in the center of Great Britain, could make a great stop on your way from north to south or vice versa. Directions to the property are at the bottom of the nursery's home page.
8. Cactus Country
Strathmerton, Victoria, Australia
The one, the only: the Cactus Country. Sure, Australia's a long way to go, but if you consider yourself a hard-core succulent fan, it's worth the trip. Of course, this unique attraction could also make a wonderful stop during an otherwise-planned Australia trip.
Cactus Country's desert landscape brings plants from all over the succulent-producing world — Mexico, the Sahara — to create Australia's largest selection of cacti. This is a 12-acre garden, stuffed to the brim with succulents. Enough said. Directions to Cactus Country, located north of Melbourne in Strathmerton, are available here.