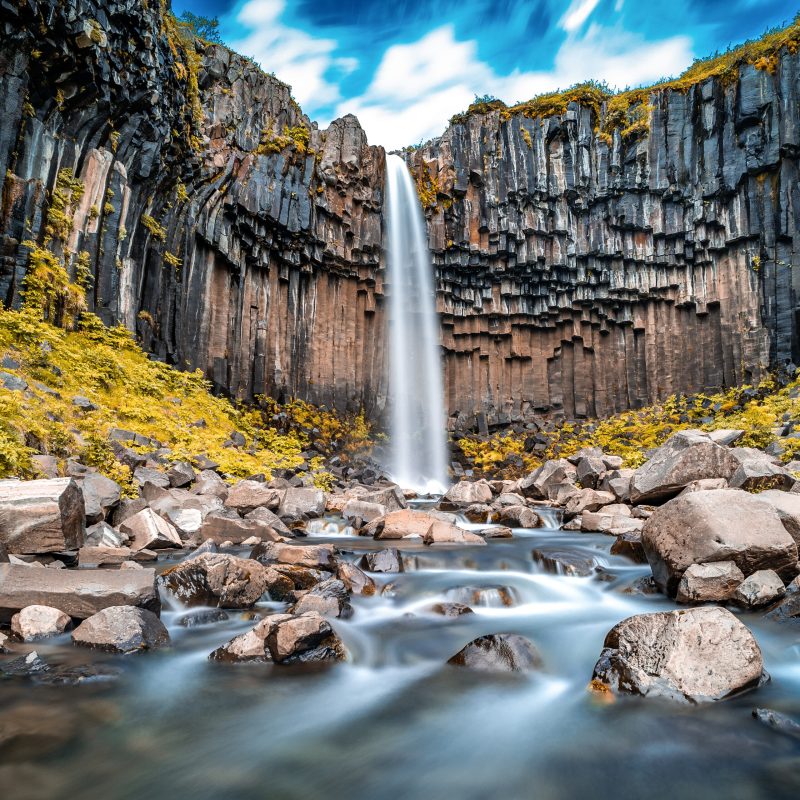 There is no shortage of astounding landscapes in enchanting Iceland, and one of the most incredible is a magnificent waterfall set against a backdrop of jet-black rocks. Svartifoss stands 65 feet high and was formed by cooling volcanic magma, which makes up the geometric basalt rock area around the waterfall.
You can visit Svartifoss in Vatnajokull National Park, a region of Iceland renowned for its beauty and fascinating natural formations. A quick hike through the park will put you right at the base of the waterfall, and you'll be treated to plenty of other majestic sights along the way.
Getting To Svartifoss
In order to see this amazing waterfall, you'll need to travel to Skaftafell. Skaftafell used to be its own park until it merged with other protected areas to become part of Vatnajokull National Park.
Although Skaftafell has its own private airport, commercial planes don't land there. There are three options for getting to the park. One way is to take an hour-long domestic flight to Hofn's Hornafjordur Airport from the Reykjavik Airport and then a 10-minute taxi ride to Hofn itself. Once you've arrived in Hofn, you'll take a 2-hour bus ride to Skaftafell.
The second option is to take a bus directly from Reykjavik, which will take roughly 5.5 hours.
The third and most popular option is to rent a car in Reykjavik and drive to the national park, where you'll pay a small parking fee.
Once you're there, you can check in at the Skaftafell Visitor Centre and begin exploring the vast natural park.
Visiting The Beautiful Waterfall
There is no entrance fee to visit Iceland's parks, but what getting to Svartifoss won't cost you in money, it will certainly cost you in energy. The trek is slightly over a mile, mostly uphill, and will take you nearly 2 hours to complete.
On average, July is the warmest month and the most pleasant for hiking in the park. If you visit during the winter, be prepared for slippery trails, ice, or rainstorms. It's best to bring a waterproof jacket and wear sturdy hiking boots. If you have a walking stick, bring it for the steeper parts of the climb.
On the way, you'll see two other incredible waterfalls: Hundafoss and Magnusarfoss. There are also many glaciers in the area that you can tour with a guide. Some glaciers are more difficult to access and require the use of crampons or ice axes, so always be honest with your guide about your level of physical fitness before setting out.
Staying In Skaftafell
There are plenty of different types of accommodations at Skaftafell. You can camp in the park itself or stay at one of the hotels or resorts on the perimeter. Some popular options include Hotel Skaftafell, the Potato Storage Guesthouse, and Fosshotel Glacier Lagoon.
Visitors are strongly advised to book hotel or resort accommodations well in advance, since Skaftafell is a very popular destination. Those who want to camp at the park don't need to make reservations, however. There is always ample room to sprawl out under the stars.
Svartifoss is a great example of Iceland's phenomenal beauty and something you should not miss!
Can't get enough of Iceland's waterfalls? Add Godafoss and Skogafoss to your itinerary.