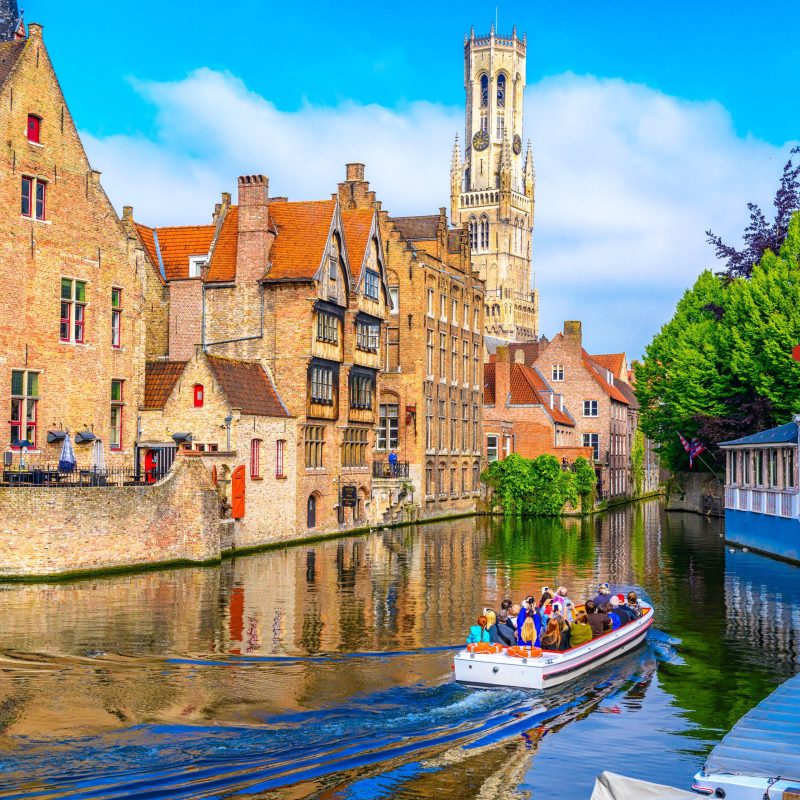 The medieval city of Bruges, Belgium, is a fascinating marriage of old and new. The UNESCO World Heritage site is hailed as the Venice of the North for its comprehensive system of canals. Best of all, the historic gem and food lover's paradise is an easy day trip from Brussels.
Spend a day wandering the city's enchanting cobblestone streets or traversing its waterways, and you'll understand why Bruges needs to be on every traveler's bucket list.
Here are the best things to do on a day trip to Bruges.
Start Your Tour At The Historic Main Square
Bruges's main square, or Markt, is the crown jewel of the city, a preserved medieval center that was once the location for everything from celebrations to executions. Although you won't see justice meted out on the square today, you'll still get to step back in time when you visit the Bruges Belfry.
The Belfry dates to the 13th century and is easily the most recognizable and iconic building in Bruges. Climb the 366 steps of the 272-foot tower for an unparalleled glimpse of the market square. Since the tower is full of captivating treasures and you'll want to spend a few minutes taking in the panoramic views, plan to spend at least an hour in the tower.
The Belfry is open from 9:30 a.m. until 6 p.m. most days, and the standard entrance fee is $14. The tower has no elevator, and the stairs are quite narrow at points.
Walk across the square to the neo-Gothic Provincial Palace and round off your trip to the historic square with a cup of coffee at one of the Markt's cute cafés.
Visit The Churches
Bruges is home to some astounding churches containing precious art, interesting designs, and holy relics. The Basilica of the Holy Blood famously houses a vial of Jesus's blood, and admission costs roughly $3. The Madonna of Bruges, Michelangelo's incredible statue depicting Mary and Jesus, can be found at the Church of Our Lady.
Jeruzalemkapel was built during the 15 century and is renowned for its spooky and intriguing decorations. The whole church is festooned with skulls. Saint Salvator's Cathedral is the oldest church in Bruges and is full of medieval treasures and relics. It's a must-see for fans of history and for art lovers.
Sail Through The City's Famous Canals
Bruges is notable for its intricate system of canals. These waterways crisscross the city and are an ideal way to see a whole new side of Bruges. Take a half-hour tour to learn about the importance of these waterways and to check out some astonishing medieval architecture. Many of the tour guides speak English, although depending on the other tourists on your boat, they might repeat information in Dutch or French.
Unfortunately, many of Bruges's canal boats are not wheelchair accessible, but the city has been taking steps to make many of its more interesting tourist attractions accessible to all. This guide details the attractions that are committed to accessibility.
Eating In Bruges
You will not go hungry on your trip to Bruges. Belgium is known for its sumptuous and rich cuisine, and Bruges is certainly no exception. Sample everything under the sun, but don't miss out on three Belgian favorites: moules-frites, waffles, and Flemish beef stew.
Moules-frites, or mussels and fries, is one of the most beloved dishes in the region. This delectable combination pairs plump mussels and thin and crispy fries with a Belgian beer sauce that ties the whole dish together. Every restaurant's version is different, but nobody does this famous dish quite like Poules Moules, where fresh mussels reign supreme. Ask for some extra bread to sop up the delicious sauce.
Belgian waffles are a thing of beauty. Far from the frozen breakfast-aisle variety, these waffles are crispy on the outside and soft and sweet on the inside. They're loaded up with all sorts of goodies, from ice cream to fresh fruit, as well as whipped cream and chocolate. You can get them at any number of stands and shops in Bruges. Prepare to be blown away by the taste!
Slow-simmered Flemish stew is stick-to-your-ribs food that will keep you satisfied for hours. De Vlaamsche Pot prides itself on cooking its food low and slow so that all of the delicious flavors can mingle and create something wonderful. Although this restaurant caters mostly to carnivores, you can find some vegetarian options as well.
For a quick snack, grab a piece of Belgian chocolate or some freshly made frites. Belgian frites generally come in a cone and are served with different dipping sauces. They are thin, light, crunchy, and definitely hit the spot. Sausage is another great food for eating on the go. Dress yours up with peppers and onions for a fast, savory meal that will fuel the rest of your Bruges exploration.
Drinking In Bruges
Any beer lover will tell you that Belgian beer is known for being in a class of its own, and the picturesque city of Bruges is an ideal spot to take in the scenery with a delicious pint. Bruges is a city that loves its beer, and you can step behind the scenes and see how it's made at one of the city's famous breweries.
De Halve Maan Brewery is one of the most famous watering holes. There are regular tours in Dutch, French, and English for roughly $14, and you'll get a taste of the signature beer, Brugse Zot Blond. The Bourgogne des Flandres brewery is located right in the heart of the city, and Fort Lapin is just a little outside the city center in the north of Bruges. Fort Lapin was once a military site tasked with defending the city, so you'll get a dose of history along with your pint.
Those who want to delve into the process of beermaking won't want to miss the Bruges Beer Experience. Prices vary depending on how many beer tastings you'd like to partake in. The Bruges Beer Experience is open daily from 10 a.m. on, except on certain holidays.
Shopping In Bruges
If you buy just one thing in Bruges, make it chocolate. Belgian chocolate is made with premium ingredients in small batches, so each piece is artfully designed and delicious. There are plenty of small chocolate shops in Bruges, and the sweet treat is molded into almost every shape and size under the sun. Since Belgian chocolate is so famously tasty, it makes a fabulous souvenir.
The city's handcrafted ornaments and decorations are also worth checking out. Shops like De Witte Pelikaan specialize in holiday decorations and home decor. Since many of these items reference Bruges specifically, they make affordable, portable souvenirs or stocking stuffers for loved ones back home.
Bruges is also renowned for its lace. You'll find this romantic material in all sorts of different forms, from wall art to long, dreamy scarves. Many pieces specifically reference Bruges and would make beautiful reminders of your vacation. You'll find lace all over Bruges, so don't be afraid to haggle. Although hard bargaining is discouraged, you can generally negotiate a lower price, especially if you're buying multiple pieces. Apostelientje is a fantastic place to buy and learn about lace.
You can also pick up some authentic Belgian beer, but be aware of alcohol limitations and customs rules. Additionally, glass can break if it's not properly packed. If you decide to bring back individual beer bottles, tuck them into socks so that there's a buffer in your suitcase. It's not a bad idea to encase them in large plastic bags as well. Beer is heavy, and some airlines have weight restrictions on checked luggage. If you want to bring back some of your favorite brews, stick to one or two bottles.
Planning A Visit To Bruges
Bruges is located just 90 minutes from Brussels. Trains and buses to the city run regularly, and costs vary depending on whether you travel first or second class, and if you purchase a one-way or round-trip ticket.
Be aware that you have to sit in the class that you purchase. Conductors will sometimes walk through the trains checking tickets. You don't want an awkward confrontation, or worse, to be kicked off the train. Second-class seating is plentiful and comfortable and a good option for those looking to save a few euros. The ride from Brussels to Bruges is scenic and pleasant. Some trains offer refreshments, but it's always a good idea to bring your own water and a light snack to tide you over.
Bruges never gets excessively hot, and you'll want to bring a light jacket even during the summer months, especially if you're planning on taking a canal tour. The cobblestone streets can be difficult to navigate, so be sure to wear sturdy walking shoes.
Prepare to be delighted and amazed by what you'll uncover during your day in Bruges! This medieval city has so much to offer and should not be missed on your next trip to Belgium.