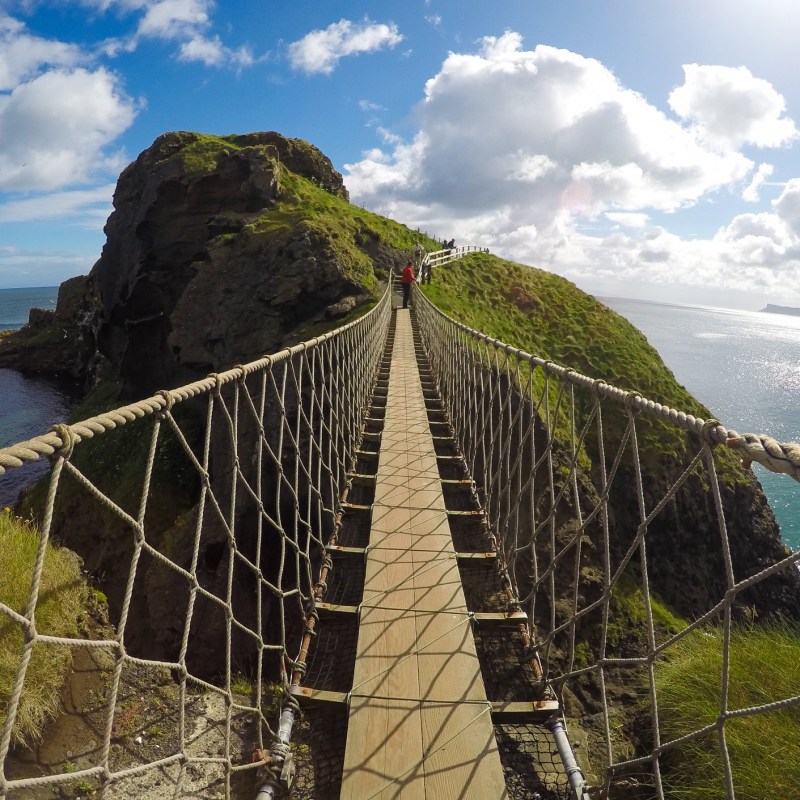 Back in my 30s, when my husband and I traveled to Ireland, we knew we wanted to explore as much of the country as we could. This included Northern Ireland and the area around Giant's Causeway. When we booked our day tour to this stunning, rugged region, we also realized it included a place called Carrick-a-Rede.
Having done a bit of research before we left on our trip, I realized this side-stop could be problematic for me. Built in 1755 by Irish salmon fisherman, this iconic rope bridge connects the mainland to a small island called Carrickarade. The bridge is 66 feet across, a quick walk. It's also maintained by the National Trust, so it's completely safe and inspected regularly. However, the span is nearly 100 feet above the swirling, roiling Atlantic waters below: slightly problematic for someone who has been spooked by heights for her entire life.
Here's how — and why — I gutted up and conquered my fears, and the big reason I would do so again, in an instant, on my next vacation.
What Do You Mean, No Safety Rails?
I have zero explanation for why I don't like heights. I certainly don't mind flying or being at the top of tall buildings. But it's the sensation of being on the edge of something, or being less than stable, that gnaws at my gut. It struck me years ago, and left me nearly paralyzed, at Chichen Itza in Mexico. We scrambled to the top of the main temple, El Castillo, about 100 feet up. (FYI: Tourists are no longer allowed to climb El Castillo, but you can climb the Nohoch Mul pyramid in the Coba Archeological Area in Riviera Maya.)
Once up there, I realized there weren't any safety rails or barriers. I was glued to the edge of the wall, terrified. I opted to scoot down, no less terrified, on my bum. I'd never been more grateful for solid ground, and nearly kissed it when I got to the bottom of those stone steps.
It was embarrassing. Really embarrassing.
And I didn't want that to happen again on vacation. The last thing I wanted was for my phobia to get in the way of taking part in a once-in-a-lifetime experience. So when I realized Carrick-a-Rede would be on our Northern Ireland itinerary, I refused to give in to my fear again.
The Game Plan
I'd done my research well before our day tour, arming myself with the facts and what to expect. I knew that there was a bit of a hike from the parking lot at Carrick-a-Rede to the bridge itself, one that would take us along craggy, uneven ground near the cliffs. I knew that the bridge, while sturdy, was made of planks and ropes. It would sway given the winter winds. I knew that my husband would be right behind me, and that there were hand-holds on either side.
These were all plain facts, and should have instantly made the logical part of my brain feel much better about the upcoming experience.
But I also couldn't shake the fact that Carrick-a-Rede looked just like that bridge in Indiana Jones and the Temple of Doom. Spoiler: While it worked out for Indy in the end, it was stressful as heck getting across!
So, I made a deal with myself. Of course, I could wimp out and stay in the van when we arrived or look at the structure from afar. However, I decided this simply wasn't an option. I was here to soak in as much history and culture as I could, and crossing the bridge would absolutely be part of that experience.
The Moment Of Truth
We reached Carrick-a-Rede mid-morning, and it was the first stop on our epic day-long tour of Northern Ireland that included Giant's Causeway, the Antrim Coast, and Belfast. While we had a ridiculously early start from Dublin (4:30 a.m.!), I limited myself to just one cup of coffee to keep jitters to a minimum once we reached the bridge.
While my husband knew about my fear, no one else on our small tour did. I didn't want to mention or draw any sort of attention to it. As ridiculous as this might sound, I thought perhaps if I didn't verbalize or speak of my fear of heights, I'd be less likely to focus on it when we arrived at Carrick-a-Rede.
When we got there, we hiked down the cliff and reached the bridge. I took a deep breath, kept my vision focused solely on the other side, and stepped onto the planks. There was a lot of sway, and it was really windy. I was holding onto the sides for dear life. But I kept telling myself: You are safe. You can do this.
In 30 seconds, I was on the other side, on the small island where Irish salmon fisherman had come to work the sea for hundreds of years. I took in the incredible vista and marveled at how green the cliff was despite the gray of the day. I still felt a bit on edge but was thankful I hadn't collapsed in a panicked heap in the middle of the bridge. After a few minutes, I quietly steeled myself again and crossed back over the ropes.
At lunch, which we enjoyed a short time later in a tiny, firelit pub, I toasted myself with a Harp lager (or two!).
Why I'm So Glad I Did It
My Carrick-a-Rede experience drove home for me a basic travel truth: A truly over-the-top vacation should push us beyond our comfort zones. When we're visiting a new place, we're taking a chance on a new culture, food, and maybe even an experience or two. It's on us as travelers to overcome whatever misgivings we might have and embrace the new, in whatever form it might take.
If I had sat out crossing Carrick-a-Rede, I would have been mad at myself forever. Sometimes you just need to see beyond your irrational fear, and I'm so glad that I did in this case. It was well worth it, and a travel memory I'll never, ever forget!
Want to visit other unique spots in Northern Ireland? Here's how to see Ireland's eerie Dark Hedges tunnel. If beautiful bridges are your thing, the story behind India's incredible living root bridges could be the perfect inspiration for your next trip.