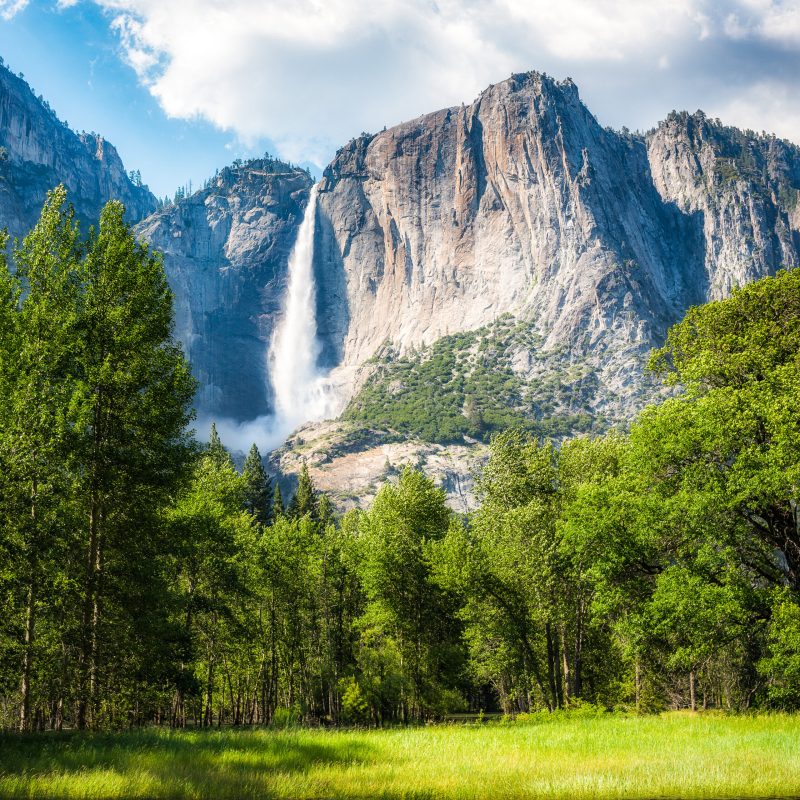 The U.S. has a national park for the most experienced hiker and the traveler who has little experience outdoors.
Thanks to helpful insight from some of our travel experts, we have a list of national parks around the country that well-seasoned travelers just can't get enough of. Of course, their recommendations will have you itching for your next trip, too.
Follow along as we detail the beauty of some of the best national parks in the U.S. and why travel experts love these locations so dearly.
Sleeping Bear Dunes National Lakeshore
Michigan
Betsy Wuebker, the writer behind PassingThru.com, loves Sleeping Bear Dunes National Park on Lake Michigan. Betsy loves the park because of its "sheer natural beauty and sweeping vistas" and because it's "scenic in every season."
She calls the park a "unique and compelling" treasure.
Lake Michigan is ripe with possibilities for adventurers. Consider these eight things to do in Michigan's Leelanau Peninsula, with activities ranging from winery hopping to kayaking the Crystal River.
Great Smoky Mountains National Park
North Carolina And Tennessee
Great Smoky Mountains National Park — the most visited national park in the country — is a favorite for Connie Pearson of There Goes Connie.
The Smokies showcase the beauty of changing seasons. The park is in a perpetual state of transition.
"It provides a spectacular showcase for the changing seasons," Connie told us.
If you like spring most of all, consider visiting during the magical season of synchronous fireflies!
Gulf Island National Seashore
Florida And Mississippi
Luggage and Lipstick's Patti Morrow believes Gulf Island National Seashore is one of the most fantastic places in the country.
"The pristine beach offers unobstructed views across the Gulf of Mexico with powdery sand so white it's almost blinding — especially juxtaposed against the impossibly iridescent emerald surf. If there's a prettier beach in the continental U.S., I haven't found it yet — and I've looked," she told us.
A travel expert claiming the seashore is the most beautiful in the country is no small feat! She went on to say, "It's a place I love to return to time and time again!"
Looks like we're going to need to visit, too!
Grand Canyon National Park
Arizona
We all know the beauty of Grand Canyon National Park is unmatched — that's no secret! And seasoned travel expert Veronica James of The GypsyNesters agrees.
"We must see it again and again because its grandeur can not be captured by camera," Veronica said.
The park might appear intimidating at first given its sheer size and magnificent dips and valleys, but we have you covered. Here are our 10 tips for hiking the Grand Canyon.
Yosemite National Park
California
Yosemite is another beloved national park that is highly spoken of — and for good reason. Travel expert Mary Charlebois of MaryGo admires Yosemite because it's family friendly and accessible to all.
"Other than obvious beauty, it has experiences for all ages and abilities. The ranger programs are outstanding, especially for children. There is lodging for all budgets and tastes."
Mary makes an important point. The more popular a park is, the more likely it is to have invested in accessibility!
Yosemite is also home to Firefall: an incredible must-see phenomenon that only happens one time of year.
Yellowstone National Park
Idaho, Montana, And Wyoming
Martin Rose of Wandering Rose Travels describes Yellowstone as a space that evokes the feeling that "you have left earth and landed on another planet."
Since he's been several times, he has the scoop on when to go, especially for the 50+ traveler.
"Retired baby boomer and senior travelers have the advantage of avoiding the peak summer months. April/May is amazing as the snow melts and the harsh winter gives way to spring. September/October is cooler, and there is no worry about snow blocking anything! Winter season is our favorite — the parks get fewer visitors the entire winter season than they do on a single summer day."
Even though he does have preferences on when to visit, he went on to say, "Any time of year is truly spiritual."
Golden Gate National Recreation Area
California
Carol Guttery of Wayfaring Views loves San Francisco's Presidio in Golden Gate National Park Recreation Area. Carol was drawn to the park by its history and stuck around for the fun activities.
"In addition to exploring the Golden Gate Bridge, you can hang out at the dog-friendly Crissy Field beach, visit the Walt Disney Family Museum, or stroll the Goldsworthy Lines art installation."
"If you are into edgy experiences, you can creep around the abandoned military sites, visit the pet cemetery, and take a twirl through the labyrinth at Land's End."
Seems like there really is something for everyone here!
San Antonio Missions National Historic Park
Texas
Penny Sadler of Adventures of a Carry-On is fond of the rich history of San Antonio Missions National Park. The mission itself is over 300 years old, and because the site exemplifies "the exceptionally inventive interchange that occurred between indigenous peoples, missionaries, and colonizers," it's a UNESCO World Heritage site recognized globally for its culture and history.
Penny's recommended way to spend an afternoon in the park is to "bring a lunch and sit under an old oak tree in the shade." How dreamy does that sound?
She does warn potential visitors that Texas gets hot, so consider avoiding a summer visit.
Lassen Volcanic National Park
California
Travel Past 50 writer Kristin Henning likes the underrated nature of Lassen Volcanic National Park. To her, Lassen is "a wonderful surprise [because it's] much more obscure than its nearest neighbors: Crater Lake, Redwood, and Yosemite."
She believes it's worth it to take your time exploring the park's massive trail network, which features 150 miles of trails that wind through three different ecosystems.
The park even has "hydrothermal areas that rival the more popular hot springs of Yellowstone National Park."
Seems like Lassen is a great escape from the big crowds! Eager to plan a national parks trip? Check out these other five underrated national parks for your next outdoor adventure.