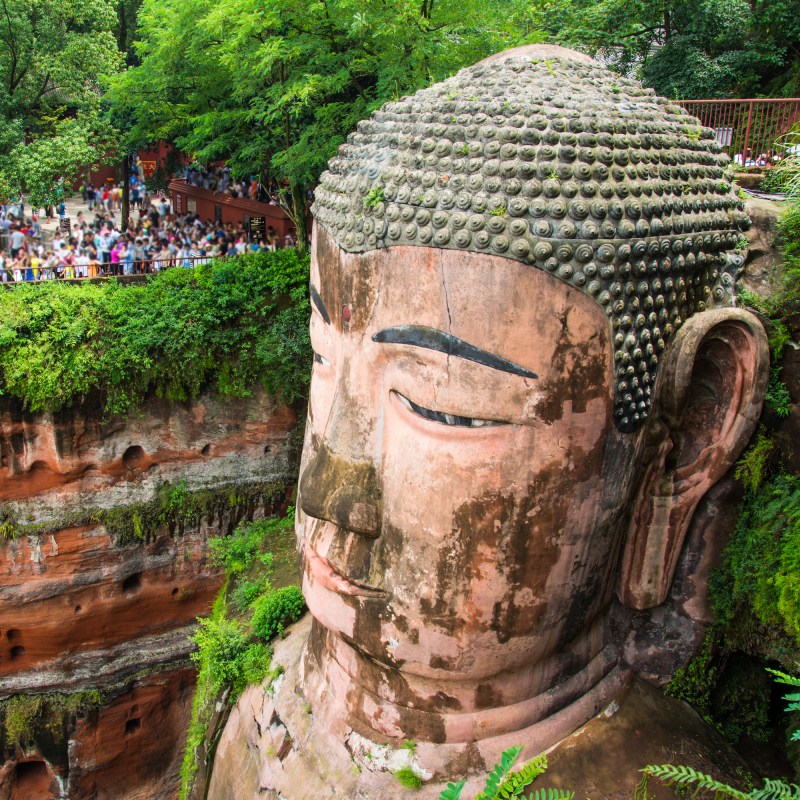 Towering over the Mount Emei UNESCO Heritage Site, the Leshan Giant Buddha is a proud emblem of China's Buddhist heritage — a peaceful deity tasked with taming the sea and granting sailors safe passage.
This massive Buddha is the largest in the world, measuring 233 feet high. It's a Maitreya Buddha that represents a hopeful, loving, and peaceful future. The Leshan Giant Buddha is carved directly into the cliff face and peers down at the intersection of the Minjiang, Qingyi, and Dadu rivers. This powerful relic took 90 years to complete and has been keeping watch over the Leshan landscape for 1,300 years.
Where Is The Leshan Giant Buddha?
The Giant Buddha is located in Sichuan province, almost precisely in the center of China. The closest international airport is Chengdu Shuangliu. From Chengdu, there are several different methods of making the journey to this cherished Chinese landmark.
How To Visit The Leshan Giant Buddha In China
Even outside of the large cities, China has a thriving public transportation system that is reasonably inexpensive, reliable, and easy to navigate, so there are plenty of different ways you can visit Mount Emei and the Giant Buddha itself.
Take The Train
Trains leave regularly from Chengdu to Leshan, and even the first-class fare is under $10. The trip takes between an hour and 90 minutes and is a great way to check out the Chinese countryside.
Once you arrive in Leshan, you'll need to take a taxi to the park itself. Uber and Lyft are not options in China, but you can use the local rideshare app, DiDi Global. Generally speaking, apps that allow you to track your ride offer greater accountability and security, so it's not a bad idea to download Didi Global in advance.
Rent A Car
Renting a car short-term in China is possible if you have a valid United States license and passport. You don't technically need an international driver's license, although it would be a smart idea to have one.
Rent your car from a reputable company and always take pictures before you take it out for a spin. Unscrupulous dealers may try to pin existing damage on you, so having pictorial evidence is a must. Familiarize yourself with the laws of the road before setting out, too.
Jump On A Bus
For roughly the same price as the train, you can take a local bus from Chengdu into the heart of Leshan. Busses run several times a day and take a little over two hours to arrive. Once you're in Leshan, you'll need to take a bus or taxi to get to the park.
The bus is a good option if you have some extra time and really want to get a taste of what local travel in China is like. Since local buses run multiple times a day, you'll have no trouble getting a seat. Trains will occasionally sell out, but buses won't, making this a good option for last-minute travelers.
When Is The Best Time To Visit The Leshan Giant Buddha?
The Leshan Giant Buddha is a popular pilgrimage site and tourist attraction for both Chinese nationals and visitors. If you want to minimize your chances of having to fight through throngs of people, it's a good idea to avoid public holidays and plan your trip for early autumn, which is the tail end of peak season.
In mid-September, the crowds will thin out somewhat, but the weather will still be a pleasant low 70-degrees, perfect for appreciating the Giant Buddha without breaking too much of a sweat. Try to arrive in the morning for the best views and smaller crowds. During peak season (April to early October), the site is open from 7:30 a.m. to 6:30 p.m. During the remainder of the year, hours of operation are between 8 a.m. and 5:30 p.m. Admission to Mount Emei Park is roughly $20 during high season and $13 in low season.
What Else Is There To Do In The Area?
Mount Emei is a fascinating UNESCO site, and the colossal Buddha is only part of it. Plan to spend several hours checking out the temples, pavilions, and monasteries that stud the mountainside.
The Baoguo Temple is an enormous complex full of beautiful courtyards, sprawling libraries, and many relics from the Ming Dynasty. The monastery effortlessly blends the natural elements of the mountain with fabulous architecture and is a great place to spend an hour or two soaking in the history and culture.
Qingying Pavilion is a celebration of the natural beauty of Mount Emei. This humble structure marks the foot of the mountain and serves as a peaceful resting place for travelers who are making their way up or down. At the opposite end, the Golden Summit marks the apex of the mountain and rewards visitors with a panoramic view of the surrounding landscape. The Golden Summit is most exquisite at midday when the bright sun reflects off the polished gold of the structure, lending to the site's otherworldly allure.
Wannian Temple is the oldest temple on the mountain and contains rare artifacts that represent elements of Buddhism related to truth and wisdom. You need to hike up numerous stairs to access this temple, but the exertion is entirely worth it.
Making The Most Of Your Time At Mount Emei
You will be doing plenty of walking during your visit to the Leshan Giant Buddha and Mount Emei. Wear comfortable shoes and bring water and snacks with you. It's also a good idea to bring a light jacket or sweater.
Although it's technically possible to climb Mount Emei, most people opt to take the cable cars. You'll get a bird's-eye view of the mountain and be able to see all of the attractions within one day.
Mount Emei is just over 1.8 miles high, and some visitors may experience discomfort or feelings of malaise near the top. Understand the signs of altitude sickness, and don't push your body too much. If you start to feel unwell, get down to a lower altitude quickly.
Give yourself several hours to fully soak in all of the history and culture of this site. You're bound to leave with a greater appreciation of the Chinese Buddhist tradition.
General Tips For Visiting China
Americans need a visa to travel to China, and you should apply for it several months before your trip. You'll need to fill out an application, pay an application fee, and produce a detailed trip itinerary for the duration of your stay. Visit the Chinese Embassy website for more information.
Chengdu is the largest major city near Leshan, and while they don't have an embassy, there is a satellite U.S. Consulate office located there. Protect yourself by enrolling in STEP, the Smart Traveler Enrollment Program, which will keep you apprised of any increased tensions or political escalations in China. Keep an eye on the global news as well.
China is an enchanting country with a long and beautiful history. The Leshan Giant Buddha is one example of the fusion of art, religion, and culture you'll find there. Don't miss your opportunity to see this massive marvel for yourself. You'll also want to make time for these nine fantastic things to see and do in Xi'an, China, including visiting Emperor Qin's terra-cotta army.