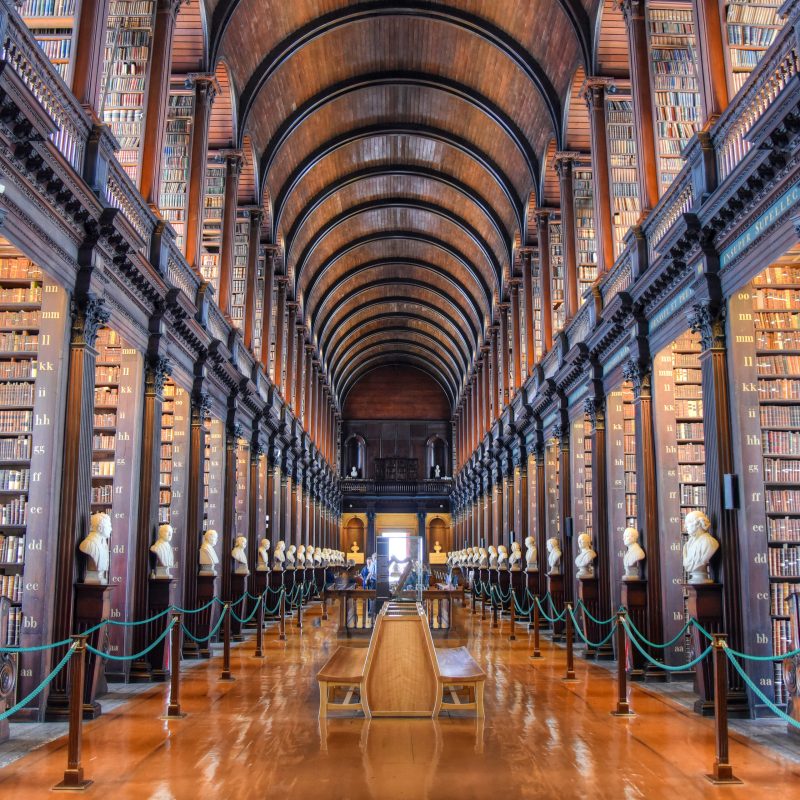 If you love to read and write, you must make time for Dublin. The UNESCO Creative City of Literature's prose, poetry, plays, and songs are known and loved around the world. The renowned Irish literary tradition, which has produced four Nobel Prize Laureates for Literature, is constantly looking forward, embracing new styles and forms of writing.
While in Dublin, take time to acquaint yourself with — and be inspired by — the founding fathers and mothers of Irish literature. Whether you're a passionate fan of Irish literature or are simply looking for a focus for your tour of the city, these are the must-see attractions of Dublin's literary scene.
1. Trinity College Dublin
The written word has been celebrated in Ireland for more than a thousand years. Perhaps the best known of the country's written works is the Book of Kells, which is on display at the Old Library of Trinity College Dublin. The Book of Kells comprises four volumes of lovingly illustrated vellum pages containing the Latin texts of the Four Gospels of the Bible. It's one of the most beautiful books ever made, and, thanks to cutting-edge preservation techniques, it's every bit as lovely now as it was when it was first produced by Irish monks in A.D. 800. The curators in charge of the Book of Kells turn to a new page every 24 hours, so if you have the opportunity to visit Trinity College more than once (which is entirely possible, given how many tours stop there), don't pass up the chance to take another look.
The Book of Kells is only one highlight of Trinity College Dublin. After marveling at the historic text, take in some of the other exhibits in the Old Library and wander the lovely cobblestone paths of the campus.
2. The Dublin Writers Museum
Swift or Sheridan? Shaw or Wilde? Yeats, Joyce, or Beckett? If your time in Dublin is limited, you can learn a little about each of these literary giants at the Dublin Writers Museum, which features a magnificent collection of books, letters, artwork, personal artifacts, and more (see if you can find Mary Lavin's teddy bear!). Several exhibits focus on Bram Stoker, who gave the world Dracula. The museum's stunning architecture will encourage you to linger, as will the cute gift shop.
3. The James Joyce Centre
If you plan on visiting the James Joyce Centre in addition to the Dublin Writers Museum, you can take advantage of a combined rate to the two facilities. The James Joyce Centre, which is dedicated to Joyce's life and works, offers several guided walking tours, including one based on Joyce's life in Dublin, one centered on scenes from Dubliners, and one highlighting scenes from Ulysses.
4. The Abbey Theatre
The first state-subsidized theater in the English-speaking world, Dublin's Abbey Theatre, has always been a unique institution. Founded by Lady Augusta Gregory and William Butler Yeats, it courted controversy at a very young age. One of its very first productions was John Millington Synge's The Playboy of the Western World, whose unprecedented portrayal of scandalous events in rural County Mayo caused riots in Dublin in 1907. Never one to shy away from a little drama, the Abbey has been a steadfast supporter of Irish playwrights ever since.
William Butler Yeats wasn't the only Yeats in the Abbey's history. His brother, Jack Yeats, illustrated Synge's books, designed sets for the Abbey, and had three of his own plays produced there. He is best known, however, for his outstanding paintings. You can see his work — including The Liffey Swim, for which he brought home Ireland's first Olympic medal (yes, painting was an event at the 1924 Paris Olympics!) — at the National Gallery of Ireland.
5. The City's Pubs
While writers may spend most of their time at their desks, in Dublin the best tribute is to pound the pavement and down a few pints in honor of your favorite wordsmith. And the best place to start is The Duke Pub, the launch point for the Dublin Literary Pub Crawl.
I'd like to say that the tour guides are fantastic, but "guide" is in no way an adequate word. They're superb actors, mimics, and singers who are passionate about their city's literary heritage and full of good cheer. Over the course of about 2 hours, you'll be given a tour of Dublin with a literary bent, and the commentary is carefully crafted so that those unfamiliar with Irish literature can follow along. The famous Irish sense of humor shines through with each and every tale — and the beer doesn't hurt. The tour stops at four pubs along the way for about 20 minutes each (ordering half-pints is a good idea if you're a slow drinker), and you're sure to leave with plenty of stories and a new appreciation for Dublin.
Dubliners are understandably proud of their city's literary roots, and, in many ways, everyone in Dublin is a bit of a storyteller. Don't hesitate to chat with the locals in the streets or at the pubs — you never know, you might end up talking with the city's next Nobel Prize winner!
Ready to explore beyond Dublin? Here are some great day trips from the city and some tips for renting a car.