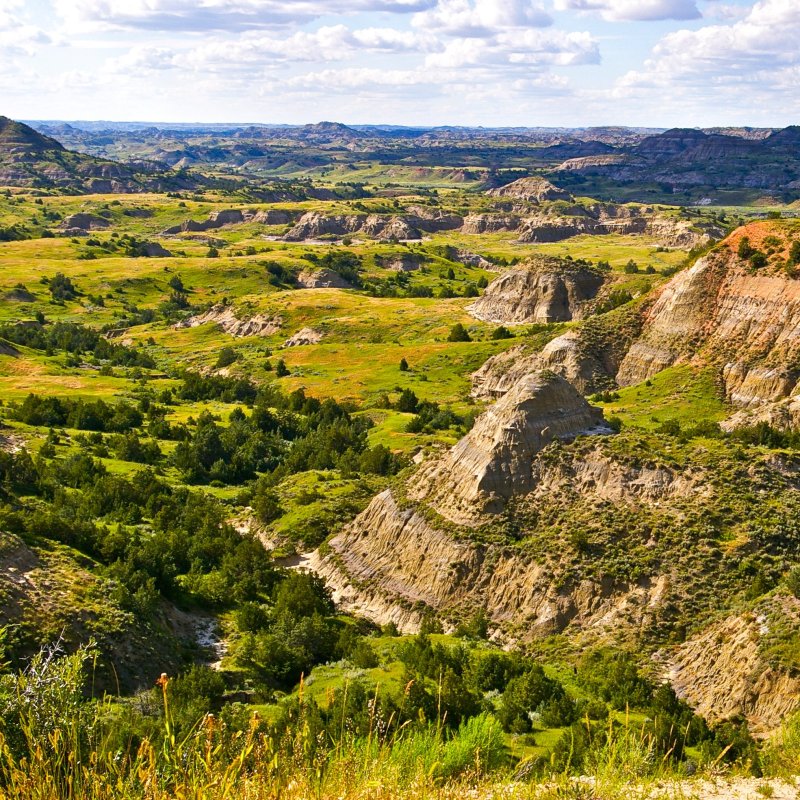 North Dakota is famous for its vast swaths of untouched land, endless blue skies, and ample wildlife. It's a nature lover's paradise and was once President Theodore Roosevelt's stomping ground. It's not surprising that the 26th president fell in love with the extraordinary state. Theodore Roosevelt was a conservationist who understood the value of preserving wild spaces for future generations.
Today, Theodore Roosevelt National Park is a lasting memorial to the original Rough Rider: a gigantic 70,448-acre protected area perfect for camping, hiking, fishing, and spotting wildlife.
It gained official status as a national park in 1978 and has been delighting visitors for the past 41 years. Entrance fees vary, but active-duty military and people with disabilities always enjoy complimentary admission. While the park's centers are wheelchair accessible, many of the trails are not.
Theodore Roosevelt National Park is open year-round, although it's most pleasant during the late spring and early fall, when the temperatures are mild and the seasons are changing. Make one trip to Theodore Roosevelt National Park, and you're bound to fall in love with the achingly beautiful scenery and rich history.
Here are just a few of the things to love about this national park.
1. Its Enchanted Highway Is Both Whimsical And Wonderful
Route 21 weaves its way through Theodore Roosevelt National Park, but it is no ordinary thoroughfare. Known as the Enchanted Highway, this charming stretch of asphalt is full of all manner of roadside attractions in the form of metal sculptures, from flocks of geese and colossal grasshoppers to an entire family crafted of scrap metal.
The Enchanted Highway is a whimsical place that expertly weaves folklore and artistry together for a truly stunning effect. If you look closely, you'll even catch a glimpse of Teddy Roosevelt riding his bucking bronco off into the sunset!
2. It's Home To A Cowboy Hall Of Fame
The North Dakota Cowboy Hall of Fame is dedicated to both the original frontiersmen and women and the Native American people who lived in the Badlands. This massive center is open every day from 9 a.m. to 4 p.m., except Mondays, and admission costs $9.
The North Dakota Cowboy Hall of Fame has permanent and rotating exhibits plus a Hall of Honorees highlighting and saluting those who made the most significant impact on the Badlands. It doesn't shy away from the dark side of frontier expansion, such as the cruelty shown to native peoples on the relentless march west. Their story is not glossed over, which is what makes this museum truly unique and inclusive.
3. It Was Theodore Roosevelt's Sanctuary
Chimney Butte Ranch, also known as the Maltese Cross Cabin, was Theodore Roosevelt's cattle ranch and his refuge during painful periods in his life. Before taking on the highest job in the land, Roosevelt called Chimney Butte Ranch home, and it likely sparked his lifelong passion for environmental conservation.
Today, you can visit the restored cabin and learn about the early life of the president, as well as what life was like on dude ranches during the days of the wild frontier. It's a slice of history that you will remember forever.
4. There's An Abundance Of Animal Life
There is an astounding array of animal life in Theodore Roosevelt National Park, including nearly 200 varieties of birds, reptiles, and mammals. If you want to reconnect with the natural world, this vast national park is the place to do it.
One of the majestic creatures that you'll run across is the American bison. These impressive animals were plentiful during the frontier days, but their population has dwindled in recent decades. Still, you can catch a glimpse of proud herds of bison throughout the park. Remember to exercise caution, since bison are spooked easily and may become aggressive. It's best to enjoy the bison, as well as the other wild animals, from a distance that is safe for everyone.
5. It's Next Door To The Charming Town Of Medora
Medora is a quaint town that fully embraces the ethos of the frontier. It's home to family-friendly activities, affordable lodging, and one of the area's famous prairie-dog towns, where you can see the tiny mammal extroverts in person.
Medora hosts special events year-round and even has its own golf course. It's a wholesome and delightful place where the Wild West meets the convenience of the modern day. It's a true frontier jewel!
6. Its Painted Canyon Is Magnificent
Painted Canyon is a technicolor masterpiece of nature and easily one of the most inspiring and photographed sites in the Badlands. Located in the South Unit of the park, Painted Canyon is a moderately challenging hike that spans slightly more than a mile.
You'll see a variety of wildlife and natural landmarks on your hike, and you can learn more about the region, its history, and its significance at the Painted Canyon Visitor Center. If you try any hike in Theodore Roosevelt National Park, make it this one.
7. There Are Fossils Galore
North Dakota isn't just famous for its human history — the Badlands are also the ancient burial ground for the mammals that predated us. Theodore Roosevelt National Park is full of fossils.
The remnants of these bygone creatures are on display at the Pioneer Trails Regional Museum, whose archaeological team excavates and preserves the fossils for public viewing. Visit any day but Sunday between 9 a.m. and 5 p.m. for a chance to see North Dakota's earliest residents for yourself.
8. It's Home To Part Of The Original Long X Trail
The Long X Trail was an old cattle highway that facilitated the migration of domesticated animals from eastern Montana to North Dakota. Visitors to the North Unit of the park can walk what remains of the original trail, and maybe even catch a glimpse of some longhorn steers.
The trail will give you a better understanding of the difficulty of life in the Badlands. It's a slice of frontier life that hasn't changed much since the olden days, and it's well worth seeing.
Theodore Roosevelt National Park is one of the best-preserved parks in the country, an authentic historic and natural gem.