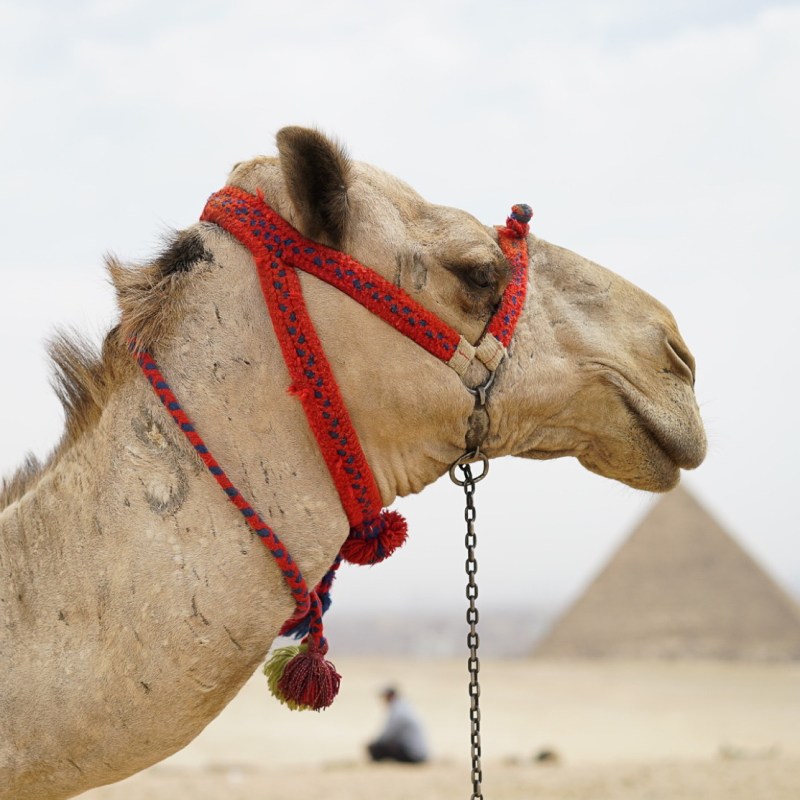 Few places in the world are as captivating as Egypt. The country offers bucket-list views of the pyramids and the chance to walk through history at destinations like the Valley of the Kings, but Egypt isn't just for history buffs. Egypt is for foodies, architecture aficionados, culture lovers, photographers, and adventure travelers. It starts as a once-in-a-lifetime destination, although one visit is hardly enough.
After months of planning and saving, I finally booked my trip to Egypt for the spring of 2019. From the second I landed in Cairo, I knew it was the right decision. My fiancé and I spent days exploring Cairo before heading down to Luxor and then spending our final two days in Giza. It was everything I'd dreamed of as a photographer who loves learning about and documenting different cultures.
Here's why you should head to Egypt, too.
1. It Offers Ancient History At Its Finest
Destinations like Rome and Athens may boast impressive historic sights, but nothing can match the ancient history that permeates this North African country. From the Great Pyramid of Giza — the oldest of the Seven Wonders of the Ancient World, and the only one that remains — to the Valley of the Kings, where dozens of pharaohs (including the famous King Tutankhamun, or King Tut) are buried, Egypt's landmarks are legendary.
The Valley of the Kings, located in the southern Egyptian city of Luxor, was one of the most impressive historic sights on our tour. You can actually see King Tut's mummified body in his tomb! The 2,000-year-old Karnak Temple Complex in Luxor is equally remarkable. The 200-acre area of temples and monuments is located near the equally awe-inspiring yet smaller (and less crowded) Luxor Temple.
Of course, we haven't even gotten to the treasure trove of history in Giza, where the Great Pyramid and Sphinx stand tall. Visitors can actually climb into the pyramid — we did — but it's a harrowing, narrow climb that definitely fueled my claustrophobia. (In all honesty, I wouldn't do it again — there's nothing to see inside.)
2. The History Goes Beyond Ancient Egypt
While most people think of ancient history when they think of Egypt, the area boasts an equally impressive amount of medieval history, particularly in and around Cairo. In Old Cairo, for example, we booked a walking tour with Walk Like An Egyptian to learn about Egypt under Saladin, the first sultan of Egypt in the 12th century; the Ottomans; and the Mamluks. The tour even covered recent Egyptian history. The tour included a stop at the magnificent Mosque of Muhammad Ali, a 170-foot-tall monument built for the Ottoman governor Muhammad Ali of Egypt.
3. The Architecture Is Magnificent
If you appreciate architecture, you'll love the monuments sprinkled throughout Egypt. For starters, the Karnak Temple Complex and Luxor Temple display mind-boggling ancient architecture with hieroglyphics, statues, and mazes of pillars that were all built around the sun and moon phases.
Head up to Giza, and of course the Sphinx and pyramids will captivate you, but don't miss the soon-to-open Grand Egyptian Museum, which promises to be one of the world's largest once it's finished in 2020. Even in the construction phase (which you can see from the street), it's obvious that the museum will be yet another Egyptian wonder.
In Islamic Cairo, the dazzling architecture continues along the popular Al-Muizz Street (also part of the Walk Like An Egyptian tour). Minarets speckle the sky while the alleys come alive with dozens of intricate mosques and mausoleums, some even lined with mother of pearl on the inside.
4. You Can't Beat The Shopping
Sure, steins from Germany and rugs from Morocco make great souvenirs, but Egypt's traditional crafts — think papyrus, alabaster, and the ancient textile khayamiya — are truly unique.
In Luxor, craftsmen make all sorts of home décor out of alabaster from the region's mountains. We watched the stonemasons work and learned about the process before stepping into the shop to buy some of their goods.
In Old Cairo, we fell in love with khayamiya, an intricate textile hand-stitched with traditional symbols such as the Eye of Horus. We came home with a khayamiya pillowcase that now decorates our living room. Other khayamiya products include quilts and wall hangings.
5. The Food Is Unique And Flavorful
Food is a peek behind the curtain of a culture, which is why I spent hours researching the best traditional dishes to eat in Cairo. It turns out that there are dozens to choose from! Some of the best dishes include ful, a fava bean stew, and feteer, a flaky layered pastry that can be savory or sweet.
While we tried these dishes on our own in several local restaurants, we didn't fully grasp their significance until we took a food tour with Bellies En-Route. This tour was probably the best investment of our trip, and not just because we had the chance to try delicious new dishes like koshari (rice, macaroni, and lentils with tomato sauce) and salad water (a refreshing palate-cleanser).
On our tour with the cofounder of Bellies en-Route we learned about contemporary life in Cairo — where people eat, what people do for fun, and how things have changed since the revolution. Next time I'm in Cairo, I'll be taking this tour again.
Be sure to bring an appetite! You'll be eating for 3 hours — and the food is so good that we ate just about every bite.
6. Luxury Hotels Aren't As Expensive
Before researching Egypt, I never thought I'd be able to afford a hotel with a balcony overlooking the pyramids or a pool with a view of the Great Pyramid. But I was wrong! We spent our time in Giza at the luxurious Le Méridien Pyramids Hotel & Spa, and our room with a view wasn't more than $120 per night. It came with access to the pyramid-view pool, not to mention a pyramid-view outdoor dining table and basically pyramid-view everything!
In Luxor, we stayed at the Pavillon Winter Hotel, which was equally as impressive with its massive pool, luxurious amenities, balconies overlooking gardens, and poolside grill. We forced ourselves to leave the property to eat in town, but if we'd been there another night, we definitely would have ordered room service!
7. The Scenery Will Take Your Breath Away
I realize that many destinations boast spectacular scenery, but Egypt was unlike any place I've seen — especially when viewed from a hot-air balloon. We took a balloon ride in Luxor, where we had the chance to fly over the Valley of the Kings at sunrise with views of the Nile River and the glowing orange horizon.
And that was just the beginning. Egypt from the water — we took a felucca boat tour, a must-do in Cairo or Luxor — is equally as stunning. The boat tours take you up a portion of the historic Nile, typically around sunset so that you can see the cities at their finest.
The views continue atop the Cairo Tower, a free-standing viewing deck in the Zamalek neighborhood that's perfect for watching the sunset while appreciating just how expansive Cairo really is. From the Cairo Tower, you can see Tahrir Square, downtown Cairo, the pyramids, and beyond.
After visiting the viewing deck, spend some time exploring Zamalek's waterfront for more views of Cairo. It's one of the city's safest and most charming neighborhoods.
Planning An Egyptian Vacation
How To Get There
Flying into Cairo is the easiest option. You can get a taxi at the airport, although it's better to book a car ahead of time. We hired a driver through Viator. For the price of a taxi, he was waiting for us with a sign by the arrivals gate.
How To Get Around
You can always get a taxi, but they're known to prey on foreigners. Uber is available in Egypt, although it's easier and safer to have your hotel book your car service. We found peace of mind in hiring a local guide for most excursions.
How To Handle The Language Barrier
Most people in Egypt speak Arabic, and few speak English (other than a few words here and there). This is another reason why it's important to have a guide.
Ready to book your trip to Egypt? Good! Here's how to prepare for visiting the Giza pyramids.