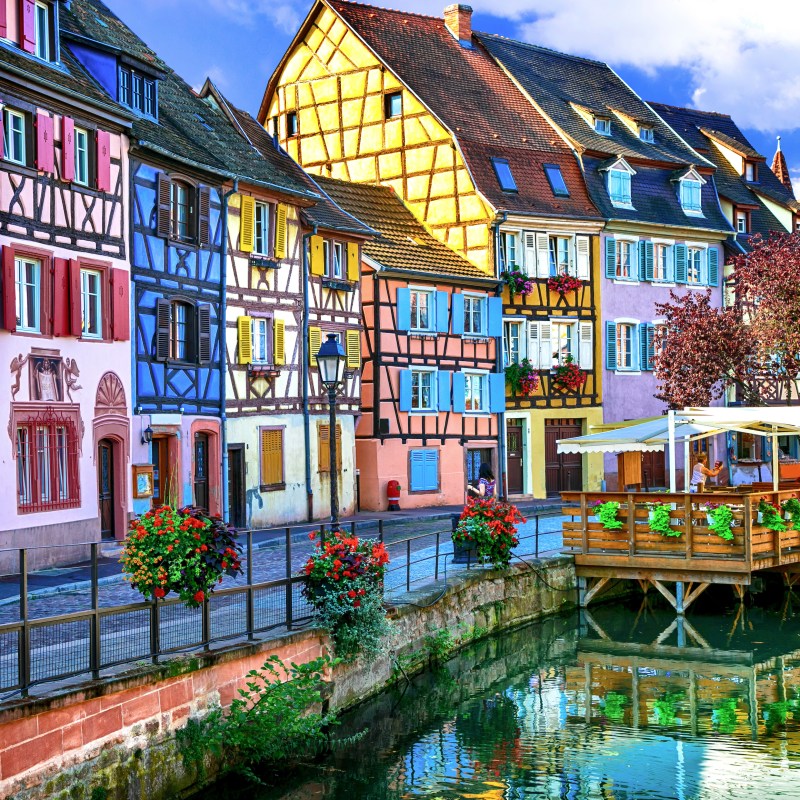 Colmar, France, is a city for the dreamers, the romantics, the artists. It's a dive into a splendid, colorful daydream.
The village is painted with soft colors and gridded with ancient, half-timbered buildings, quaint cobblestone streets, and waterways. Colmar is perfect for taking a break from busy European cities — because let's face it, you might be on your way to Paris next!
In Colmar, enjoy the simpler things: Take a leisurely stroll or canal ride. Sip coffee and enjoy an unparalleled view. Meander through shops, strike up conversation with locals, and breathe in the fresh air.
Have we convinced you yet? Either way, read on for the full scoop on the dreamy city of Colmar.
The Path To Colmar
Colmar is nestled in northeastern France near the borders of Germany and Switzerland. Because of its proximity to both countries, the village has noticeable traces of German and Swiss culture alongside its rich French history.
Colmar is 45 miles southwest of Strasbourg and 40 miles north of Basel. If you're traveling from Germany, Switzerland, or other places in France, fly into Basel Mulhouse Freiburg airport, then drive 45 minutes to Colmar. Or, if you're coming from Paris, hop on the TGV train and switch trains in Strasbourg.
What You'll See And Do
The charming city of Colmar has something for everyone — easygoing travelers, wine lovers, history fanatics.
The canals weaving through the city might remind you of one of Italy's top tourist attractions, which is why the village is affectionately nicknamed Petite Venise. Sail through the canals like a Venetian and take in the lovely pastel homes, restaurants, and shops that have lined the water for over 400 years.
While in the splendid city of Colmar, make sure to try the local sparkling wine, Cremant d'Alsace. Or, for a taste of local cuisine, go to one of the many restaurants that serve German-inspired fare, French classics like sweet pastries and bakery treats, and thin-crust pizza unique to Colmar. Want to treat yourself? JY's — a restaurant with two Michelin stars — is right in the heart of downtown!
The Adolph House, a popular site in Colmar, was built in the middle of the 14th century and still stands, making it a beautiful architectural wonder that defies time. For more of the architecture of Colmar, check out the town's two massive churches from the 1200s: gothic Saint Martin's and Protestant Saint Matthieu.
Tips For Your Quaint Colmar Getaway
The weather in France changes throughout the year, but there's fairytale magic in the air year-round. If you visit in the summer, you can plan on clear skies, warm weather, and a relaxing canal ride; if you go in winter, you can explore the area's deliciously fun Christmas markets following these tips! It's a win-win situation, right?
France is known for its dreamy, colorful cities. If you're dreaming of Colmar like we are, also take a look into Nice — another stunning French getaway with lots of things to do.