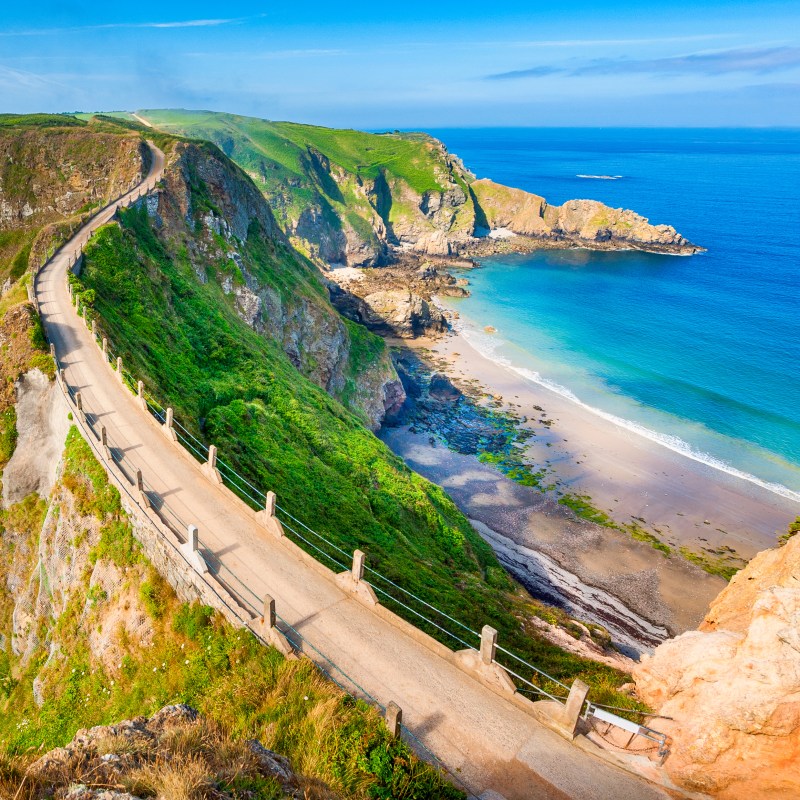 Sark is a small island that belongs to no nation — it's actually the smallest feudal state in Europe.
The island might be small, but what it lacks in size, it makes up for in ethereal beauty that looks straight out of a picture book. And life is simpler there — Sark is free of cars and streetlights, giving tourists a break from the hustle and bustle of life that so many of us are accustomed to.
Read on to learn where Sark is, how you can visit for yourself, and all that is in store for you during your magical journey to this lush paradise.
Where Is Sark?
Sark, while seemingly secluded, isn't far from civilization. It is one of the four major islands that make up the Channel Islands of the English Channel. Sark is sandwiched between Guernsey and Jersey, the two largest islands of the archipelago. The tiny island is 7 miles east of Guernsey, 80 miles south of England, and 25 miles from the northern coast of France.
Sark is only the second smallest of the Channel Islands, which might come as a surprise considering that the island is less than 3 miles long and only 1.5 miles wide. Only 550 people currently live on Sark.
The Island's Intriguing History
Sark, unlike most places in Europe, is not part of the United Kingdom or the European Union. It is the smallest independent feudal state in Europe with the last feudal constitution in the Western world.
The small island is not only interesting politically. There are two things the residents of Sark happily — and intentionally — live without: cars and streetlights. If you want to get around, you have to use your feet, a tractor, a horse, a cart, or a bicycle. The island is home to numerous lovely and winding unpaved roads, making navigating the island without cars easy and gratifying.
In fact, the island is so committed to being car-free that even the fire engines and ambulances are pulled by tractors!
The lack of streetlights on the island means that there is no light pollution whatsoever, a fact that will make stargazers swoon. Sark's skies are so incredible that the island was recognized by the International Dark-Sky Association in 2011. You can experience the starry skies for yourself by visiting Sark's observatory, where you can chat with an expert and learn more about the stars beckoning to you from trillions of miles away.
From the photos, it might seem like Sark is all green vegetation, jagged cliffs, and rugged terrain, but there are actually beaches you can lounge on as well. In addition to beaches, Sark offers interesting wildlife you might not expect, including fluffy and adorable puffins!
How To Visit
There are many ways to see this quaint island for yourself. If you're coming from England, you can fly from Gatwick Airport to Jersey or Guernsey and take a ferry from either island.
If you're coming from the east, you can take a ferry to Jersey and then continue on to another ferry to Sark.
Tourists flock to the island during the spring and summer because of the calm, warm, reliable weather. Even though it might be busy, we suggest going then, so you can try out walking, cycling, and all the other forms of transportation there without feeling cold or uncomfortable due to the weather.
If you enjoy exploring small islands with interesting pasts, we have a lesser-known location for you. Much farther north, there's a 3-mile-long deserted island that's said to be on the edge of the world. Curious? Here's how you can see this remote Scottish ghost island for yourself.