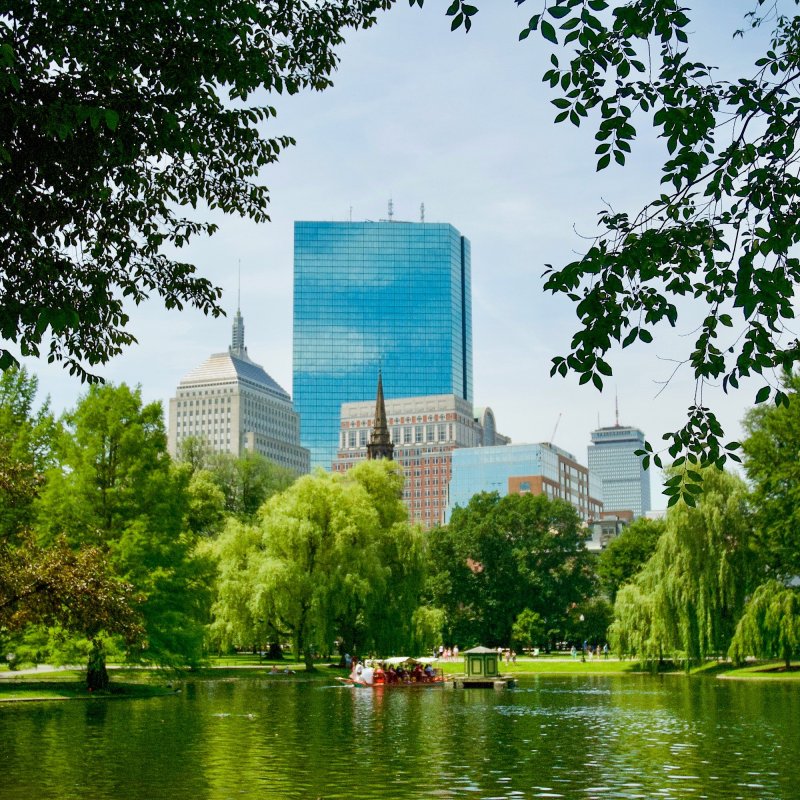 When it comes to summer travel, the United States offers some amazing options. From both Portlands to Alaska's largest city to some unexpected Midwestern gems, here are our favorite U.S. cities to visit in June. Due to their optimal weather, special events and festivals, friendly locals, and more, they are sure to enchant.
Minneapolis, Minnesota
There's so much to do in this underrated northern city during the summer. The charmingly nicknamed City of Lakes shines in June due to its abundance of natural resources, and after a long winter season, the locals tend to be extra friendly. Minneapolis is also home to a fantastic culinary scene, a creative booze community, stunning architecture, and a variety of festivals (including a huge Pride celebration each June). Minnesota's largest city earns points for affordability as well.
Portland, Oregon
The Pacific Northwest is home to hipster haven Portland, which makes for a great destination when June rolls around. The weather is ideal, since May marks the end of the city's rainy season. That means that visitors can actually enjoy hiking to the numerous nearby waterfalls along the Historic Columbia River Highway, including the spectacular Multnomah Falls. Portland is also known for its thriving craft beer scene and proximity to the world-class wine region of Willamette Valley – both of which complement its great restaurants. A summertime visit to the valley will ensure you avoid the hectic crush of harvest season, which generally runs from September through November. June is also when the Portland Rose Festival takes place each year. This three-day event celebrates the area and features live music, a sing-off contest, a parade, a rose show, and a milk-carton boat race, among other fun and quirky activities.
Portland, Maine
The Portland on the opposite side of the country, Maine's largest city, is next on our list of the best U.S. cities to visit in June. The city is especially walkable during summer's fair weather, especially the historic Old Port neighborhood. Guests visiting during the summer should be sure to check out some of the area's water activities, including the famous Mailboat Run on Casco Bay. The state of Maine truly comes alive during the summer and transforms into a coastal resort destination.
Portland also boasts a highly respected culinary scene — it was even named the foodie city of the year by Bon Appétit in 2018. Travelers should be sure to try the fresh-off-the-boat seafood the area is famous for, particularly the lobster. The city also has a number of exciting bars, distilleries, wineries, and breweries, many of which feature expansive patios for enjoying the warmer weather.
Boston, Massachusetts
Just a 2-hour train ride away from Portland is our next June wishlist city, Boston. It would be very convenient to visit both of these destinations on one vacation. Boston comes alive in the summer, with baseball games at Fenway Park, whale-watching cruises in the harbor, sailing on the Charles River, and more. The city and surrounding area are also home to a number of gardens and arboretums, which are perfect to enjoy in sweet summertime, as well as restaurants and bars featuring outdoor seating. Boston is known as one of America's most walkable cities, and the mild June weather makes a great backdrop to explore the Freedom Trail, the city's many other historic sites, and the indoor-outdoor Faneuil Hall Marketplace.
The city offers plenty of free things to do for frugal travelers, and it makes an excellent home base for summer day trips to Provincetown, Massachusetts; Cape Cod, Massachusetts; Rockport, Massachusetts; Salem, Massachusetts; Providence, Rhode Island; Newport, Rhode Island; and more.
Denver, Colorado
The Mile High City is another great American spot to travel to in June. Without the ski-season crowds, the mountains around Denver offer amazing opportunities to hike and explore the natural surroundings. The nearby Red Rocks Amphitheatre is a prime destination in summer for live music and performances. There are numerous events held annually in Denver in June that would be fun for tourists as well. One of these is the free Chalk Art Festival, which transforms downtown Larimer Square into a museum of chalk artwork. Denver is also home to a lively culinary scene, with tons of great farm-to-table options that highlight local summer produce.
Kansas City, Kansas/Missouri
The Kansas City metro area spans two states and boasts numerous reasons to head there in the month of June. On the smaller Kansas side, great barbecue, historic neighborhoods, and local wineries beckon to tourists during the warm-weather season. Additionally, there's a large and walkable outlet mall in the area, as well as the ever-popular Kansas Speedway and Sporting Kansas City soccer club.
The Missouri side contains most of the pretty fountains the city is known for; in fact, Kansas City is said to have nearly as many fountains as Rome! Kauffman Stadium, home to the Royals of Major League Baseball, is also located on the Missouri side, as is the pedestrian-friendly entertainment district known as Country Club Plaza. For maximum ease, travelers can navigate the city using the free KC Streetcar.
Anchorage, Alaska
Alaska's largest and gateway city is yet another ideal travel destination in the month of June. The weather is lovely, the locals are friendly, and there's an abundance of sunlight to boost the spirits. (Alaska can be quite dreary during the dark winter months, but in the summer, it has more daylight hours than any other state.) Plus, the city offers a couple of cool June festivals, including the Summer Solstice Festival and the Anchorage Market Festival. For those seeking some exercise, the Tony Knowles Coastal Trail offers scenic biking opportunities during the warm-weather months.
Omaha, Nebraska
College baseball fans know where to travel each June: Omaha. This Great Plains city is the host of the College World Series, held annually in June. Besides enjoying America's pastime, visitors should check out the city's well-known zoo, Omaha's Henry Doorly Zoo and Aquarium. Guests can also experience the Benson Beer Festival, one piece of the area's thriving beverage scene, or one of the city's best brunch or steak spots. For a dose of art, check out the always-free Joslyn Museum or attend the Summer Arts Festival downtown. Omaha is located just a 3-hour drive away from Kansas City, so it could easily be part of a combined Midwestern itinerary.
Nashville, Tennessee
Country music's home base is a solid option for a June getaway in the U.S. Visitors can enjoy some of Nashville's famous hot chicken at one of the city's many outdoor eating establishments. The city is also known for its plethora of live music opportunities, but none shines as brightly as the four-day downtown Country Music Association Fest held each June. The music and arts festival known as Bonnaroo also occurs in June, just an hour from Nashville proper. Guests can also check out the TN Whiskey Trail in nearby Franklin, Tennessee — it's actually longer than Kentucky's famed Bourbon Trail.
Seattle, Washington
Another Pacific Northwest stunner, Seattle would be an excellent June host. The Chihuly Garden and Glass Museum is especially pretty in the sparkling summer sun. Numerous other area gardens provide great greenery options, too. Visitors should also take one of the famous Seattle ferries to the neighboring islands. Specifically, those looking to work up a sweat and have some fun should ferry to Bainbridge Island to play pickleball at the game's birthplace. Seattle's famous Pike Place Market is also pleasant in June, and near the market is the original Starbucks location, a must-visit for coffee addicts. Early summer marks the beginning of the dry season in Seattle, so there won't be as much of a chance of showers.
Charleston, South Carolina
America's favorite city is full of tourists all year long, but special events that take place in June make the month an especially attractive time to visit. A live music series, the Charleston Rum Festival, and the Carifest Caribbean Carnival are just a few of the multitude of options. The Holy City is also known for its divine dining scene, pretty area beaches, and colorful and historic architecture. Guests should be sure to wander the Battery area to see the famed Rainbow Row of homes and the pineapple fountain. Charleston also makes a great base for day trips to other parts of the Southeast.
San Juan, Puerto Rico
Puerto Rico is oftentimes overlooked, even though it's technically part of the United States. And June is absolutely the best time to visit, since it falls right after the busy winter season and before the wet and rainy season — a June trip to San Juan, the capital of Puerto Rico, will help travelers avoid the fall hurricane season. The island will likely be more affordable around this time, too, since it's not the peak tourist season.
It's easy to see that there are tons of great cities to visit in June. Cities across the country provide excellent urban warm-weather escapes.
Looking for even more summer travel options? Check out our picks for Fourth of July getaways or our travel experts' summer suggestions.