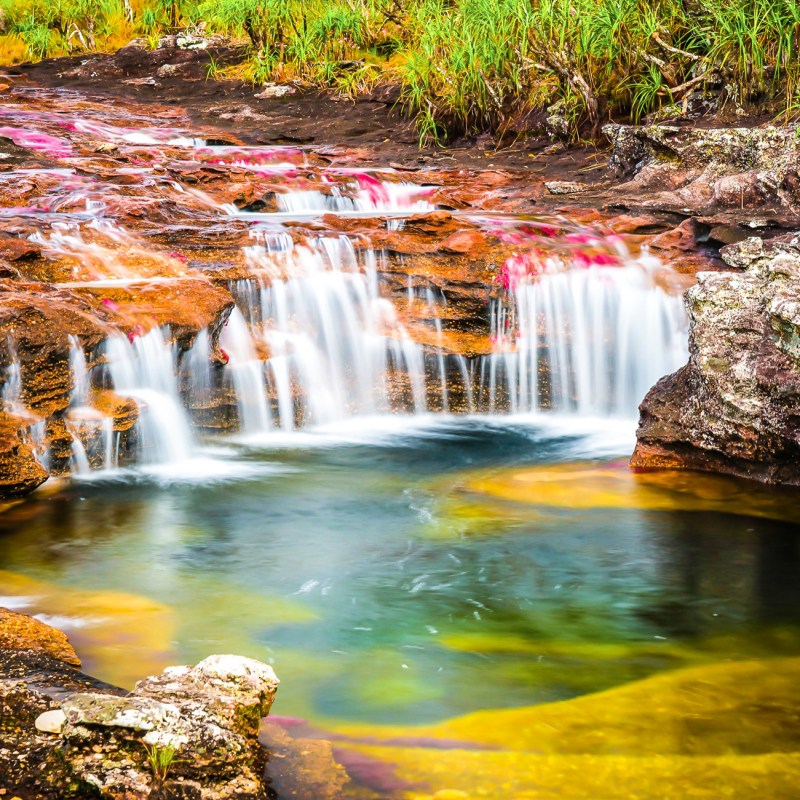 Once a year, Caño Cristales in Colombia transforms from a mossy river in the jungle into what some call a liquid rainbow.
Between June and November, the river explodes in bright colors unlike any you've ever seen before.
Read on to discover the fascinating science behind the rainbow waters and learn how you can witness the technicolor spectacle yourself.
Where Is Caño Cristales?
Caño Cristales is a 62-mile-long river in the province of Meta, Colombia, in South America. The river is about 170 miles south of the capital of Colombia, Bogotá.
When To Visit
The vibrant colors of the river are due to Macarenia clavigera — a species of the riverweed family. In order for the aquatic plants to strut their stuff, conditions in the water have to be just right.
The area oscillates between two extremes: the wet season and the dry season. During the wet season, the water is too high and runs too fast, which blocks the riverbed from direct sunlight. During the dry season, there isn't enough water to sustain life under the surface.
In between those seasons — from June to November, to be exact — something incredible happens. When the water is neither too deep nor too shallow, too fast nor too slow, the Macarenia clavigera reproduce.
During this short window of time, the species transform into a rainbow of stunning colors: red, orange, deep green, and yellow, all offset by brown rocks and plenty of moss and algae. The crystal-clear water shows off every single color in stunning clarity.
How To Visit
The river has seen an increasing number of visitors over the years. In order to protect the fragile ecosystem, only 200 tourists are allowed to visit each day.
Visitors must be escorted by either a government-licensed tour guide or a tour group. It's easiest to go with a tour group — that way, you can book in advance. Most tours depart from Bogotá; Medellín, Colombia; or Meta's La Macarena Airport. These tours are multiday excursions that take you to the river as well as to other nearby wonders in the Serranía de la Macarena. While visiting the river, you'll be able to swim there, too!
Caño Cristales is in the heart of the Colombian wilderness, so be prepared for lots of physical activity.
What To Know Before You Go
The area takes conservation seriously, so leave your sunscreen and bug spray at home. Your guide will not allow you to use either, because both products contain pollutants that could potentially harm wildlife.
Make sure to bring proof of yellow fever vaccination, anti-malaria tablets, and cash, because the only ATM in the area is notorious for not working well.
Even though there's a good deal of preparation required to visit Caño Cristales, swimming in a technicolor rainbow is definitely something to write home about!
Before your embark on your journey to the rainbow river, read about how to spend 48 hours in Bogotá. And, if you're not sure the wonders waiting for you in Colombia are worth the long trip, here are some reasons why you should book a trip to the country soon!