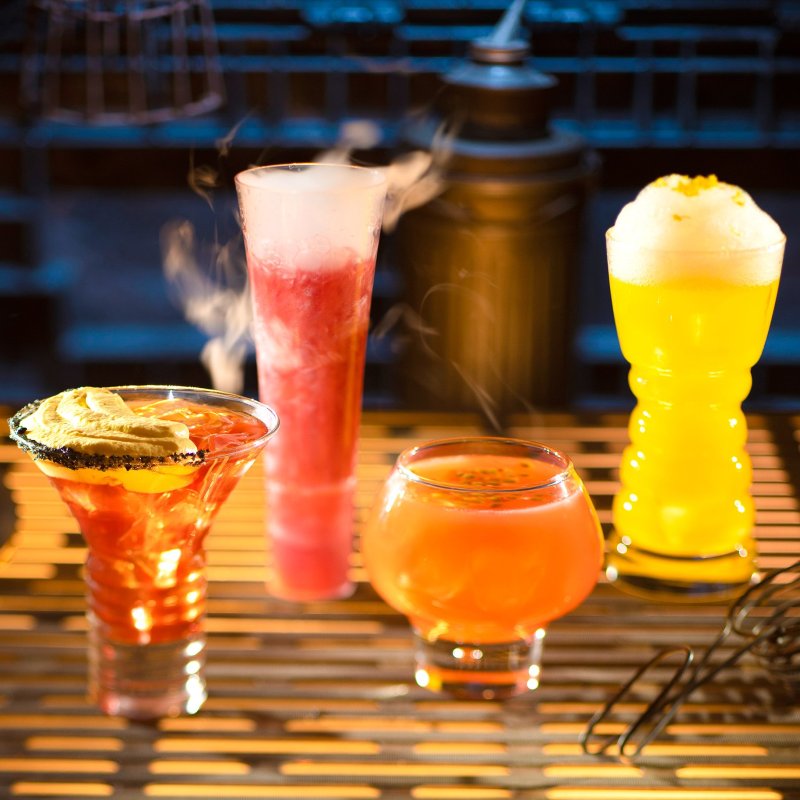 Tired of eating food shaped like Mickey Mouse? Then this is the list of dining options for you while visiting the Disney Resort of Anaheim. Fortunately, there are many bars and restaurants in the Magic Kingdom serving delicious food and excellent cocktails in an environment blissfully devoid of dressed-up characters and cartoon music.
Note that restaurants located in Downtown Disney or the hotels are open to the public. Those located in Disneyland or California Adventure do require a ticket.
Napa Rose Restaurant
Frequently listed among the top restaurants in Orange County, Napa Rose offers excellent food and a lovely ambience inside the upscale Grand Californian Hotel. Floor-to-ceiling windows offer a view of California Adventures, the smaller theme park next to Disneyland. Main dishes include steak, fish, lamb, and seafood. The wine list is focused on California wines, but there are a number of options from Italy, France, and Germany, too. Reservations are strongly recommended and can be made through Disney Dining.
A lesser-known option is to dine at the Chef's Counter, where 8 to 12 diners can order a six-course tasting menu created just for them. This is pricey at about $100 per person just for food, but reviewers rate this experience highly. Wine pairing is also available. Reservations cannot be made online for the Chef's Counter, but instead must be made by phone at 714-635-2300.
Finally, visitors looking for a lighter meal, or just a drink, can enjoy the Napa Rose Lounge.
Hearthstone Lounge
Located off the lobby of the Grand Californian Hotel is a large and comfortable bar called the Hearthstone Lounge. Dark, wood-paneled walls and low lighting make this space peaceful and relaxing. The drink menu offers several custom-created cocktails along with a large wine list and several beers on tap. The food menu is lengthy and includes typical bar-menu items like nachos, sliders, and pizza. For those looking for a more sophisticated appetizer, try the charcuterie platter.
If the lobby of the Grand Californian isn't too busy, then visitors can order food from Hearthstone and enjoy it in this lovely space inspired by the Arts and Crafts movement of the early 1900s. Live music is often played in the lobby and during the holidays carolers perform a few times each day.
Ballast Point Brewing
Among the newest dining establishments in Downtown Disney is Ballast Point Brewing Co., a popular craft brewery and restaurant originating in San Diego that has several locations around the country. This restaurant is big and offers almost as much seating outdoors as it has inside, which is perfect for a sunny climate like Southern California.
Ballast is well known for cutting edge beers like Grapefruit Sculpin, Mango Even Keel, and Sea Coffee Vanilla. They've developed fiercely loyal beer fans, especially in Southern California. Their new Downtown Disney location was designed with 100 tap lines, making a very large draft beer selection possible.
The menu at Ballast is designed to pair with their beers and includes items like burgers, nachos, and fried chicken. While the food isn't the star here, the space is much larger than surrounding restaurants and therefore wait times are minimal. As a result, Ballast is a great place to take a break and grab a beer when the rest of Downtown Disney is overcrowded.
Trader Sam's Enchanted Tiki Bar
If the Jungle Cruise is one of your favorite rides at Disneyland, then Trader Sam's Enchanted Tiki Bar is for you! In fact the bar is named for the shady head salesman encountered during this iconic Disney ride.
This Polynesian-themed bar and restaurant can be found on the property of the Disneyland Hotel and offers both indoor and outdoor seating. The interior decor includes plenty of tiki kitsch like woodcarvings, leis, and paintings of hula dancers. To make the experience even more authentic, a "volcanic explosion" takes place periodically. The outside seating is surrounded by torch lights and palm trees.
The list of tiki cocktails at Trader Sam's is highly creative with names like Hippopoto Mai-Tai, the Shrunken Zombie Head, and Shipwreck on the Rocks. But it would be a shame to visit this bar and not order the Uh-Oa! which will arrive at your table on fire. Some drinks are served in souvenir mugs that can be taken home after imbibing.
The food does not measure up to the cocktails, but a menu of island-themed items is available and includes a pu pu platter, tempura shrimp, and pork gyoza.
Lamplight Lounge
New to the California Adventure dining scene is the Lamplight Lounge, which is described as celebrating the imagination and creativity of the Pixar artists. This indoor/outdoor space has great views of the Pixar Pier section of the theme park including the ferris wheel and Incredicoaster. Come after dark to enjoy the lights reflecting on the water.
The Disney chefs definitely put some time into developing this menu, which defies expectations of theme-park food. Instead of the usual nachos, Lamplight Lounge offers them with barbacoa or lobster. The common BLT has been upgraded with grilled salmon, and chicken wings are served with a spicy chili-ginger glaze. The only dessert offered is donuts with dipping sauce, but they're well executed. The drink menu includes plenty of cocktails as well as a nice selection of beer and wine.
As one of the trendier dining options, reservations for Lamplight Lounge are recommended.
Catal Restaurant
Part of the highly reviewed Patina Restaurant Group, Catal is one of the least-known restaurants in the Disney Anaheim Resort. It's second-story location in Downtown Disney — combined with its high-end menu — means many people don't give it a try. But for an adults-only dinner, this is an excellent choice.
Catal has a sleek and stylish interior with floor-to-ceiling windows that give diners aerial views of Downtown Disney. Balcony seating is also available for even better views, but a bit higher noise level. Schedule a late reservation to be entertained by the Disneyland fireworks (check the website for exact times).
Catal's menu has a Spanish flare with three different types of paella available. The paella takes longer to prepare than other entrees but is worth the wait. Other popular items include the manchego salad, diver scallops, and lamb chops. Red and white sangria are always on the menu as are Spanish-inspired cocktails.
Reservations can be made online but usually aren't necessary.
Wine Country Trattoria
For excellent Italian food and a nice selection of Californian and Italian wine, check out Wine Country Trattoria in California Adventure. This romantic outdoor restaurant is reminiscent of a Tuscan villa complete with fresco-covered walls and tiled floors.
The menu features tasty pasta dishes, but steak and fish are also available. A seasonal panna cotta or tiramisu are great options for dessert. The wine list includes 25 selections available by the glass.
Reservations are highly recommended at Wine Country Trattoria and can be made up to 60 days in advance.
Those seeking just a glass of wine should stop by Mendocino Terrace, located next to the Trattoria. This large outdoor space has counter service for purchasing a glass or flight of wine. With plenty of seating, this is a lovely option for taking a break during a busy day at California Adventure.
Oga's Cantina
Disneyland has finally begun serving alcohol, something parents and grandparents have been wanting for years. Thanks to the debut of a new land, Star Wars Galaxy's Edge, and a new restaurant, Oga's Cantina, cocktails have arrived on the property. Star Wars fans will remember Oga's as the place located on the planet of Batuu that served pilots, smugglers, and bounty hunters. The movie scenes depicted a sketchy dive full of interesting and sometimes scary creatures. Disney has done its best to replicate the movie version of the cantina — right down to the pilot droid RX-24 working as the DJ.
Disney has developed some interesting cocktails for Oga's including Jedi Mind Trick, Jet Juice, and The Outer Rim. Many of the cocktails are brightly colored and have unique features like a black salt rim, foam topping, or even a glitter swirl. There is a small selection of beers and wine, but it's important to know that this is not a full service bar. Everyone is expected to order from the menu. A few food items are on the menu, but this is really a place to visit for a drink and the ambience.
Since the new land opened recently, Oga's is wildly popular and requires advanced reservations. Reservations for Oga's and other Disneyland bars and restaurants can be made here.
Planning a Southern California getaway? Here's how to spend a day in Beverly Hills and the best art museums in Los Angeles and what to see there.