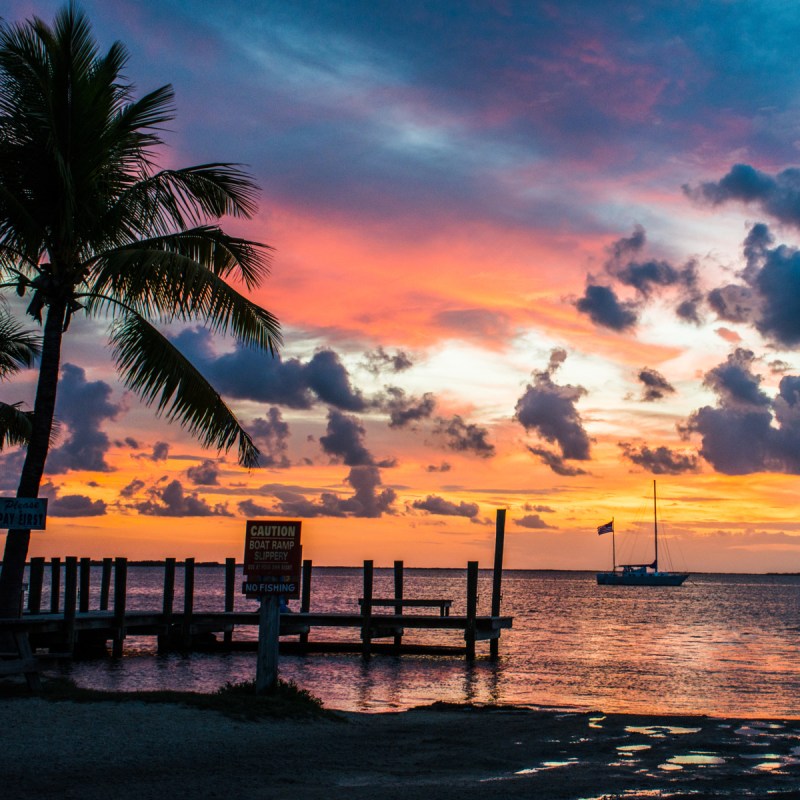 Have you ever wondered which Florida Keys island is the better choice for your next vacation? Key West and Key Largo are both popular destinations of amazing natural beauty, but they do offer very different experiences. Both have beautiful white sand beaches, pristine waters, and a variety of activities. And if you're planning a vacation to the Florida Keys soon, you might not be sure which island is the best destination to visit based on your personal preferences.
Key Largo and Key West are both spectacular Florida destinations. They offer many of the same activities and amenities you're looking for. Let's look at the numerous differences to help steer you in the direction of the best vacation destination for you.
Key Largo vs Key West
1. Small Town Versus Small City Feel
When you visit Key West, you'll immediately feel like you're visiting a Florida city — an island city, but a city. On Key Largo, the atmosphere and pacing are much more like that of a small town or community. This means that Key West is bustling with businesses, nightlife, parties, and every kind of tourism and activity all day and much of the night while Key Largo has a more subdued and relaxed pace with less commercialism.
Key Largo also has a much more intimate feel than Key West. This smaller, laid-back community feels homier than the bustling city of Key West. That's not to say you won't cross paths with familiar faces over and over in Key West, but in Key Largo, you'll feel like you've come to a community rather than a tourist destination.
For that reason, Key Largo is the ideal destination for families on vacation who want to enjoy water sports without the rowdiness typical for Key West. You might prefer to spend more time in Key Largo if your kids are a little older or more experienced with things like snorkeling or water sports.
2. Dive Shops Versus Dive Bars
Both Key Largo and Key West are excellent destinations for aquatic activities. You'll find ocean kayaking, scuba diving, snorkeling, swimming, fishing charters, and jet skiing abound in both locations. But take note: Key Largo has more dive shops for your scuba diving equipment while Key West has more dive bars to relax.
In other words, Key West has an exciting social scene, while Key Largo is more for outdoor activities. Key Largo has some incredible bars — head to Sharkey's Pub and Galley Restaurant or the Caribbean Club where Humphrey Bogart and Lauren Bacall shot a film called Key Largo. But Key West has significantly more bars. Some of the top bars in Key West include Sloppy Joe's, the Green Parrot, Captain Tony's Saloon, and the city's only clothing optional bar, the Garden of Eden.
When it comes to snorkeling and diving, Key West has some great diving, but the snorkeling and diving around Key Largo surpass the opportunities around the southernmost Key by far. The reefs around both islands are incredibly healthy, beautiful, and mostly easy to access. In Key West, the best snorkeling spot you'll find is in Dry Tortugas National Park. Key Largo offers great scuba diving at John Pennekamp Coral Reef State Park (where you can also dive around the Christ of the Abyss statue), the Mosquito Bank or Sea Gardens, Molasses Reef, and the Grecian Rocks.
3. Incredible Fishing Spots Versus More Limited Fishing Allowed
If you're into fishing, either fly-fishing or hook-and-line, you'll find that Key West is by far the better option. Key West has multiple fishing championships and tournaments throughout the year at various locations around the island and in the surrounding waters. But Key Largo has mostly protected waters where fishing isn't allowed. While this is true, Key Largo offers things you didn't even know you can do, like a tranquil glide through its national park where you can learn about the creatures and plant life of the area.
The best fishing spots in Key West include the Edward B. Knight Pier and Fort Zachary Taylor Historic State Park. You can charter fishing boats to snag some whoppers off the coast with a variety of top-rated companies including Dream Catcher Charters, enjoy a party experience with Gulfstream Fishing, or go deep-sea fishing with Key West Fishing Charters.
4. Closer Versus Farther Into The Keys
Key Largo is the unofficial grand entrance into the Keys while Key West is the culmination of a long, beautiful journey away from the hurried life of Miami and its surrounding cities. If distance is an issue, you'll want to note that Key Largo is only about an hour away from Miami. Key West, on the other hand, is a three-and-a-half-hour drive, depending on traffic.
The drive from Miami to Key Largo is pretty. The drive from Miami to Key West is somewhat spectacular. The further along you go, the deeper you sink into the beauty of the surrounding sea as you drive across the Seven Mile Bridge and other bridges connecting the islands.
5. Pedestrian Friendly Versus Car Needed
Key West is hands down one of the absolute best spots in America for pedestrians and bicyclists. The city expects visitors to take to the streets while leaving their cars behind at their hotels. Almost everything on the island west of Fifth Street is walkable enough for anyone without mobility issues, and the whole island is rideable on a bicycle.
You also have the option of taking the Conch Tour Train throughout the city in Key West. There's lots of things you can do in Key West!
Vacationing in Key Largo, on the other hand, probably requires a car. Key Largo is a much longer Island from end to end, so things are more spread out. If you're up for on-foot explorations and plenty of walking, it's doable, but most choose to use their cars to get from Point A to Point B on Key Largo.
6. Familiar History Versus The More Obscure
Many folks visiting the Florida Keys already know that author Ernest Hemingway had a house on Key West. They've probably also heard of the famous six-toed Hemingway cats that still hang out at the yellow mansion where tourists can visit them. Visitors may have heard of the infamous Conch Republic and are often familiar with the airline Pan Am, which sent its first plane out from Key West.
Key Largo offers fewer familiar historical sites. There's the 1942 Norwegian SS Benwood that wrecked along Key Largo and the abandoned Port Bougainville housing project. This means Key Largo will be more interesting for those who are fascinated by lesser-known history and unique destinations and less appealing for anyone looking for major historical significance.
7. Touristy Spots Versus Local Hangouts
While Key West as well as Key Largo are fairly touristy, you'll find fewer tourist-centric spots in Key Largo than in Key West. Key West is a party town filled with nightlife and activity, while Key Largo is more laid-back and relaxed. This means you'll find more activity available during every waking hour you spend on Key West.
You'll also find more gift shops, boutiques, and restaurants geared toward visitors on Key West than Key Largo.
If you're looking for loads of things to do, activities to participate in, and attractions to visit, Key West is your best bet. But if you're looking for a more laid-back, relaxing vacation with outdoor activities, Key Largo is the way to go.
8. Cost Of Staying Versus Cost Of Getting There
The cost of staying in Key West isn't terribly different from the cost of staying in Key Largo. Food prices are similar — though Key West has far more high-end restaurants than Key Largo. Hotel rates and activity fees are also comparable.
The main cost difference will most likely be the cost of getting there. You can fly into Key West's dedicated airport from many places in the country, though most flights route through Miami or Fort Lauderdale. It's a small airport, so that means higher prices on those flights. You could also rent a car in Miami and drive the 160 miles to Key West.
Key Largo doesn't have an airport, but it's a short one-hour drive from Miami International Airport. You can get cheap flights into Miami from all over the country, and a rental car with only 150 miles (round-trip plus getting around town) put on it during your vacation will be a lot less expensive.
9. Sinking Sun Vs. Setting Sun
One of the most famous things about Key West is the unique way the sun seen from its shores seems to sink into the ocean. If you've never seen it, it can only be described as incredible. Key Largo has some beautiful sunsets as well, but they are definitely not the same as the sinking sun of Key West.
The green flash of light — another natural wonder that can be observed on Key West thanks to the island's unique atmospherics — makes for a truly unique experience. The party that goes on every night in Mallory Square is something as well. Thousands gather to watch the sun vanish into the waves, while buskers, or walking salesmen, and other locals bring out their wares and singing, fire juggling, and other acts contribute to the memorable Keys affair.
10. Available Day Trips
As a visitor to the Keys, you may decide you want to take a day trip to experience some things on either the other islands or the mainland as they are both places of great natural beauty. Key Largo is close enough to Fort Lauderdale and Miami for a shopping or excursion day trip. Snorkeling at the John Pennekamp Coral Reef State Park can be a full day of fun. Another option is to visit neighboring Islamorada Key for a snorkeling adventure and sandbar tour.
Consider taking an hour drive south from Key Largo and visiting the Turtle Hospital on Marathon Key. They provide an educational presentation and tour of their facilities. You can see the turtle emergency room, operating room, and the sea turtles that have been rescued.
Key West has several unique tours that include visiting Dry Tortugas National Park. It is only accessible by ferry or plane. It takes about an hour to get there by boat and the park is gorgeous. You can swim, snorkel, tour Fort Jefferson, hike, go birding, and more on the island.
Cuba is only 90 miles away by boat. Cuban tours were suspended during COVID-19, so be sure to verify the ferry is running. You can also hop on board a ferry to Fort Myers from Key West.
If you're looking for a place to soak up the sun and enjoy some amazing seafood, you can't go wrong with either Key Largo or Key West. Both are incredible destinations. But if you want to experience all that the Florida Keys has to offer, make sure to visit both Key West and Key Largo!
FAQs
What's the Distance Between Key West and Key Largo?
It's only 113 miles from Key Largo to Key West which takes about 2 hours, 7 minutes to drive. A Florida Keys road trip is a bucket list experience. Travelers from around the world and the US enjoy a unique drive between the two islands. So many gorgeous sights along those short 113 miles make it one of the truly great American roads. The return trip home is about the same amount of time, though it could last longer if you are returning after dark.
What are Key Largo vs Key West Beaches Like?
When comparing Key Largo vs Key West Beaches, you may be surprised to know that both Key West and Key Largo are not actually known for their sandy beaches. It is a common misconception that the area is full of stretches of white sand beaches like the type you would see on a Caribbean postcard. Key Largo is more relaxed and great for snorkeling and fishing, while Key West is totally different with lots of entertainment and activities on its two main beaches.
Is Local Cuisine Better on Key Largo or Key West?
Key West has better options when it comes to local flavors and cuisine and has become an appealing option for foodies as of late. Stone crabs, conch fritters, and Mahi Mahi sandwiches are what the town is most famous for. On the other hand, Key Largo is best known for its Key Lime pie and seafood though there are a few international restaurants that are excellent for fine dining.
Is Key West or Key Largo Better for Resorts?
Both Key Largo and Key West have excellent resorts. Key Largo is the home of some of the region's best accommodations like Autograph Collection, Reefhouse Resort & Marina, Playa Largo Resort & Spa, and Largo Resort. Key West, on the other hand, has numerous luxury resorts like the Hyatt, the Hilton, and other renowned names. Prices can be high, but the luxury is not put into question.
Do Key Largo or Key West Better Have Their Respective Old Towns?
Key Largo does not have a historic old town, while Key West is famous for its historic Old Town charm which is an incredibly popular place to visit among tourists. Mallory Square, where travelers come to admire the sunset is bustling with people and street performers and is one of the favorite spots, along with the historic streets around Duval Street.