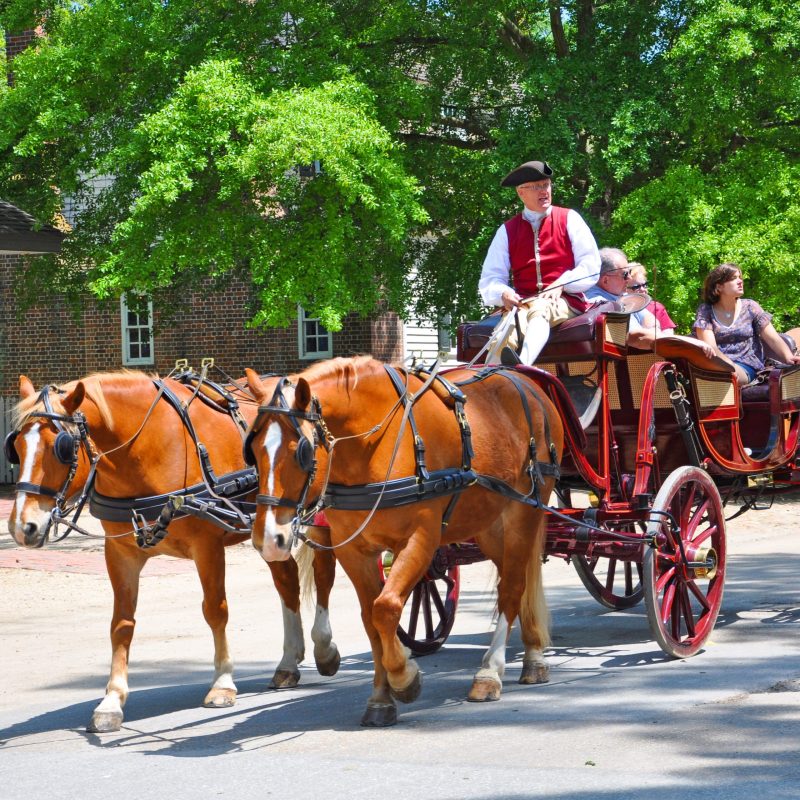 You are seated in a horse-drawn carriage, surrounded by your loved ones, clomping down the Duke of Gloucester Street while the driver regales you with stories of Colonial Williamsburg. The ride can be a bit bumpy, but your company is top notch. Shared experiences are the hallmark of a multigenerational travel adventure.
There is lots to see and do in Williamsburg. The joy of watching a young child experience farm animals up close, riding in a horse-drawn carriage, and reminiscing over stories as the senior generation recounts their personal history will bring your family closer together. Williamsburg offers enjoyment opportunities for the very young while making accommodations for those who need to move at a slower pace, too. Here are nine of the best things to do together.
1. Tour Colonial Williamsburg
As you stroll down Duke of Gloucester Street taking in the costumed Revolutionary actors, you are transported back to the 18th-century way of life. You can walk through Colonial Williamsburg for free, but if you want to be part of the magic, entering the buildings for a closer look, you should consider purchasing one of a wide range of tickets, including single and multi-day passes.
The bold can try their hand at firing an 18th-century flintlock musket reproduction, the firearm of choice during the American Revolution. Learn about the history of the Revolutionary War weapons. Participants must be 14 or older, and those 14 to 17 must be accompanied by a legally responsible adult who is not shooting. Observers are allowed as long as they are 12 or older. Times, tickets, and other restrictions are listed here.
A carriage ride through Colonial Williamsburg is a more leisurely activity. Relax during an 18th-century horse drawn carriage ride through the village. There are lots of ride options. The Red Carriage Ride is a perfect choice for a family group. The horse-drawn carriage, driven by a costumed colonial, will surely get you in the Revolutionary frame of mind!
Are spirits and ghosts your family's favorite? Join the candlelit Haunted Williamsburg Ghost Tour if you dare! You'll listen to unnerving tales of colonial ghosts and their present-day apparitions. Travel through the historic buildings guided by a costumed storyteller. Children must be at least 8 years old to join in.
The Governor's Palace a must-stop during your visit. The general Governor's Palace Tour highlights the grandeur of the British ruling class and the rift that grew between colonists and the British Government. The Palace is open daily from 9 a.m. to 5 p.m and offers a variety of tours.
2. Visit William And Mary
William and Mary's beautiful college campus, with its sunken garden and tree-lined walkways, will make you wish you were a student again. Whether you are on a college search or looking for a green space to commune with nature, visiting William and Mary is a beautiful, peaceful way to spend your time.
William and Mary offers a free online audio guided tour that begins at the historic Wren Building, which opened in 1695. You'll learn the romantic legend of the Crim Dell Bridge and many other pertinent sites around campus. The audio tour allows you to enjoy the campus at your own pace. Strolling its beautiful grounds is a lovely way for any group to spend an hour or two in Williamsburg.
3. Enjoy Busch Gardens And Water Country
If your group is up for wild, gigantic amusement park fun, visit Busch Gardens and Water Country.
Those who are up for it can ride like the wind on Finnegan's Flyer Roller Coaster and the Pantheon Rollercoaster (scheduled to open in 2020). Busch Gardens has a variety of stage shows including Sesame Street, animal shows, singing groups, and seasonally themed performances.
You can also visit Water Country, where you can cool off in the splash pools or relax on a lazy river float. Plan on getting wet and having a great time!
Busch Gardens offers exclusive, behind-the-scenes tours, too. Visit the Clydesdale Horses' barn or the Border Collie training center.
4. See The Historic Jamestown Settlement
The Historic Jamestown Settlement is just a short drive from Williamsburg. Here you'll experience the life and times of the colonists who arrived in 1607 and settled America's first permanent colony. Tour James Fort, the Virginia Company's 1610 military outpost. Explore the fort's storehouse, church, forge, dwellings, and the Governor's house where costumed actors bring the settlement to life.
The Jamestown Settlement Ships are a floating museum where you can experience the feeling of a four-month voyage across the Atlantic. Costumed docents enliven the experience with their tales of 17th-century sea voyages.
Powhatan Indian Village is another part of the Jamestown Settlement where you can stroll through an Indian village based on the settlements of the Paspahegh tribe. Pocahontas, daughter of Powhatan, grew up in a very similar village. Learn about the lives of Native Americans before and after the settlers arrived in the area from costumed docents.
You can also arrange for a Jamestown Settlement private tour led by a costumed docent that will focus on a topic that interests your family. Themes include The Shot Heard Round the World, Defending the Colony, and Tales of Yuletide. Private tours start at $115 per group of 14 people or fewer.
5. Ride The Jamestown-Scotland Ferry
Cross the James River on the Jamestown-Scotland Ferry, which will afford you a 30-minute trip across the James River, plus a unique view of Jamestown. Once you have driven your vehicle on board, you are free to walk around the boat and enjoy the ride.
The free ferry runs 365 days a year on a seasonal schedule. It will be a memorable nugget of your trip, no matter your age!
6. Visit The Yorktown Settlement
Visit the American Revolution Museum, which recreates the Continental Army encampment, at the Yorktown Settlements. Here you can imagine living the life of the Revolutionary War soldier.
The American Revolution Museum offers several interactive gallery tours via a smartphone app. Themes — Patriot, Loyalist, Women, and Just for Kids — are offered and allow for a free personalized tour for every member of your group.
7. Stroll The Riverwalk Landing
Riverwalk Landing is a great stop after a trip to the Yorktown Settlements. Here you can walk along the York River, have a scoop or two of Ben and Jerry's ice cream, enjoy a sitdown lunch at the Riverwalk Restaurant, or grab a picnic lunch from Carrot Tree Kitchens.
8. Make The Most Of The Area's Museums
Abby Aldrich Rockefeller Folk Art Museum
Part of the Colonial Williamsburg Foundation, the Abby Aldrich Rockefeller Folk Art Museum houses colonial era toys, crafts, and interesting folk art. Children of all ages will enjoy the galleries, which are open 10 a.m. to 7 p.m.
The DeWitt Wallace Decorative Arts Museum
The DeWitt Wallace Decorative Arts Museum houses period furniture, metals, ceramics, glass, paintings, prints, firearms, and textiles. The Decorative Arts Museum is open from 10 a.m. to 7 p.m.
Both the Decorative Arts Museum and the Folk Art Museum are located in the same building, meaning your group can visit one or both for inspiration and entertainment.
9. Dine In Colonial Williamsburg
The Trellis Bar and Grill is perfectly situated on West Duke of Gloucester Street near all the Colonial Williamsburg action. You can enjoy dinner on the patio or inside. The menu is definitely a crowd pleaser; munchkins can enjoy perennial favorites like pasta with butter or peanut butter and jelly. For the more discerning palate, there is a selection of pub favorites like the steak and cheese sandwich on a French baguette or the Southern fried chicken on a biscuit.
If you prefer to dine in a more traditional manner, there are four historic taverns in Colonial Williamsburg. You will find a great meal at any one of them. The James Shield's Tavern offers family-friendly fair; King's Arms Tavern has an 18th-century steakhouse feel; Chowning's Tavern offers fun food for the younger crowd (and a souvenir mug that can be filled with local craft beer!); and Christina Campbell's Tavern was frequented by George Washington!
Your trip to Williamsburg will be memorable for the entire family. There is fun, entertainment, and history around every corner, making it the perfect spot for a multigenerational vacation.
Ready for a drink? These are the best places to have a cocktail in Williamsburg, VA.