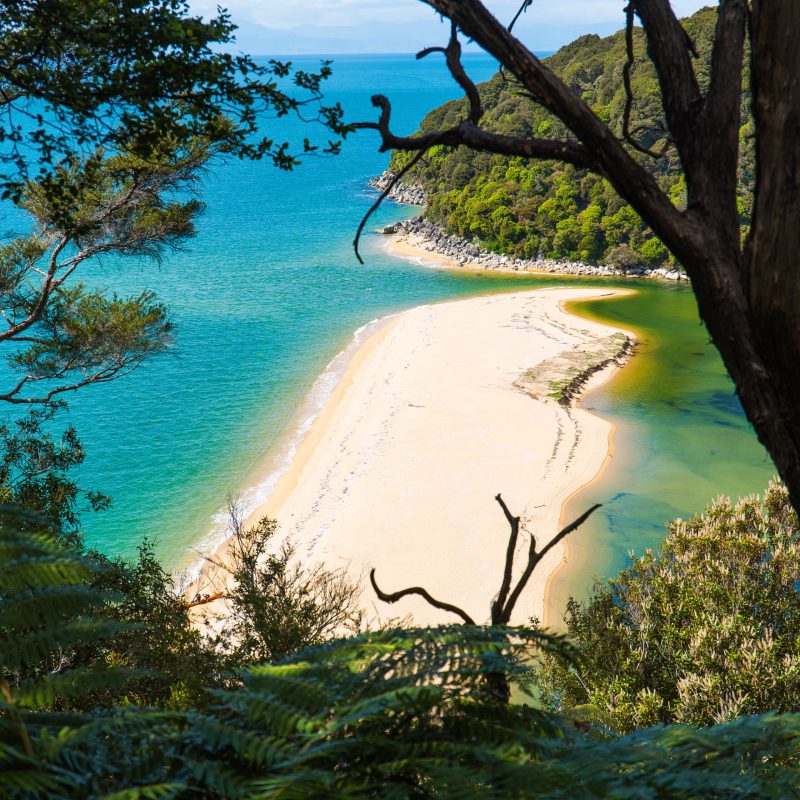 When it comes to countries known for dramatic beauty, breathtaking landscapes, and once-in-a-lifetime experiences in nature, New Zealand is at the top of the list. This is the country made famous for its towering mountains, sweeping valleys, rivers, meadows carpeted with wildflowers, and, of course, its beaches.
And with about 9,300 miles of coastline, New Zealand is not at a loss for beaches. There are hundreds to choose from. So when it comes to choosing the best, where to even begin? We're here to help. From beaches heated by thermal springs to surf beaches and secluded beaches that are only accessible by boat, here are the best beaches in New Zealand.
Hot Water Beach
Waikato
About two hours from Auckland on the Coromandel Peninsula, this much-loved beach is absolutely a hidden gem, but for those in the know, it is a list-topper. As the name implies, the beach actually does have hot water thanks to natural springs that flow underneath the ground. The novelty of this beach is that visitors get to dig their own private hot pools in the sand and have them fill with warm water, creating natural jacuzzis of sorts.
The best time to visit this beach is during the New Zealand summer months from December through February. The beach is popular for surfers as well. Be sure to explore other attractions on the Coromandel Peninsula as well, including Cathedral Cove, a marine reserve. The best way to view the reserve is from a kayak, so consider booking a tour while you're there.
Awaroa Beach
Tasman
Deep within Abel Tasman National Park is one of New Zealand's most beautiful and pristine beaches, if also one of the most difficult to reach. Awaroa Beach is surrounded by lush, seemingly endless bush that hugs stunningly turquoise water. Also known as the people's beach, Awaroa used to be privately owned but came up for sale in 2016. At that point about 40,000 Kiwis donated money so that the beach could become part of the Department of Conservation and be open to the public.
Still, the beach is located deep within a national park and is really only accessible on foot or by boat, preserving its untouched nature. The best way to experience the beach, and the national park as a whole, is to kayak the coast. It's ideal to visit when the crowds have died down during the months of November, March, and April.
Tip: Book a stay at Abel Tasman Lodge, a family-run establishment that's been voted number one best small hotel in New Zealand and boasts a private hot tub overlooking the surrounding hills.
Rarawa Beach
Far North
Brilliant white sand runs for miles along the shimmering north coast. About as far north as one can go in New Zealand, this beach is absolutely worth the visit to what seems like the end of the earth. That said, if you're looking for beach bars and activity, Rarawa Beach is not the beach for you. Its appeal is purely its remoteness and natural beauty.
There is a small campground — hidden behind the area's impressive dunes — nearby. If you decide to camp (know that a pass is required to stay there as the campground is run by the Department of Conservation) or even if you're just in the area for a day, be sure to stop by New Zealand's northernmost pub, the Houhora Tavern. Tuck into a snapper burger, play a round of pool, and enjoy the serenity of the experience.
Gillespies Beach
West Coast
When it comes to windswept beaches with nothing but clear views of towering mountains, Gillespies Beach on the South Island's West Coast is picture perfect. Backed by the so-called Southern Alps to the east and with the Tasman Sea to the west, this is one of New Zealand's more dramatic stretches of coastline. It's not the easiest to access, but the views of Mount Cook in the distance make the trip worth it. Gillespies Beach is about 13 miles from Fox Glacier Weheka township, so don't expect it to be crowded or packed with amenities.
A lagoon at the north end of the beach provides tamer, warmer waters for a calmer swim. There are a few trails that lead through old mining sites as well as a miner's cemetery. You can also find a track that leads to Galway Beach, which is home to a seal colony in the winter months (May through September). The other big draw to Gillespies? The beach's legendary sunsets. If you're passing through this section of the country, be sure to leave plenty of time to drink in the sunset views.
Kaiteriteri Beach
Tasman
Sun worshippers come to pray on this sweeping stretch of sun-drenched sand. Located near the top of the South Island, Kaiteriteri Beach is veined with hiking trails, peppered with coves, and dotted with lagoons that are ready for exploring. Kaiteriteri is also known to be the home of penguins, seals, and dolphins.
If you think you're seeing things, you're not — this beach really does glimmer. The sand gets its color from its high quartz content. Like Awaroa beach, Kaiteriteri is within the Abel Tasman National Park, but unlike Awaroa, Kaiteriteri is much easier to access. It is about an hour's drive from Nelson Township.
New Chums Beach
Waikato
The North Island's Coromandel Peninsula juts out into the Pacific just east of Auckland. It's the ultimate outdoor playground for Kiwis who live in and around Auckland, as well as for visitors who are making their way through the North Island.
Coromandel is known for some of the North Island's best white sand beaches, so you can imagine how touristy it can get during the summer season in December and January. Still, there remains one Coromandel beach that is relatively untouched. This is New Chums Beach. With no road access to the bay, those who are chasing Chums are coming in on foot or boat. It's calm as far as surf-beach standards go in this part of the world, and the spine of lush green peaks that surround it is simply stunning.
Piha Beach
Auckland
You can't come to New Zealand without a visit to Piha. Great for surfers and non-surfers alike, this is all around one of the most talked about beaches in the country. Undoubtedly the most famous surf beach in New Zealand, Piha is known for its consistent beach breaks. So if you're eager to grab your board, Piha would be the place to do it. Note: This beach isn't safe for swimming, so only expert surfers should give it a go. But even if you're not a surfer, this beach still packs a punch for the senses. Gape at the craggy cliffs that hug the sea, with Lion Rock as the focal point. Keep in mind that Piha Beach is on the West Coast, meaning it is wild and untamed, and the waters are a little moody. But the black sand and misty vibe, coupled with the magnificent sunsets, make Piha a fan favorite all over the country.
Tip: Pack a picnic and spend the afternoon watching the surfers battle it out on the horizon.
Back Beach
New Plymouth
Black sand sets the stage for one of New Zealand's most beautiful beaches. Brace yourself for amazing views, undulating dunes, islands primed for hiking, and long, seemingly endless walks along the shore. Back Beach is a secluded stretch of coastline on the North Island. It is remote enough that you might even find you have the beach to yourself, save for a few others in the know, as well as devoted surfers. This region of New Zealand is known for its black sand beaches and surf breaks, so when it comes to picking the best, you won't be disappointed with Back Beach.
A drive down the Surf Highway 45 will open up to the best views and beaches for a wonderful day trip around the region. New Plymouth has a seven-mile coastal walkway from one end of the city to the other as well, so consider a bike ride along the route and plan to stop at cafes along the bay. The best time to visit Back Beach is summer, particularly late January and early February.
Karekare Beach
Auckland
Less than an hour from the bright lights of Auckland, surfers wait in line to catch the perfect wave at Karekare Beach. Super soft black sand makes this a popular spot for landlubbers as well. Wild, untamed, and undoubtedly gorgeous, this famous beach has enjoyed significant on-screen time, from being featured in Oscar winner The Piano to Xena: Warrior Princess.
Getting to the beach involves wading through a stream, but once on the other side, the views are breathtaking. Be advised that swimming is only recommended in summer when lifeguards patrol the shores. Otherwise be on the lookout for sneaky, and omnipresent, rips.
Headed to New Zealand? Odds are you're flying into Auckland first. Here's how to get around Auckland, plus our guide to exploring Auckland's best hidden gems.