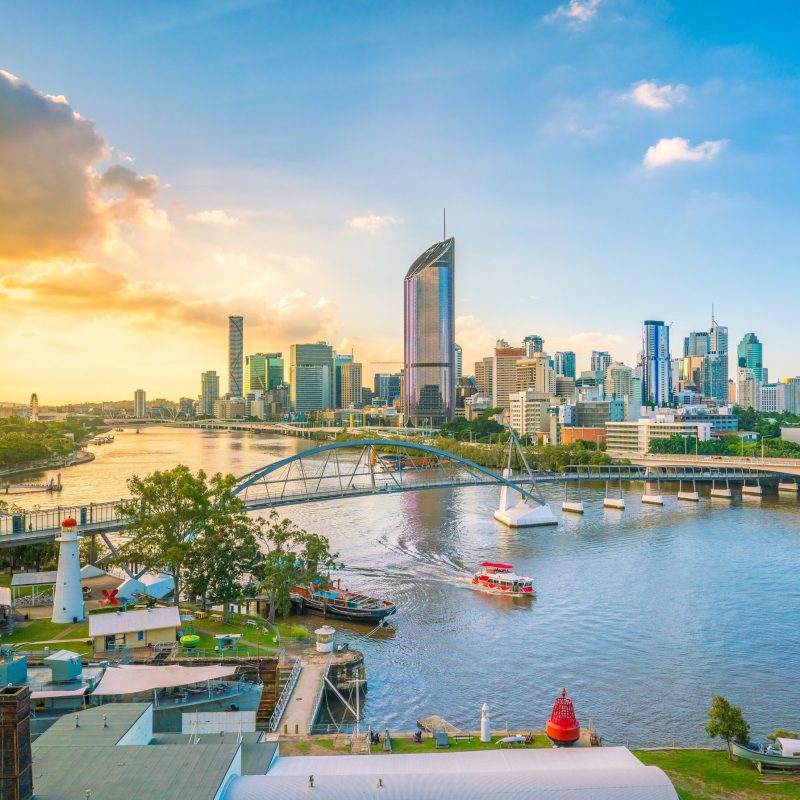 Just beyond Brisbane, Queensland, are golden beaches, rainforests, and craggy mountains. It would be a shame to visit Brisbane and not explore the beautiful landscapes that await just a few hours outside the River City. Known as Australia's Sunshine State, Queensland boasts a subtropical climate that results in a yearly average of 283 sunny days. Almost any time of the year brings weather that will make you want to grab a backpack and venture outside of the city.
Here are eight of the best destinations for a day trip from Brisbane, listed from north to south.
Noosa
Noosa is one of the most pleasant beach towns near Brisbane. Although it has some upscale areas — like Hastings Street, which is full of expensive boutiques and chic restaurants — the laid-back charm is still there. Paddleboarding in the lagoon, sunbathing on Main Beach, and surfing lessons are just a few of the many attractions in Noosa.
To experience one of the highlights of this seaside destination, walk from central Noosa along the wooden boardwalk until you arrive at the entrance of Noosa National Park. This picturesque park juts out into the ocean and features a stunning coastal track that winds through the forest, bushland, and empty beaches. While soaking up the sun on the trail, don't forget to look up. You might just see your first wild koala!
Noosa is one of the farthest day trips on this list; it's about a 2-hour drive from Brisbane. It's better to rent a car or join a tour to get there, since public transportation almost doubles the travel time to the area.
Mooloolaba
Escaping to the beach is easy when the Sunshine Coast is just an hour away from Brisbane. In Mooloolaba, you can feel the fine-grain sand under your feet, indulge in a fresh catch from the local fish market (grab a dozen oysters!), and take a sunset cruise through the area's canals.
If you've always wanted to get up close and personal with humpback whales, Mooloolaba is your chance. Sunreef Mooloolaba was the first company in Australia to offer swimming with humpback whales in open water. The 4-hour tour begins with traditional whale watching. When the crew deems it's safe to slip into the water, you'll jump in, staying at least 328 feet away from the whales to get a good vantage point and remain safe. It's the experience of a lifetime!
Mooloolaba is just 1 hour and 30 minutes north of Brisbane by car. Public transportation to the area by bus and train is also available.
Glass House Mountains
When the itch to get outside the sea of glass and steel buildings hits, it's time to venture out to the Glass House Mountains. About 25 million years ago, extreme volcanic activity in the area left these intrusive plugs. There are 11 mountains to explore, each with its own walking trails, summit hikes, and lookouts. Today, this National Heritage Area is far from bare — it's covered in eucalyptus woodlands and fig trees.
For an introduction to the peaks, follow the Glass House Mountains Lookout Circuit. The most popular peaks to summit are Mount Tibrogargan and Mount Ngungun. Make sure to start the ascent early in the day, before it gets too hot.
The journey to the Glass House Mountains from Brisbane is pretty painless — just an hour by car and just over an hour by train.
North Stradbroke Island
North Stradbroke Island — affectionately known as Straddie — is about 19 miles from the coast of Brisbane. It's the second-largest sand island in the world after Fraser Island, another Queensland island about 200 miles north of Brisbane. However, the abundance of sand doesn't stop the island from sustaining various habitats that provide homes for echidnas, koalas, and kangaroos.
It takes about 2 hours to get to North Stradbroke Island, which includes a 50-minute ferry ride. After docking at Dunwich, you can drive (or take a bus) to Point Lookout to take one of the area's most stunning coastal hikes, the North Gorge Walk. Humpback whales are commonly sighted around Point Lookout, as are bottlenose dolphins. In fact, one of the largest pods of dolphins in the world can be spotted in this part of Straddie.
For an extra-special experience, head to Amity Point after lunch. Bottlenose dolphins often swim up to the Amity Jetty, especially during the feeding hours around sunrise and sunset.
Tamborine Mountain
Australia's cooler southern states like Victoria and South Australia are known for their great wineries; however, Queensland's Tamborine Mountain surprises with a winery trail just an hour outside of Brisbane.
There are 13 cellars on the trail, and you could spend a day or a weekend tasting the different wines. For delicious local wine in a gorgeous setting, visit Cedar Creek Estate Vineyard and Winery. The property's Wild Duck Lake is a wildlife sanctuary, and there's also a glow-worm cave that offers 25-minute tours!
If you prefer beer, Fortitude Brewing Company is a must-visit for pizza and a brew. Tamborine Mountain Distillery opens its doors every day to showcase its international award-winning liquors. If you don't want to worry about driving, The Vino Bus provides excellent tours of the wine region, including a stop at both the brewery and distillery ($150 AUD).
Burleigh Heads
Although Brisbane is home to Street's Beach — a man-made beach in the center of the city, overlooking the impressive skyscrapers of the Central Business District — there's nothing quite like listening to the sounds of the ocean. The closest natural beaches to Brisbane are located on the Gold Coast. This 35-mile section of coast consists of 21 beaches, including Burleigh Heads.
Burleigh Heads is known not only for its great surf breaks, but also for its coastal national park, from which you have a beautiful view of the Brisbane skyline in the distance. Take a stroll during sunset for a truly breathtaking experience. During the day, stretch out on your preferred spot of sand, peruse the boutiques on James Street, or eat fresh seafood oceanside at The Fish House.
It takes 1 hour and 30 minutes to 2 hours to get to Burleigh Heads by public transportation, and it takes about the same amount of time to get there by car.
Lamington National Park
Covering more than 52,000 acres, Lamington National Park consists of three types of forests: subtropical rainforest, temperate forest, and Antarctic beech cool temperate forest. Its two main areas are the Green Mountains and Binna Burra.
One of the best ways to experience the Green Mountains of Lamington National Park is by visiting or staying at O'Reilly's Rainforest Retreat. It's conveniently located near several popular hiking trails — including Moran Falls, the Tree Top Walk, and the Box Forest Trail — that show off the best of this gorgeous park. With O'Reilly's short, half-day, or full-day walk, you can get as close or as far away from civilization as you'd like!
The road leading up to Lamington National Park near O'Reilly's is quite windy. Much of it only has room for one car even though it is a two-way road. Due to the conditions, there are no public transportation options, and it can take up to 2 hours to get to the park by car.
Byron Bay
Byron Bay is actually in New South Wales, the state below Queensland; however, it's only about a 2-hour drive from Brisbane. Although it's one of the farthest day-trip destinations from Brisbane, it's worth traveling to Byron Bay to spend a few hours sunbathing on the warm beaches, surfing the best waves, or hiking through the nearby Nightcap National Park.
If you only have time for one activity, the Cape Byron Lighthouse is a must. Drive to the lighthouse parking lot, or, preferably, stroll the 2.3-mile scenic Cape Byron walking track around the headland. Walking through the varied terrain of cliffsides, grasslands, and forests, you'll be able to enjoy the Australian wildlife on land and in the water. The trail culminates at the Cape Byron Lighthouse, from which you can view dolphins surfing the waves and humpback whales breaching in the distance.
On the way to the lighthouse, you'll pass by the most easterly point of mainland Australia. The area is marked with a wooden sign and makes a great place for a photo.
Planning a trip to Brisbane? Don't miss the city's best restaurants.