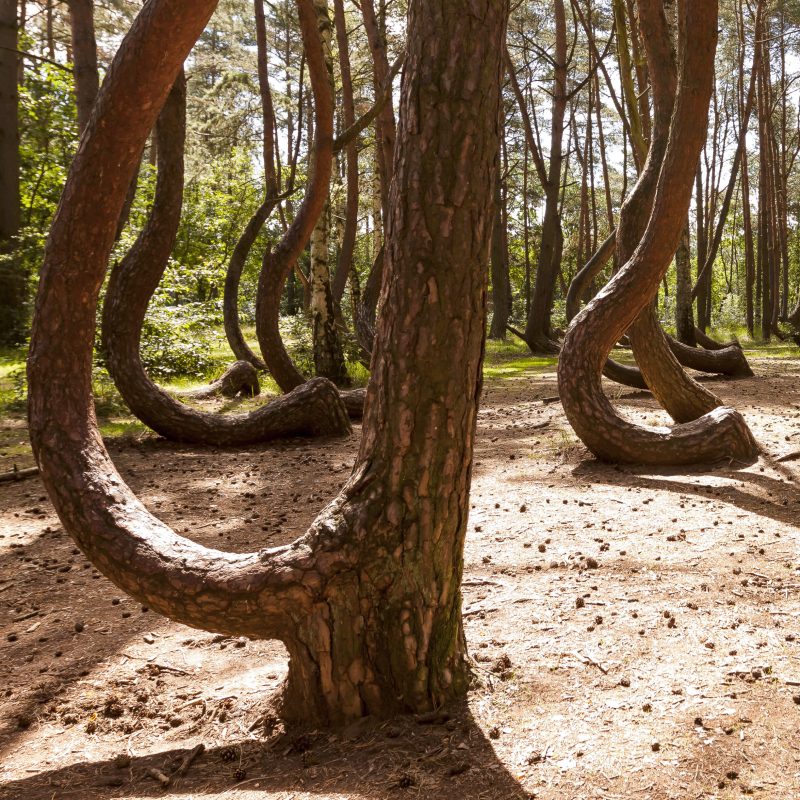 One of the most puzzling and enchanting forests in the world is tucked away in a remote corner of Poland that most tourists never visit. The Crooked Forest isn't easy to get to, but those who want to experience something truly unique should make the trip.
The trees of the Crooked Forest all bend in a peculiar C-shape. The deep bow is pronounced and extends for several feet before arching back up to the sky. Since all of the trees in the grove are similarly formed, they were likely a product of human intervention.
Why Are The Trees Crooked?
It's speculated that the trees, which were planted in the early 1930s, were coaxed into their strange shapes by Poles who wanted to use them for shipbuilding. They likely believed that the curved shape would be more conducive to that kind of work. It's possible that World War II interrupted the process and that the trees were left to grow naturally from that point on.
The combination of human meddling and natural growth gave these fantastic trees their otherworldly shapes.
Traveling To The Crooked Forest
If you want to check out these twisted treasures for yourself, you'll have to head to the town of Gryfino in Poland's Pomerania province. Gryfino is a small, quaint village with a few historic sites to check out, including the Banska Gate, which once defended the town from its enemies. The real draw is, of course, the Crooked Forest, and fortunately, it's just a few minutes away from Gryfino proper.
The town has no airport, so you'll have to fly into Poznan and make the 3-hour train journey to Gryfino. From Gryfino, you have a few options: Either take a 10-minute bus ride to the forest, use a taxi service, or jump in an Uber if one is available. Alternatively, you could rent a car, but you'd be better off doing that in Poznan and taking your time getting to Gryfino. The northern Polish countryside in Pomerania is stunning, and you can take a detour to the lovely towns of Torun and Stargard (formerly Stargard Szczecinski).
What You Should Know Before You Go
Northern Poland is most pleasant during the late summer months. Expect temperatures in the low to mid-70s, with cooler nights. Spring in Pomerania is gorgeous, but it tends to be quite rainy. Since the Crooked Forest is an outdoor excursion, damp terrain, mud, and torrential downpours could put a damper on things.
To experience the grove in all of its glory, you'll need to wear proper shoes. Sneakers are a great option. Stay away from anything that you wouldn't want to be splashed with mud.
The Crooked Forest is fairly isolated, so you'll want to bring your own water and something to snack on. Sunscreen and insect repellent will go a long way toward ensuring that your party enjoys this wooded wonder.
If you love nature and want to explore an arboreal wonder unlike anything you've ever seen before, consider a trip to the Crooked Forest.
Want to see more of the world's natural marvels? Check out these places you won't believe are in the United States — and these places that don't even look like they're on this planet!