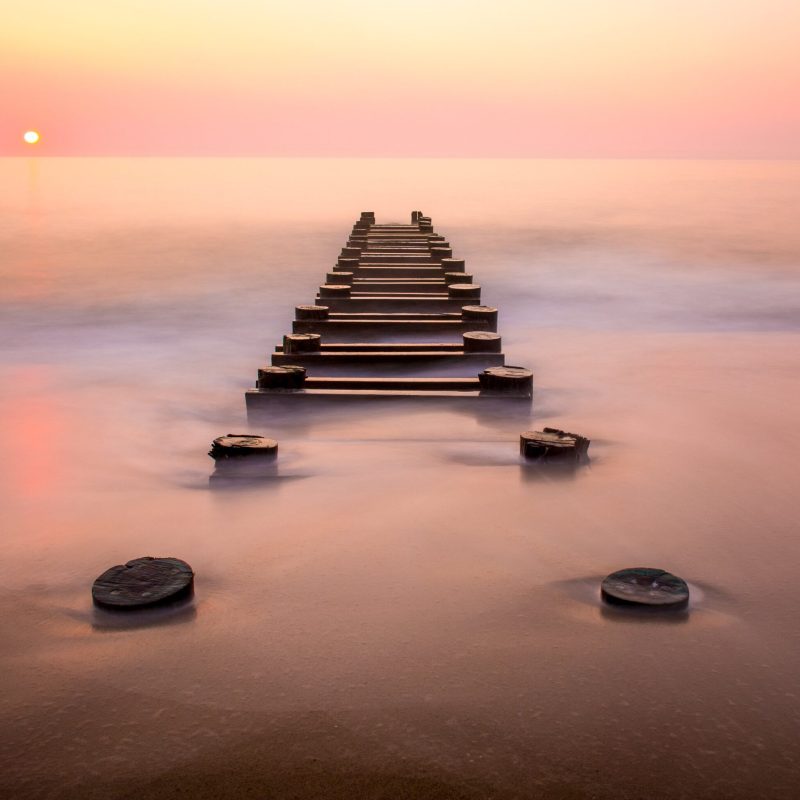 With fewer than 1,500 full-time residents and a beautiful, unspoiled view of the Atlantic Ocean, Rehoboth Beach, Delaware, would have almost all the ingredients of a sleepy, seaside town — except that the word has been out on this gorgeous spot for years. Now a family-favorite beach town, Rehoboth Beach isn't likely to slide back into obscurity any time soon. In fact, a whole new generation of visitors is making the vacation destination their own.
While there's no denying Rehoboth Beach's appeal in the summer — it really is the perfect place to relax and soak up the sun — there's always something special happening there, even during the off-season.
Here are some of the best things to do on a weekend getaway to Rehoboth Beach.
Soak Up The Sun
It's time for sun, surf, and sand! The beach is the number-one reason to visit Rehoboth Beach, and it's beautiful in all seasons. I personally love a late-autumn walk on the beach, maybe with some takeout hot chocolate to keep me warm, but summer is when this spot really shines (if you'll pardon the pun!).
Rehoboth Beach and Boardwalk is the absolute highlight of any visit, and it has a little bit of everything. You can get ice cream, popsicles, and plenty of delicious treats, from quick snacks to full sit-down meals. There are interesting little shops (kids will love spending their allowance there!) and lots of fun activities. Of course, you can just pass the time walking along the boardwalk or catching some sun, but there are more structured activities on offer too, including summer concerts.
For a different atmosphere, head to Delaware Seashore State Park. It's a boater's and fisherman's paradise. The 2,825-acre park sits between the Atlantic Ocean and Indian River Bay and is well serviced with picnic tables, changing rooms, snack stands, and more. You can go paddling along the marsh creek, and there are park rangers stationed throughout to talk to you about what you're seeing. Plus, the swimming is fantastic, and the overall vibe is relaxed and family-friendly. The park hosts lots of birthdays and celebrations, and every July, there's a sandcastle-building contest.
Get In Touch With Nature
While there's nothing wrong with sunbathing and paddling in the surf, Rehoboth Beach also offers several fantastic opportunities to deepen your relationship with nature. Gordons Pond is a gorgeous hiking and biking trail. The scenery includes the pond itself (keep an eye out for birds, especially the protected piping plovers), a forest, wetlands, dunes, and the Atlantic Ocean. While most of the trail is reasonably flat, there is a small elevated section featuring two observation points that make great photography spots. There's also a lovely beach where you can rent umbrellas and beach chairs — it's perfect for relaxing! (Note that all-day parking costs about $10.)
Another superb option is the Junction Breakwater Trail, which opened in 2003 in West Rehoboth. It was expanded in 2007 and now stretches a full 6 miles to Lewes Beach and Cape Henlopen State Park. A combination of boardwalk, pavement, and gravel/sand paths, this is a stroller-friendly place for families to explore and is a good place for beginner bikers, too. One of this trail's highlights is an 80-foot-long refurbished railroad bridge that dates to 1913. In addition to beautiful views of the wetlands, you can see a rare World War II observation tower. Be sure to bring along bug spray during mosquito season!
Have Fun Indoors And Outdoors
While it's hard to tear yourself away from the area's natural attractions, there's plenty of great man-made fun in Rehoboth. Jungle Jim's is the largest water park in Delaware and a Rehoboth favorite. It has a bumper-boat pool (imagine bumper cars, but on water, and with all the drivers carrying water guns!), a lazy river, a wave pool, waterslides (they're long, but they're not too steep), and pint-size attractions for little ones. Rounding out the options are miniature golf and batting cages. Note that this is a seasonal activity — Jungle Jim's opens every year at the beginning of May.
It may not be on the water, but Midway Speedway Park is still lots of fun. Open 365 days a year, it offers five different go-kart courses, including a pro-style course with a banked turn, a kid-friendly track, and children's dune buggies. There's also a miniature golf course on-site.
If you're looking for something a little more sedate — but by no means quiet — the Clear Space Theatre Company offers amazing performances. It's the perfect spot for a romantic date, but you could also bring the entire family, from kids to grandparents. Clear Space specializes in crowd-pleasing Broadway shows. The 2019 lineup includes Mamma Mia!, Hello, Dolly!, The Wedding Singer, James and the Giant Peach, and Ghost the Musical. There are also seasonal shows over the holidays. The Clear Space Theatre Company is a nonprofit and, in addition to putting on performances, it operates an art institute.
Another popular indoor activity is the Rehoboth Beach Museum, which was founded in 1975 and is housed in one of the oldest homes in the area. It's an excellent place to learn about local history, stories, and legends. Admission to the museum is by donation, and the staff members are eager to welcome out-of-town guests.
Eating In Rehoboth Beach
Rehoboth Beach's food scene is a little bit gourmet seafood, a little bit deep-fried magic, and a touch of the unexpected. The locals love their restaurants, some of which have been in operation for decades, and you'll likely get passionate recommendations if you ask for suggestions.
Here are some of our favorites.
Arena's Deli & Bar
Arena's Deli & Bar, a local institution since its early days as a small sandwich shop in 1990, offers the quintessential American diner experience: quick service, huge plates, and unlimited coffee. The sandwiches are incredible, and the nachos are pretty darn good, too. A bonus? The outdoor area features pet-friendly seating.
Salt Air Kitchen & Bar
Salt Air Kitchen & Bar offers a menu that reflects the area's best local, seasonal cuisine. Seafood is prominent on the menu — softshell crab is a favorite — but the restaurant also serves organic meat, homemade desserts, and sides including watermelon salad, cornbread, and crab deviled eggs. Salt Air also sells a diverse selection of spirits, including plenty of bourbon and whiskey.
Big Fish Grill
Big Fish Grill is Rehoboth Beach's star seafood restaurant, and the menu includes lobster, baked oysters, mussels in diablo sauce, clams, fish cakes, shrimp penne pasta, and several different salads. Big Fish is also a popular place for brunch.
The Cultured Pearl
For a different take on seafood, stop by The Cultured Pearl, Rehoboth Beach's best sushi shop.
Grotto Pizza
This Pizza Hall of Fame superstar was founded in Rehoboth Beach in 1960. Grotto Pizza started the trend of finishing pizzas with an artistic spiral of sauce on top.
La Fable
French-inspired cuisine in a Delaware seaside town? Yes, please! From classic French onion soup to escargot to seared duck, La Fable is the place to go for an elegant, romantic meal in Rehoboth Beach.
Modern Mixture
With tacos, quesadillas, burritos, creative salads, and — surprise, surprise! — gyros and pitas, Modern Mixture specializes in delicious Mexican food with a Middle-Eastern twist. This is a great option for vegetarian travelers.
Eating Rehoboth Food Tour
If you can't make up your mind, book a food tour focused on history and folklore with Eating Rehoboth. Unlike a lot of food tours, this one suggests you dress up a little bit. Some of the restaurants on the route are on the swanky side, and guests often have the chance to chat with the chefs. Prices start at a reasonable $55 per person.
Shopping In Rehoboth Beach
Somewhat surprisingly, a lot of people go to Rehoboth Beach not for nature, scenery, or seafood, but rather for shopping. There are three different malls in the area that focus on outlet sales. Delaware offers tax-free shopping, which attracts bargain-hunters from all around.
The outlets aren't the only great shopping areas. Here are some other places to check out.
Rehoboth Beach Farmers' Market
The Rehoboth Beach Farmers' Market is one of the largest in Delaware, and, in addition to farm-fresh produce, it offers homemade goods like soap and candles. The market is open every Tuesday from 11 a.m. to 3 p.m. and often features live music.
Browseabout Books
Since 1975, Browseabout Books has been Rehoboth's premier independent bookstore. The store frequently hosts book signings and readings and offers a regular children's storytime.
Four Sisters Jewelry
Four Sisters Jewelry sells stunning, modern, minimalist silver jewelry with a global influence and a touch of nautical flair.
Mare's Bears Quilt Shop
Just down the road in nearby Lewes is Mare's Bears, the cutest quilt shop imaginable, and the staff members are extremely knowledgeable about their craft.