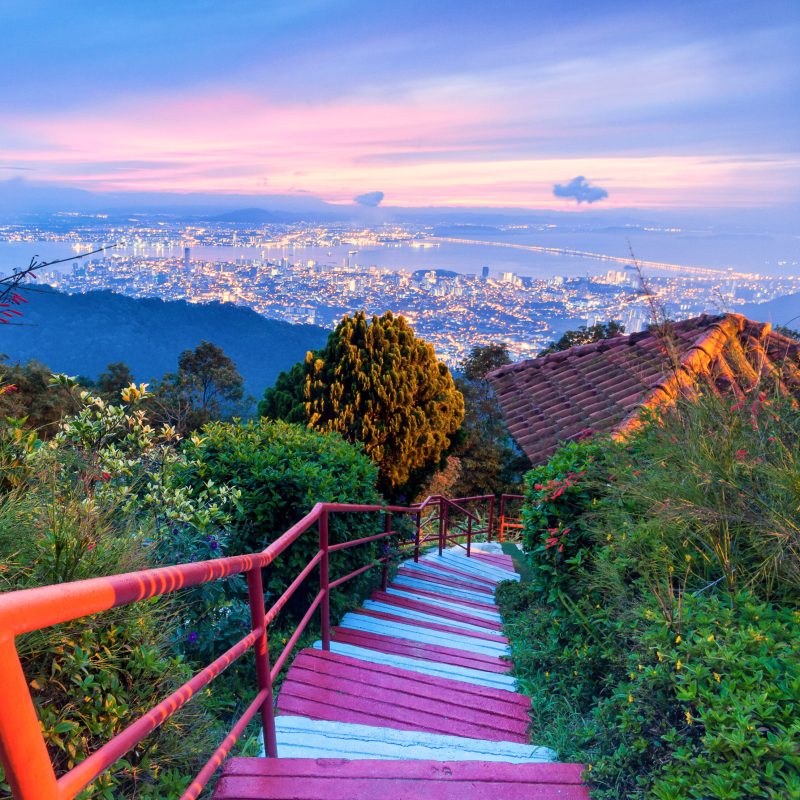 Far from the magnificent Petronas Towers and glamorous downtown of Kuala Lumpur is a northwestern Malaysian state where you can dine on fabulous food surrounded by some of the world's most imaginative street art. It's home to a UNESCO World Heritage site where Chinese clan houses rub elbows with mosques and ancient Buddhist temples. Penang is exquisite; it's a lovely gem of a state that hasn't quite hit the tourist map.
Here are four fantastic reasons why Penang needs to be on your bucket list.
1. It's A Living Museum
George Town, the capital of Penang, is full of incredible street art. Much of the art is totally interactive and incorporates real-life objects into the fun, like the famous bicycling siblings located on Armenian Street. One mural near Love Lane depicts an energetic toddler using two windows to balance herself high above the street.
The 101 Lost Kittens project mingles creativity with humanitarianism in an effort to encourage people to adopt more cats. Works like I Can Help Catch Rats, a tricolor piece showing an athletic feline snagging a rat, remind viewers that cats are both useful and lovable.
It's easy to miss some of the more iconic Penang street art, so make sure you check out a map of all of the key pieces. Plan to spend at least an afternoon wandering the charming streets of George Town, and don't forget to bring your sturdy walking shoes and camera!
2. You Can Visit A Clan House
Penang experienced a wave of Chinese immigration during the 19th century, and the newcomers brought some of their traditions with them. One of these was the clan house, a safe community where Chinese immigrants from the same region, or who shared the same dialect, could feel welcome and acclimate to Malaysian society.
Clan houses were also places where shared ancestors were honored, further solidifying the bond between members. Today, you can visit some of George Town's famous clan houses, like Khoo Kongsi, which was built at least 650 years ago and also goes by the name Dragon Mountain Hall. This fascinating structure is full of ornate carvings and remnants of the past, including murals celebrating the birthdays of long-deceased members.
Cheah Kongsi is an opulent clan house that resembles a Chinese grand palace. It's notable because it features Malay, Chinese, and European designs. Since it's only a block or two from Khoo Kongsi, you can easily visit both of these amazing clan houses in a single afternoon.
3. Its Street Food Is The Best In Malaysia
Malay street food is known for being some of the best in Southeast Asia, but Penang's is in a class all its own. Combining the flavors of Malaysia, China, and parts of India, it's a scrumptious fusion of cuisines that needs to be eaten to be believed.
Sample nasi kandar, a multilayered curry dish served over a generous helping of rice. It can be a touch on the spicy side, but you'll want to devour every fiery bite. Nasi kandar is one of those iconic dishes that is prepared differently at every stand, so make sure to enjoy several plates.
Char kway teow is a simple dish with big flavor. Stir-fried noodles are paired with chives, bean sprouts, and plump shrimp. The whole thing is scrambled together with an egg so that it's light, filling, flavorful, and memorable. Crispy duck and rice is another streetside favorite. Sweet and spicy duck is served next to a heaping pile of rice sprinkled with chives. Combine the two for a dish that you won't soon forget.
4. You Can Learn About Two Of The World's Major Religions
Both Islam and Buddhism are prevalent in Penang, so it's no surprise that this Malay state is home to the gorgeous Kapitan Keling Mosque. Although it is several centuries old, the mosque has been well preserved by the people of Penang. Lovingly decorated with crescent moons, stars, and golden domes, it is a masterful piece of architecture. The Kapitan Keling Mosque is still in use, so make sure that you exercise respect when visiting and refrain from taking pictures in restricted areas. Proper dress must be observed, so both men and women should cover their arms and legs.
Kek Lok Si is perched high atop Air Itam, and to see it properly requires at least an afternoon. The 10-acre complex contains a number of different temples, meticulously groomed gardens, and religious iconography. The statue of the Goddess of Mercy is not to be missed, and if you're so inclined, you can buy a turtle to release at the turtle liberation pond. Kek Lok Si honors both Buddhist traditions and the Chinese immigrants who made their mark on Penang.
Tips For Visiting
Like most of Southeast Asia, Penang has a monsoon season. Avoid visiting between September and November if you don't want to have to deal with torrential downpours. The best time to visit is between November and January, when the weather is pleasantly warm and dry.
Penang has its own airport. George Town, where all the action is, is only about 15 minutes away by taxi. There is no Uber in Malaysia, but you can download and use Grab if you'd prefer. Taxis are relatively safe in Malaysia, but you can still take a few precautions to ensure a smooth ride. Don't allow your taxi driver to pick up other passengers while you're riding, and use an app like Maps.me to make sure that you're taking the quickest route.
Penang is an open secret among people in the know. Those who have traveled to Southeast Asia and stumbled across this wonderful place have been spreading the word little by little, but Penang is still not on the radar of many travelers. If you want to see one of Malaysia's loveliest places ahead of the curve, it might be well worth purchasing that plane ticket!