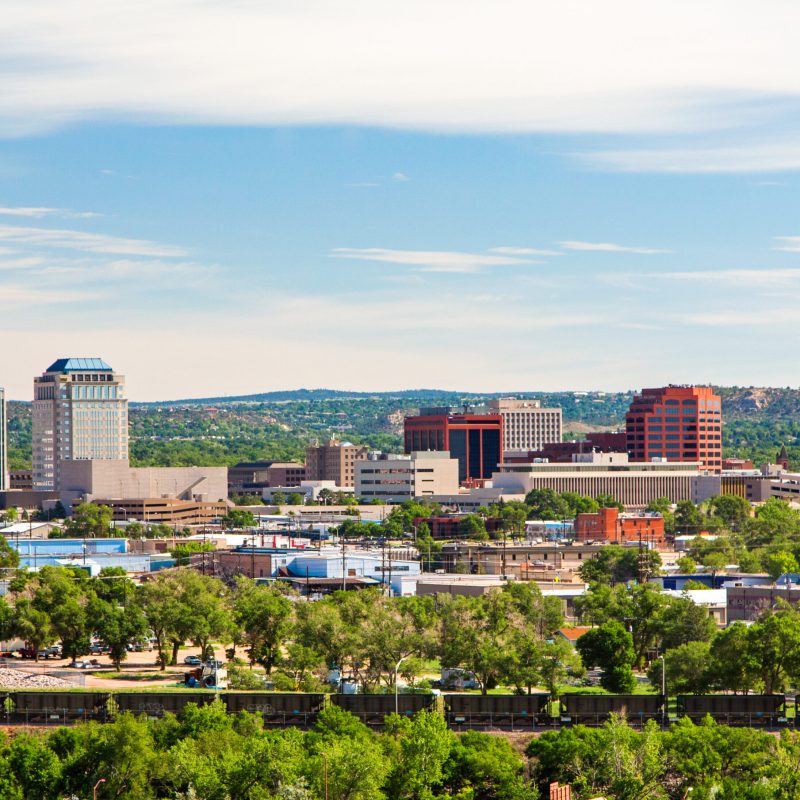 The Rocky Mountains form a picturesque frame around the city of Colorado Springs, Colorado. A mecca for art lovers and nature enthusiasts alike, Colorado Springs offers a wide variety of interesting activities for your Rocky Mountain adventure. There are so many wonderful and fun things to do all year round that it will be hard to choose. Your journey will be enhanced by mouth-watering local cuisine coupled with interesting art and souvenir shopping all wrapped up with classic Western places to lay your head at night.
Here are the best places to visit and things to do as you spend 48 hours in this active vacationer's paradise.
Garden Of The Gods
Imagine walking through towering red, pink, and orange craggy sandstone formations, some as high as 300 feet. You can in Garden of the Gods Park. The towering formations surround you like a warm (and awe-inspiring) hug. This National Natural Landmark surrounds visitors in otherworldly terrain. The main walkabout is the Perkins Central Garden Trail, a gentle loop around the main section of the park. For more adventurous hikers, there are 21 miles of trails (maps are available at the Visitor and Nature Center). If you are looking for something a little more exciting, you can peruse the park on an electric bike or mountain bike rented on site from Amp'd Adventures.
If you are a science buff, you need to stop at the Visitor and Nature Center. Theiophytalia kerri, a previously undocumented species of dinosaur was discovered in 2008 while excavating for the center. The timeline exhibit outlining the discovery, dig, and dinosaur itself is fascinating. Other exhibits at the center include a roundup of all the animals that inhabit the region and the history of the area.
Spending an afternoon at the Garden of the Gods Park is an enjoyable way to commune with nature and experience an unparalleled landscape. The park is open from 5 a.m. to 10 p.m. and the Visitor and Nature Center is open 8 a.m. to 7 p.m. Park admission is free and it is dog friendly!
Pikes Peak
Driving the 19 mile road up Pikes Peak means navigating a chain of 156 switchbacks and hairpin turns coupled with steep inclines. It's a thrilling journey, and the excitement is enhanced when you realize there are virtually no guard rails. Your reward for tackling this adventurous ride to the summit of 14,115-foot Pikes Peak is a 360-degree view that is unsurpassed. As you stand at the top of the mountain, the 6,000-foot mountains below appear as mere foothills. You actually feel like you can touch the sky!
If driving up is not your thing, there are other ways to get to the top. Adventures Out West has an open air Jeep tour that allows you to leave the driving to the professionals. Prices start at $119 for a four-hour round-trip adventure ride up the mountain. The Pike's Peak Cog Railway, which has been in operation for 126 years, is another great option. It is currently under reconstruction and scheduled to reopen May 1, 2021. The cog rail is a relaxing ride to the summit if you aren't up for a hanging-on-the-edge-of-your-seat drive to the top.
If you happen to be in Colorado Springs in June, you need to check out the Pikes Peak International Hill Climb, affectionately known as The Race to the Clouds. The climb is an annual automobile and motorcycle race that takes place on the last Sunday in June. Racers vie to be first to the top while navigating the serpentine road. Fan Fest is a ten-block pre-race street party held in downtown Colorado Springs the Friday before the big race. The highlight of Fan Fest is its stunt driver performances, which fill the streets with spectacular, gravity defying stunts that will amaze and entertain you.
The United States Air Force Academy
Feel the pride! Colorado's Rocky Mountains are home to the United States Air Force Academy. Shortly after you pass through the gate, the vastness of the Academy unfolds before you. The 17 spires of the iconic Air Force Cadet Chapel dominate the campus. The spires, which rise 150 feet in the air, coupled with the Chapel's smooth glass facade, stand juxtaposed against the ragged, towering mountains, and promise to inspire awe.
At the Academy, you should tour the Barry Goldwater Visitor Center. There are several exhibits that provide a thorough overview of the campus. You can hike the Nature Trail to Cadet Chapel. The hike is short — only one third of a mile — but it is strenuous due to the altitude.
Visiting hours are 9 a.m. to 5 p.m. Visitors must enter through the North Gate. Be prepared to provide a driver's license or photo ID and check out the "Getting on Base" web page for updated visitor information.
The Cheyenne Mountain Zoo
The Cheyenne Mountain Zoo is the best place in the States to hand feed a giraffe!
With over 170 animal species, there are a multitude of exhibits including the giraffe herd in the African Rift Valley exhibit, the wallabies in the Australia Walkabout exhibit, and the snow leopards in the Asian Highlands exhibit. Visiting the Cheyenne Mountain Zoo is an adventure every animal lover will enjoy.
You can experience an up-close-and-personal encounter with an elephant, Amur tiger, giraffe, orangutan, or one of many others animals. The zoo offers many personalized Animal Encounters where you can feed and interact with your chosen zoo friend. The cost is $353 for a group tour that accommodates up to four people and a minimum one week advanced registration is required.
The zoo is open from 9 a.m. to 5 p.m. 365 days a year with special hours on holidays. Admission costs vary seasonally, starting at just 75 cents for children under 2 and increasing to $24.75 for peak-season adult admission.
Red Rocks Amphitheater And Colorado Music Hall Of Fame
An hour and a half drive from Colorado Springs is the Red Rocks Amphitheater and Colorado Music Hall of Fame — and they are worth the trip!
The Amphitheater is a spectacularly unique venue where you can take in the magnificent views, enjoy a concert, participate in a yoga class, or just sit and soak up the Colorado sunshine. Declared "acoustically perfect," the venue has hosted a vast array of artists including John Denver, Nitty Gritty Dirt Band, Jimmy Buffet, Bob Seger, and the Grateful Dead (who have headlined at the Red Rocks 20 times).
As you walk through the Hall of Fame, you are transported back in time with posters and memorabilia of amphitheater headliners. A chronology of performers — beginning in 1908 when the headliners were mostly Christian music groups — lines the walls. The progression is a music history lesson that includes Christian, opera, jazz, rock, rap, and everything in between.
Entry to the Amphitheater and Hall of Fame is free to non-concert goers and is open every day (except Thanksgiving and Christmas) from 8 a.m. to 4 p.m. and on show days until 7 p.m.
Where To Stay
If you are searching for old-world style in a convenient location, St. Mary's Inn fits the bill perfectly. Situated just a few blocks from downtown restaurants and shopping, this is the quintessential Colorado Springs bed and breakfast. Its Victorian charm paired with luxurious rooms and a sumptuous breakfast will leave you pampered and well rested.
The Broadmoor, a Colorado Springs fixture since 1918, offers a wide range of accommodations and amenities. The Broadmoor features luxe accommodations at its main resort. The Broadmoor Golf Course, host of the 2025 Senior Open, boasts two 18-hole private courses that are open to resort guests. The spa, where you can indulge in everything from traditional treatments to the Scrub-to-Table, which invites you to design your own personally blended scrub. There is also on-site shopping, tennis, hiking, horseback riding, fly fishing, and falconry.
If you would like more of an adventurous Colorado Springs experience, visit the Ranch at Emerald Valley, The Broadmoor's answer to the all-inclusive, Rocky Mountain wilderness adventure. Ride horses, fly fish, and hike, then return to the luxury of your own cabin where you can relax and enjoy all the amenities of this lovely ranch and the main resort.
Where To Eat
A true local favorite is Shuga's. Sample dishes like jalapeno bacon mac and cheese, brick chicken, and porchetta sandwich on the summer menu. Shuga's is a go-to for locals and a must-do for visitors. The retro vibe and pop art decor are sure to entertain while you happily munch away.
If you are looking for something unique and incredibly yummy, visit The Rabbit Hole. This is a dining experience below the surface — yes, you need to step down below street level to enter this hip restaurant. Culinary offerings change seasonally, but the truffle cauliflower mac and cheese followed by cherry-braised buffalo ribs (featured on their summer menu) should be at the top of your to-try list. You need to make reservations if you want a table without a long wait.
If you're looking for last call, visit the Principal's Office ("for misfits and miscreants"), housed in an old elementary school. You've been warned: The memories might be too real! Reminisce while sipping a Sadie Hawkins made with gin, strega liqueur, cocchi rosa, and lemon; a Where There's Smoke There's Fire, made with ancho reyes, mezcal, dry curacao, lime, agave nectar, and elderberry habanero bitters; or sit back and enjoy a traditional after-dinner sipper and good people watching.
Where To Shop
Art galleries and custom boutiques line the streets in the downtown Colorado Springs shopping district. For a Western shopping vibe and authentic souvenirs, check out the Old Colorado City shopping area. Just a few miles west of downtown Colorado Springs is Manitou Springs, a true artist enclave where you can visit local galleries for those perfect artistic souvenirs.
The Last Word
Altitude sickness can happen "any time you go above 8,000 feet," meaning you could experience it while in Colorado Springs. Preventative measures recommended include letting your body acclimate to the higher altitude — in other words, going slow, drinking lots of water, eating a high-carb diet, and avoiding tobacco and alcohol. Take care of yourself and make the most of your time in one of Colorado's most scenic cities!
Flying into the Mile High City? These day trips from Denver provide eight great Colorado experiences.