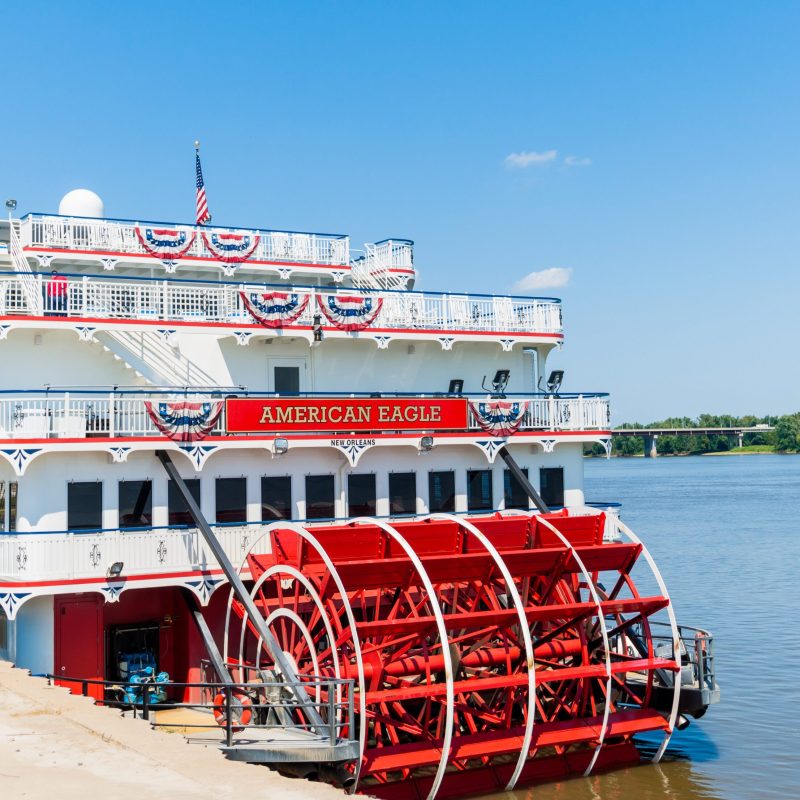 Saint Louis is a terrific city to visit. From its iconic Arch and its Cardinals baseball to its stunning Forest Park and its incredible history of westward expansion, it's truly got something for everyone. What's more, it's close to wineries, all sorts of natural wonders, and even a presidential library.
Here are 10 excellent day trips from the Gateway City.
Augusta, Missouri
Located about an hour west of Saint Louis, near the Missouri River, Augusta is a charming hamlet that was founded by a settler who followed Daniel Boone out west. Many of the German immigrants who moved to Missouri in the 1830s eventually settled in Augusta. They traveled across the Atlantic in search of better lives and found that the land along the bluffs reminded them of the Rhine Valley back home.
Today, the tiny town is home to wineries, antique stores, and historic bed and breakfasts. If you're a bicyclist, consider hopping on the Katy Trail, a former railroad route that's now a biking and hiking trail that stretches across the state. You can rent bikes in nearby Defiance, Missouri, and cruise right into Augusta.
Hermann, Missouri
An hour west of Augusta, you'll find another picturesque winery town on the Missouri River. Hermann sits in the heart of what's known as Missouri's Rhineland, the vineyard district along the Missouri River that was settled and cultivated by German immigrants.
In Hermann, you'll find cafés, boutiques, beautiful historic red brick buildings, and several wineries, some in town and some tucked into the nearby bluffs. They often host special events, and most allow you to bring picnics onto their gorgeous grounds.
If you don't feel like making the drive, Amtrak service from Saint Louis to Hermann and back runs daily. There's even a trolley in Hermann that departs from the train station and shuttles tourists to five nearby wineries.
Columbia, Missouri
For the quintessential college experience, hop on Interstate 70 and drive 2 hours west of Saint Louis to Columbia, home of the state's flagship University of Missouri and two other smaller colleges, Stephens College and Columbia College.
The city maintains a small-town feel, but with a decidedly cosmopolitan flair, and you don't have to be a Mizzou Tiger to appreciate everything it has to offer. Of course, you should walk campus: Through the Francis Quadrangle and past the Columns is one of our favorite strolls. Then head to Ninth Street for fun shopping, cocktails, and cafés. It's easy to get your exercise in here as well: Rock Bridge Memorial State Park is just 5 miles south of town, boasts several caves, and features some of the most popular hiking trails in the state. Above all, do not leave CoMO without sampling a slice of Shakespeare's Pizza, a favorite since 1973.
Sainte Geneviève, Missouri
To get to know Missouri's centuries-old French traditions and culture, drive 1 hour and 30 minutes south from Saint Louis to Sainte Geneviève, the oldest town in the state of Missouri. Founded in the early 1700s, the town still feels like a true blast from the past, with many fine examples of French colonial architecture, including the Felix Valle House State Historic Site. Sainte Geneviève hosts several festivals annually, each designed to showcase and celebrate the town's French roots. These include the French Heritage Festival in June and the Jour de Fete Arts and Crafts Festival in August.
The downtown district is home to restaurants, artisan shops, and even an old-fashioned soda fountain. Be sure to check out the nearby Crown Valley Winery, Brewery, and Distillery as well.
Jefferson City, Missouri
Another terrific mid-Missouri day-trip destination easily accessible by train is Jefferson City, the state capital. The Capitol sits perched on a bluff above the Missouri River, and it's worth a look — even when the legislature is in session, tourists may enter. Free tours are offered Monday through Friday.
The spectacular Missouri Governor's Mansion nearby, one of the few executive residences in the United States that is open to the public, is available to tour six months out of the year. The tours are free of charge and led by volunteer docents. Tour reservations are required for all visitors and must be made at least 24 hours in advance. The beautifully preserved mansion, which was built in 1871, is a must-visit for history buffs and for those interested in architecture, interior design, and old homes.
To get a feel for how justice was served in the state's early years, visit the Missouri State Penitentiary, what was once the oldest operating penal facility west of the Mississippi River. This Gothic-style building was constructed in 1836 and in use up until 2004. It's currently undergoing restoration work after a 2019 tornado damaged the property, but once it reopens to the public, be sure to take the $15 2-hour tour. It offers a fascinating look at early crime and punishment.
Head to the Jefferson Landing State Historic Site to see what the city looked like when the state seat of government moved here in 1826 — and make sure you get a scoop or two of some of the state's best ice cream at Central Dairy!
Elephant Rocks State Park/Johnson's Shut-Ins State Park, Missouri
If you're craving time out in nature after a few days in the city, drive 2 hours southwest of Saint Louis and check out two fantastic state parks: Elephant Rocks State Park and Johnson's Shut-Ins State Park. Both offer one-of-a-kind experiences, and they can easily be visited in the same day, since they are just 20 minutes apart.
Start your day with a hike through (and maybe even a climb over) the gigantic pink granite boulders at Elephant Rocks. These unique formations have intrigued geologists for generations, and they were once quarried at the site and transported to the city. When you climb some of the biggest boulders, you'll see the names of the master stone carvers etched into them.
When you're ready to cool off, head to Johnson's Shut-Ins. This natural waterslide, fed by the crystal-clear Black River, is a beauty to behold and even more fun to swim in. Don't forget your suit — and your sunscreen. There are changing areas in the park.
Hannibal, Missouri
Just 100 miles north of Saint Louis on the Mississippi, Hannibal is where Mark Twain (born Samuel Clemens) grew up, and the town inspired The Adventures of Tom Sawyer and The Adventures of Huckleberry Finn, the stories that helped make Twain one of America's most beloved novelists. Today, tourists can visit the author's boyhood home, which has been converted into a museum. There's also the Mark Twain Cave Complex, where Twain fans can recreate scenes from Twain's novels.
Equally impressive but less well known is the Molly Brown Birthplace & Museum. The Unsinkable Molly Brown also grew up in Hannibal; in fact, she was headed home to the town when she survived the Titanic disaster in April 1912.
There's plenty more to see and do in this historic river town, and it's definitely worth the trip from Saint Louis.
Springfield, Illinois
On the Illinois side of the river, you can pay homage to President Abraham Lincoln in Springfield, the capital of Illinois. It's about 100 miles from Saint Louis, and a train runs there daily from downtown. The domed Capitol is worth a peek, but save the majority of your time for the Abraham Lincoln Presidential Library and Museum, located in the heart of downtown Springfield. It's got fascinating interactive exhibits that tell the story of our nation's 16th president, from his boyhood days in Kentucky on up through the Civil War. Regular admission costs $15 for adults.
When you wrap up there, hop back in your car (or grab an Uber if you took the train) and head to the historic Oak Ridge Cemetery, where Lincoln and his family are buried. Make sure you give the president's nose a rub on your way out, as visitors have done ever since a bronze bust of him was installed at the cemetery in 1932.
Grafton, Illinois
Grafton is where the Mississippi River and the Illinois River come together in a scenic and beautiful fashion only about an hour from downtown Saint Louis. You can reach the small town by driving the River Road or by taking a ferry from neighboring Saint Charles County, Missouri. The town's riverside boutiques and bars are worth checking out, as is the nearby Pere Marquette State Park and Lodge, with its sweeping blufftop views. Stop for lunch at the Lodge — the fried chicken at the restaurant there is amazing!
After lunch, stroll or bike the Sam Vadalabene Trail, and keep an eye out for the Piasa Bird Mural painted onto the bluffs above.
If you're visiting during July, consider a short drive to Calhoun County, Illinois, where you can pick some of the sweetest, most delicious peaches around!
Garden Of The Gods, Illinois
Located about 2 hours and 30 minutes from Saint Louis, the Garden of the Gods Recreation Area in Illinois's Shawnee National Forest is the farthest destination on our list, but outdoor enthusiasts should absolutely make time to get there. Pack a lunch, water, and hiking supplies, and head to this stretch of woods famed for its sandstone rock formations sculpted by millions of years' worth of wind and rain. The bluffs drop more than 100 feet down, offering magnificent views of the surrounding forests.
The park and its campsites are open year-round, and the sunrises and sunsets over the forest from the rocks are indescribably beautiful. This is one of the most photographed locations in the state, and once you visit, you'll immediately see why.
Planning a trip to Saint Louis? Check out these 12 things to do (and these 11 hidden gems) in the Gateway to the West.