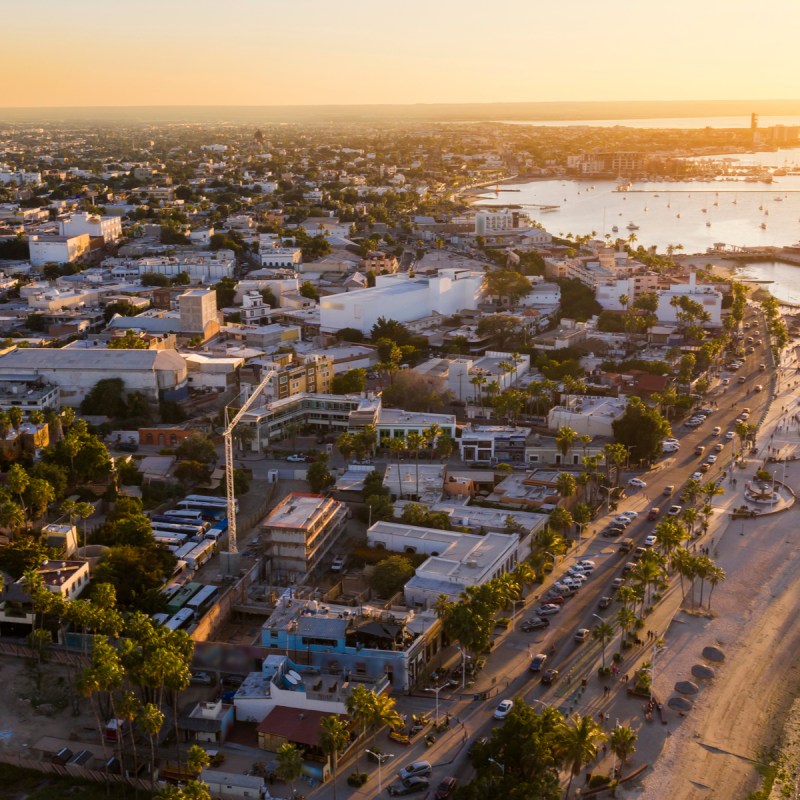 If the thought of fresh seafood plus authentic Mexican flavors causes your mouth to water and inspires the desire to travel, you'll want to add La Paz, Mexico, the capital of Baja California Sur, to your foodie bucket list. This beautiful city on the Sea of Cortez is a humble yet tourist-friendly destination. You won't find huge all-inclusive resorts there; instead, you'll get a glimpse of authentic seaside living. If you want to experience the real Mexico — and sample a variety of fresh and tasty foods, many of them locally sourced — then La Paz is the place for you.
The cuisine of La Paz focuses on local ingredients — seafood, spices, herbs, and plants indigenous to the area — and traditional Mexican foods like street tacos filled with grilled meats. The hot dog is a popular item, too — there's even a vegan dog made from grilled carrots. And the town's Asian and European influences mean you can savor a variety of international flavors.
Flavor and freshness are key in La Paz, and you'll want to taste all of the town's specialties. Here are some of the best.
1. Chocolate Clams
Named for their color and not their flavor, chocolate clams are a La Paz specialty. The large brown clams (some as long as 6 inches) live in the sandy bottoms of the Sea of Cortez and are harvested for local recipes. You'll want to try these while you're in Baja California Sur, since this delicacy is hard to find elsewhere due to strict export controls. The clams are prepared in a variety of ways: escabèche-style (cold and marinated on the half shell), baked with cheese and garlic, or mixed into a hot clam chowder. Other versions incorporate Mexican herbs and spices like cilantro and chile.
Stop by Chocolatas El Empanada for an affordable meal of fresh chocolate clams, or try the live clams at Mariscos El Molinito. If you prefer your clams cooked, order the clams au gratin, a clam chiral baked with cheese, served in the shell, and accompanied by bread, butter, and a salad.
2. Damiana
Damiana is a wild shrub that grows in Mexico and other desert climates. The leaf and stem of the plant are used for medicinal purposes, and the plant is considered a stress reliever, aphrodisiac, and remedy for headache, anxiety, and asthma. The leaves have a woody, minty flavor and are used in a variety of recipes throughout Baja California Sur.
Try the herbal essence in chocolate at La Damiana Chocolateria or order a margarita at any restaurant in La Paz and ask for damiana liqueur in place of triple sec. (Rumor has it that the original margaritas created in the area contained damiana liqueur, so your request won't seem in any way out of the ordinary.) Otherwise, order damiana liquor (made from damiana extract) on the rocks and sip it like the locals do.
3. Campechana Cocktails
Mix salsa with olives, avocados, shrimp, and crab (or another type of seafood) and you'll have a campechana cocktail, or a Mexican seafood cocktail. Campechana originated in Campeche, a coastal state known for its shrimp cocktails, but now you can find this cool appetizer at street stands in beachfront communities throughout Baja.
At Mariscos La Paz, the cocktail is called the Chimichanga Cóctel and includes a smorgasbord of seafood including pata de mula (clams), oysters, raw shrimp, cooked shrimp, abalone, octopus, and crab in juice.
4. Fish Tacos
With the availability of fresh fish, it's no wonder that fish tacos are a local favorite. Fish tacos, or tacos de pescado, originated in Baja California Sur. The area's fish tacos were originally made with shark meat, but you'll find a variety of types of white fish in them today. Although restaurants will put their own spin on the tacos, most consist of fish (generally fried for a crunchy exterior), lettuce (or sometimes cabbage), sour cream (or a citrus mayonnaise), and pico de gallo served in a corn or flour tortilla. Traditionally, tacos in Mexico are served on corn tortillas, but in Baja, you'll often see flour tortillas made from flour, lard, salt, and water.
You'll find everything from traditional street tacos to Asian fusion tacos in La Paz. For a tasty fish or shrimp taco, try Taco Fish La Paz. At Tacos de Pescado y Camarón el Estadio, fish tacos are served for breakfast.
5. Margaritas
The legend goes that Mexico's signature cocktail, the margarita, was invented at Hussong's Cantina in 1941 when a girl named Margarita Henkel walked into the bar. The bartender blended damiana, tequila, and lime and served it over ice in a salt-rimmed glass. Because Henkel was the first person to try his new creation, the bartender named the drink after her.
Whether you order the standard margarita with triple sec or the damiana variety, you'll love La Paz's version of the classic drink. You can order a margarita at most bars and restaurants, including Rancho Viejo La Paz.
6. Conchas
Although there are plenty of savory breads at the bakeries in La Paz, the sweetbreads, or pan dulces, are the favorite, and the locals are especially fond of conchas. Conchas are Mexican sweetbread rolls served at many bakeries and restaurants. The name comes from their round shape and striped, conch-like design. The rolls generally have a crunchy topping of some kind.
You can pick up one or a dozen conchas at Panificadora Lilia or savor artisan baked goods at Dulce Romero Panadería Artesanal. In addition to conchas, Pan D' Les Bakery serves fresh-baked eclairs, crackers, and other delicious goods.
7. Hot Dogs
Hot dogs are a popular street food in La Paz. The La Paz hot dogs resemble the American versions, but the La Paz dogs come with a myriad of Mexican toppings. You'll often find them loaded with bacon and cheese, pico de gallo, mayonnaise, or guacamole.
At local restaurants like La Charcuteria de la Esquina and Kiki's Burger Esterito, you can get any version of the hot dog imaginable — simple, northern, Hawaiian, Polish, and many more. You can even order a hot dog on top of fries or added to a hamburger. These aren't your ordinary dogs.
For a unique spin on the hot dog, stop by Veggie Jates for a vegan hot dog topped with carrots that have been marinated and grilled, vegan mayo, avocados, onions, ketchup, mustard, jalapeños, lettuce, and a sprinkling of coconut "bacon."
8. Artisanal Cheeses
Before the Spaniards introduced cows and goats to Mexico, the inhabitants of the area subsisted largely on fruits and vegetables, fish, and occasional wild game. Since cows and goats were introduced, cheesemaking has evolved into a regional occupation, and unique Mexican cheese has emerged. Many families operate their own cheese companies and pass their cheesemaking secrets and techniques from one generation to the next.
At the cheesemonger stalls in the area's markets, you'll discover cheese packed into baskets and wooden hoops, cheese rolled into balls of all sizes, and cheese wrapped in corn husks or pressed into flat white discs. You can sample a variety of artisanal cheeses at the La Paz Farmers Market, which is open Tuesday and Saturday from 9:30 a.m. until noon.
To watch — or participate in — the cheesemaking process, visit Rancho Cacachilas, just a short drive from La Paz. You can taste the homemade Sierra Cacachilas cheese that is produced in the solar-powered creamery, take a cheesemaking or cooking class, or simply take in the sweeping mountain views and the views of the Sea of Cortez.
If you're planning on spending at least a few days in La Paz, check out our guide to the area for more fantastic things to see and do.