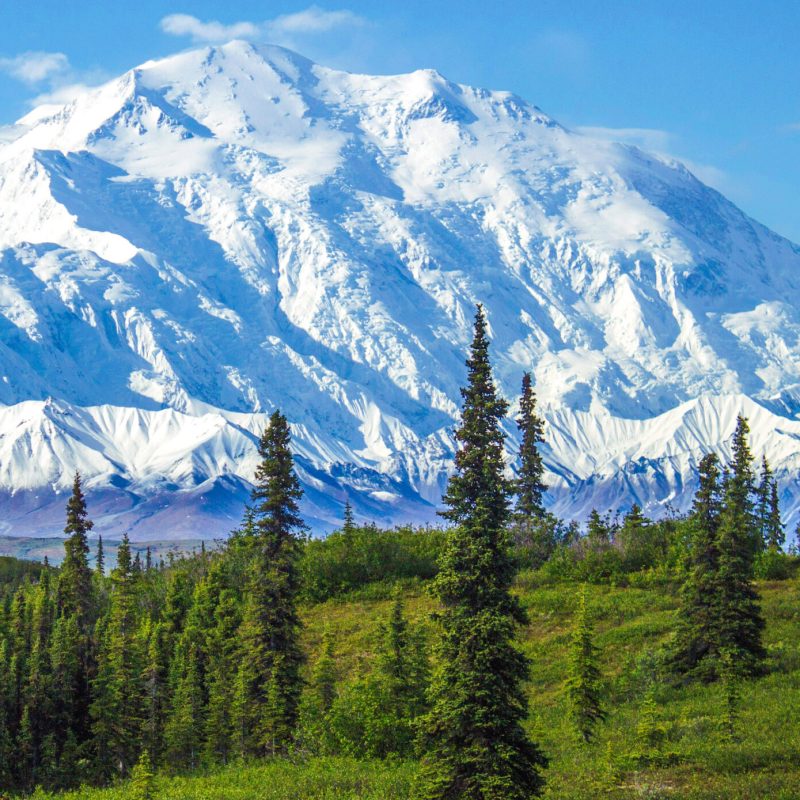 In the center of the great state of Alaska, south of the Arctic Circle, you'll find Denali National Park & Preserve, a sprawling six million acres of pristine wilderness. The national park is home to hundreds of different species of animals and breathtaking geographical formations, and it is dominated by Denali (formerly known as Mount McKinley), a massive ice mountain that scrapes the northern sky.
Denali National Park is a nature lover's dream, and it's fully accessible to anyone with a sense of adventure and the desire to visit this wild corner of the world.
Where Is Denali National Park?
Denali National Park is located in the center of Alaska. The two nearest cities are Fairbanks and Anchorage; Fairbanks is just a bit closer to the entrance of the park. The area was designated a park in 1917, and the land has been protected ever since. The conservation efforts at Denali National Park have allowed native species to thrive in a healthy, open environment.
How To Get To Denali National Park
Denali National Park is accessible from both Fairbanks and Anchorage. Flights to Alaska aren't cheap, so it pays to use a service like Google Flights to compare different prices. Although it's usually advisable to travel during the off-season to get the best rates, Alaska is a different story; the park is very difficult to visit during the dark days of the Alaskan winter. Aim to visit during one of the summer months, and book at least a month in advance to get the best deals.
The Denali Star is a fabulous way to get to Denali National Park in style. The train comes with dining options, although the fare you're offered will vary depending on whether you opt for Gold Star Class or Adventure Class. Both classes get the same view, however: an untouched swath of wild Alaska spreading as far as the eye can see.
There are plenty of shuttle buses that run between Anchorage and Denali and Fairbanks and Denali as well. Rates and schedules vary, and you can personalize your journey by having your transportation pick you up right at your hotel. Once you get to Denali National Park, you can book a bus tour that will take you deep into the heart of the park.
If you really want to make your journey to Denali National Park extraordinary, consider experiencing this incredible park from the friendly skies. Denali's amazing geographical formations were carved out of the land during the last Ice Age, so a bird's eye view is undoubtedly the best way to soak in the scope of this colossal park.
The Best Time To Visit Denali National Park
The summer months are the best time to visit Denali National Park, and tours generally don't operate after the end of August. You can visit the park during the winter, but the main road is closed, and only experienced outdoorsmen should set foot in Denali after the first snowflake falls. Besides, winter days are notoriously short so far north, and the sun only shines for a few hours each day.
Travel during the summer, but don't expect the usual summer temperatures. Summer temperatures at Denali National Park hover around 60 degrees, and the weather can be unpredictable. Bring layers and rain gear, and wear very comfortable shoes. Most bus tours are the hop-on, hop-off variety, and you'll likely have the chance to scramble around a bit.
What To Do At Denali National Park
Denali National Park is home to a huge variety of animals as well as many different ecosystems. The sheer size of the preserve makes it hospitable to snow forests, tundra, and arctic features like glacial streams and even year-round snow.
Here are some things to do — and some things to look out for — while you're there.
See Some Incredible Animals
Denali is full of animals of all shapes and sizes. Sharp-eyed visitors might spot grizzly bears and caribou, as well as Dall sheep perched high on the mountain passes. Smaller mammals, like foxes, are more readily glimpsed, and you can see several different types of birds soaring high over the park.
Your tour guide will direct your attention to many of the creatures in the park, and it's a good idea to have a pair of binoculars on hand.
When it comes to wildlife, always be an observer. Never interact with any animal, no matter how friendly it may seem.
Admire The View From Polychrome Pass
Polychrome Pass is a steep area carved deep into the side of Polychrome Mountain; it's a popular stopping place for tour buses. The view from Polychrome Pass is nothing short of spectacular, a dizzying 3,500-foot drop to the glacial-stream-laced tundra below.
The pass gets its unique name from the candy-colored rocks that adorn the side of the mountain. If you are feeling brave and want to stretch your legs, there are many different trails that you can explore.
Gaze Upon The Giant Itself
Denali clocks in at 20,310 feet and is the tallest mountain in North America. The stately landmark watches over Denali National Park like an arctic giant at the far end of the tundra. If you fly over Denali National Park, you can take in all of Mount Denali. Otherwise, you'll have to see it from afar.
You can climb Denali, but the ice mountain is very difficult to navigate, and it's strongly advised that only experienced climbers attempt to scale it. Since it is so tall, Denali also poses a major challenge in terms of altitude sickness.
Staying Safe At Denali National Park
Denali National Park is a tourist attraction, but it's also very wild. Prioritizing safety will allow you to make the most of your vacation while avoiding any unnecessary risks.
Remember that wildlife is unpredictable and that you should never approach an animal that you find on the trail.
Despite the chilly temperatures, it's important to wear sunscreen and dress in plenty of layers.
Bring lots of water with you and watch out for signs of altitude sickness, such as dizziness, mild nausea, and headache.
Denali National Park is a slice of heavenly untamed wilderness that you can see firsthand. It's a bucket-list-worthy destination for any adventurous soul.
All visitors must complete a traveler declaration form and arrive with a negative COVID-19 test result, be tested once in Alaska, or quarantine for 14 days before exploring the national park. Check our full list of national parks requiring changes for visitors for the latest updates.